Ramblers Walking Holidays' Summer 2019 Brochure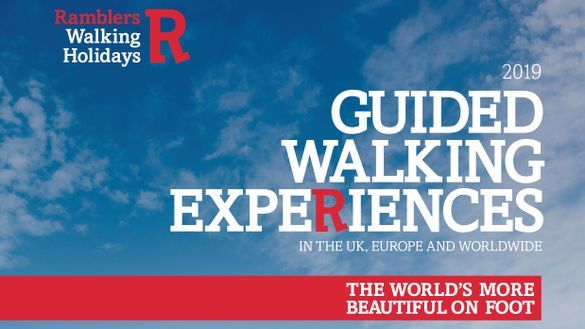 ---
*19 new holidays in 11 different countries *
* Expanded Collection of UK holidays *
*Specialist itineraries ranging from wellbeing to wildlife watching and cultural breaks *
Ramblers Walking Holidays(01707 331 133, www.ramblersholidays.co.uk) the original small group, guided walking holiday experts have launched their new Summer 2019 brochure featuring over 150 inspirational itineraries around the world.  With 19 new holidays in 11 different countries, the brochure features a wide range of carefully graded holidays that have been created for walking enthusiasts, catering for complete beginners through to more seasoned hikers.
Exciting itineraries which are new to the programme include scaling the slopes of Sicily's iconic active volcano on the Walking Under Mount Etna holiday, crossing the Andes from Peru to Argentina on Across the Andes and hiking through lush jungle trails on A Journey Through Malaysia and Borneo. There are also opportunities to combine walking with more experiential activities, from a new Alpine Activity Adventure in Switzerland – encompassing barefoot walking and yoga; to a superb new walking holiday in the Austrian Spa Town of Bad Hofgastein, as well as a range of holidays combining walking with the chance to sample fine local food and wines, such as Cretan Trails and Tavernas and The Wine Villages of the Alsace.  
For those after a more cultural slant, there are some superb multi centre and cosmopolitan city walking breaks including an Italian holiday in Matera and Alberobello – Matera is the European Capital of Culture for 2019. An inspiring Five Faces of New York tour.
Experienced walkers looking for the adrenalin buzz of hutting and high-level walking have plenty to choose from, with a dedicated 'Hutting'section featuring holidays to the Balkans and Andorra as well as a range of high-ability trekking and walking holidays.
The brochure also features an expanded range of UK and Northern Ireland holidays, which have been themed to reflect the types of walking involved.   The Best of the Lake District holidays are based at Ramblers Walking Holidays' newly refurbished Hassness House, in its fabulous location on the shores of Buttermere.  Featuring classic walking holidays as well as activity-based breaks such as Navigation & Hill Skills and a Women's Activity Week, this is a popular element of the programme.  Along with favourite routes such as the Coast To Coast and Hadrian's Wall, Continuous Walksfeatures two lovely new itineraries – the Highlights of the Two Moors Way – walking from the southern edge of Dartmoor through to Exmoor and The Nidderdale Way – taking in some of Yorkshire's most iconic sites. There is also a dedicated UK Islands section, featuring destinations such as the Isle of Man, the Orkney Islands, Jersey and Guernsey, whilst Coastline includes walks along the fabulous coasts of the British Isles including Cornwall, Wales, Yorkshire and Northern Ireland.  Finally,Classics features some historic and quintessentially British walking holidays such as Northumberland, with its wonderful coast, castles and gardens and a new Ironbridge Gorge and Museums route in Shropshire.
Commenting on the new brochure, Kevin O'Regan, Managing Director, says: 'With over 70 years of delivering exceptional holidays, we speak from extensive experience when we say we believe the world is more beautiful on foot!  For our 2019 programme, we have added some exciting new options, taking in Sicily, Greece, Montenegro, Croatia, Portugal, Switzerland, Austria, Malaysia, Peru, Argentina, Bolivia and Swaziland, plus my own personal favourite, a fantastic new trip in South America to Peru, Argentina and Bolivia.
At Ramblers Walking Holidays, we are passionate about creating inspiring experiences. At the forefront of this are our knowledgeable leaders – some 250 of them around the world – who can introduce guests to amazing wish-list destinations, many of which are only accessible on foot.  Along with exhilarating walking, there are more experiential elements on offer in many of the holidays – from mindfulness to map reading, or from wildlife watching to wellbeing – which can be enjoyed and are indeed enhanced by the company of the small group of companions on your trip."
Mr O'Regan added "By booking through Ramblers Walking Holidays which continues to operate as a not-for-profit social enterprise, there is also the added satisfaction of helping to give something back with the company providing support to the places and communities where we operate and by financially supporting walking groups through The Walking Partnership and the Ramblers Holidays Charitable Trust."
Ramblers Walking Holidays offer exceptional value for money with many of the costs such as half board meals and any transfers included.  In addition, there are holidays for solo travellers with no single room supplement and discounts for private group bookings.
Highlights of the new brochure include:
A Journey Through Malaysia & Borneo – New for 2019 (Grade 4, Moderate)
Take a night walk through the jungle and travel by boat to visit the indigenous rainforest people of Batek on this 17-night adventure. Visit the tea plantations of the Cameron Highlands and Taman Negara, the world's oldest tropical rainforest and National Park, before flying to Kota Kinabalu to climb its famed peak for panoramic views at over 4,000m. Discover an incredible land of jungles, mountains, rivers, wildlife and flowers hiking through wilderness in Sabah and come face to face with endangered orang-utans in the semi wild at the Sepilok Rehabilitation Centre. Other highlights include a trip to the limestone hills of the Batu Tuluq Caves, visiting the Orang Sungei 'River People' and watching the impressive vortex of bats as they exodus the Gomantong Caves. A Journey Through Malaysia & Borneo 17-night holiday starts from £3,495/person, including flights, transfers, half board accommodation and some lunches, English speaking guides, all local transport and an experienced leader.  Departs 29 September 2019 & 21 April 2020.
Across the Andes–New for 2019 (Grade 4, Moderate)
Stretching the length of South America, the Andes remain one of the most remote and inaccessible areas on the planet. Travelling from the Peruvian capital of Lima on the shores of the Pacific Ocean, through Bolivia and south to the Argentinian city of Buenos Aires, the tour covers a journey of literal 'highs' visiting the UNESCO World Heritage–listed city of Arequip, famed for its baroque buildings carved from white volcanic sillar stone and recent renaissance in gastronomy; takes in the vast stretch of snow-capped mountains around Lake Titicaca, the highest navigable lake in the world; enjoy the otherworldly Incahuasi Island in the middle of Bolivia's high salt flats, while savouring the night skies under a thick blanket of stars out in the Uyuni plains and catches the majestic sight of Mount Illimani whilst riding the La Paz cable car. Culminating with a night of tango, this holiday takes all the right steps across the Andes. Across the Andes 16-night holiday starts from £4,275/person, including flights, transfers, accommodation, most meals, English speaking guides and an experienced leader.  Departures 10 May, 20 September 2019 & 8 May 2020.
The Fisherman's Trail – New for 2019 (Grade 4, Moderate)
Explore Portugal's relatively undiscovered Rota Vicentina, offering 70 miles of wild Atlantic coastline and inland vistas of deep valleys, mountain ridges and pristine forest. Following carefully chosen sections of the Historical Way and coastal Fisherman's Trail, this 7-night holiday takes in small villages, Moorish towns, forests of cork oak and flower filled meadows.   These are contrasted with dramatic hikes along cliff tops to deserted beaches on the Atlantic Coast. With its fresh produce such as wild oregano, asparagus, sweet potatoes and tomatoes, and pockets of maize, another highlight is savouring the Alentejo cuisine and wines en route.
The Fishermans Trail7-night holiday starts from £1,345/person including flights, transfers, half board accommodation and an experienced leader.  Departs 28 March, 11 April, 9 May, 26 September & 17 October 2019.
Walking under Mount Etna – New for 2019 (Grade 6, Moderate)
Steeped in Greek, Roman, Arabic, Spanish and Norman history, Sicily is the largest of the Mediterranean islands.   Warmed by temperate sea breezes, it offers wonderful spring and autumn walking. Based in Francavilla, an ancient enclave close to the northern slopes of Mount Etna, explore peaceful countryside paths and ancient mountain tracks that lie in the shadow of this iconic volcano.  Combining time in the east coast resort of Taormina with a variety of hikes around the island, highlights include the walk to the historic hilltop village of Castiglione; the view past the medieval Norman castle in Francavilla to Mount Etna; and climbing Mount Etna for views across the island to the mainland.  Syracuse, the birthplace of Archimedes and the island of Ortygia can also be visited on a free day,or the unique nearby Alcantara Gorge.
Walking under Mount Etna 7-night holiday starts from £990/person including flights, transfers, half board accommodation and an experienced leader.  Departs 19 & 26 April and13, 20 & 27 September 2019.
Highlights of the Two Moors Way – New for 2019(Grade 5, Moderate)
Walking the highlights of Devon's coast to coast path, theTwo Moors Way winds from the southern edge of Dartmoor to Lynmouth on the north coast. Pass through landscapes that have inspired novels as diverse as the Hound of the Baskervilles, Tarka the Otter and Lorna Doone and enjoy the gentle landscape of southwest England's farms, woodland streams and thatched roofed villages.  Starting in Ivybridge with three full days on Dartmoor, the trail is picked up again in Hawkridge where it enters Exmoor before culminating in spectacular views on the final walk as the cliffs fall sharply towards the sea.
The 6-night Highlights of the Two Moors Way starts from £879/person, including half board accommodation, transport to and from the walks and an experienced leader.  Departures 11 May, 15 June, 27 July and 21 September 2019.
For further information, contactRamblers Walking Holidays (01707 331133,www.ramblersholidays.co.uk)
View the new brochure here.
Company Background:
Ramblers Walking Holidays was established in 1946 and is the core brand for RWH Travel, the experts in guided walking adventures. Other brands within the group include Adagio holidays – leisurely walking and cultural holidays at a gentle pace and Ramblers Cruise & Walk Holidays – small group guided walking in association with Fred. Olsen Cruise Lines.  In total, the company operates over 250 holidays across over 60 countries worldwide.
Walking Grades:
Each of the Ramblers Walking Holidays has been graded to help clients choose their preferred pace, with categories ranging from Grade 1-3/Leisurely (usually two hours walking); to Grade 4-6/Moderate (a combination of full and half day walks); and Grade 7-9/Challenging (full day walks where stamina is key). On some holidays, there is the chance to experience more than one walking grade with two leaders. Perfect for couples and friends who prefer to walk at a different pace or have different walking abilities. Adagio holidays, due to their leisurely nature, are generally not allocated a walking grade.
Special Interest
To help clients choose the type of walking holiday that will appeal to their interest, holidays are identified by a simple icon system which includes the following categories: Iconic Paths; Continuous Walks; Pioneer; Sightseeing; Hutting & High Level; Multi Centre; Skills & Navigation; Culture & Natural History; Flora & Fauna; Bird Watching; Wildlife; and Experiential.
Company Mission
The company's mission is to generate funds for walking charities by the provision of outstanding outdoor activity holidays worldwide.
With its not-for profit and social enterprise philosophy, the company contributes monies to the Ramblers Holidays Charitable Trust which supports walking related and environmental projects in the UK. The company also funds Heart & Sole – an initiative managed by company staff, with the aim of reaching into the heart of the communities visited both in the UK and overseas.
RWH Travel also runs The Walking Partnership – an initiative which champions walking at the 'grass roots' level by providing funding and support to walking groups and clubs throughout the UK.
Ramblers Walking Holidays is the Walking Holiday Partner of the Ramblers, Britain's walking charity which has been pioneering and championing walking and 'rights of way' for over 70 years across England, Scotland and Wales.
Customers travelling on all holidays operated by RWH Travel are fully protected via the company's membership of ABTA (No V5094) and as holders of an ATOL licence (No 990).  RWH Travel is also a member of IATA, AITO and ETOA.
Follow and Share with Jetsettersblog.