Ranch Rider's #LetsSaddleUp Campaign Captures The Spirit Of The West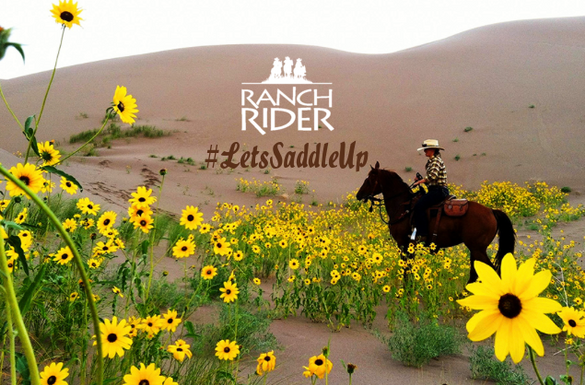 ---
Riding holiday specialist, Ranch Rider is capturing the spirit of the West with its #LetsSaddleUp campaign, the inspirational initiative currently running across its social media channels.
By showcasing the experiences of its ranch partners online, the tour operator is hoping to provide an authentic connection to the range, every update telling its own unique story – over 50 handpicked working, guest and luxury ranches contained within the specialist's North America collection.
Tony Daly, Managing Director of Ranch Rider, comments, "Offering genuine insight into everything from calving season to cowboy poetry, through our #Lets SaddleUp campaign we are giving people the opportunity to encounter a world far removed from their own – a welcome form of escapism for anyone on lockdown."
"There might be an absence of guests on the trail but the cattle still need to be herded and there are still horses to jingle (round-up) – the strength, courage and resilience of our hard-working ranch partners a ready form of inspiration in times of crisis. Together we hope to create a shared sense of community, our updates helping people to forge a connection to the West, and perhaps even a desire to experience life in the saddle once we begin to travel again."
Updates will feature the #LetsSaddleUp hashtag, the campaign running across Ranch Rider's Facebook (@RanchRiderHolidays), Twitter (@RanchRider) and Instagram (@RanchRiderHolidays) pages. 
Latest Riding Holiday News From North America…
Ranch Rider is introducing atmospheric sunset picnic rides at Texas' 1,500-acre Wildcatter Guest Ranch. Archery and skeet shooting complement the guided horse riding, and a well-being boost courtesy of the wilderness, there's an infinity-edged pool overlooking the Brazos River. Six nights with Ranch Rider from only £1,129pp (no single supplement) including accommodation, meals, most ranch activities, taxes and gratuities. Excludes car hire from 359 and return flight from £889pp. Year-round departures.
Earn your spurs at Colorado's Vista Verde Luxury Guest Ranch, the property set in the beautiful Elk River Valley in the Rocky Mountain high country. Covering 540 acres, the surrounding terrain is varied and challenging for novice riders, the new "Cowboy 101″ program sure to test your mettle – the wranglers providing instruction in hoof care, working the hot iron, making horseshoes and roping. A luxury experience, the ranch's award-winning chefs will cater to your every whim, the upscale accommodation based in either the lodge or private cabins. Seven nights with Ranch Rider from £3,339pp (no single supplement) including accommodation, meals, most ranch activities, taxes and gratuities. Excludes car hire from £359 and return flights from £859pp. Departures May through October.
Book a seven-night stay at Arizona's White Stallion Guest Ranch, the Outdoor Adventure Package included in the price – guided horse riding, cattle sorting, e-biking, shooting and archery (new for 2020) on the list of pursuits. If you still haven't quenched your thirst for all things West, try the new leather/horseshoe decorating workshop or sign up for the new interactive Native American history class, an expert hiking guide and historian taking the reins. Back in the saddle, you could be one of the very first to hit the recently rediscovered Echo Mountain Trail, the half-day ride leading you on a journey of discovery – ancient petroglyphs etched into the nearby rocks. Seven nights with Ranch Rider from £1,269pp (two sharing) including accommodation, meals, most ranch activities, taxes, transfers and gratuities. Excludes return flights from £879pp. Year-round departures.
Go wild in British Columbia and book a seat in the saddle at the Big Creek Guest Ranch. New for the 2020 season, the Outdoor Adventure Camp experience will get you off-grid and into the Chilcotin wilderness – the ranch's cabin located near the mighty Anvil Mountain. Inaccessible by anything other than a horse, the 20-kilometre trail winds its way through the Big Creek Provincial Park toward the remote Fire Creek Camp – the surrounding forest broken up by swampy creeks and meadows, the berries and plants attracting a wide variety of wildlife. Explore the area on horseback, the paths taking you across dense woodland and up steep mountain passes – swimming and (catch & release) fishing at Sherwood Lake a major highlight. In true cowboy fashion, in the evening listen to stories of the day's adventure and enjoy hearty western fare cooked over an open fire. Back on the ranch, the horse riding is equally spectacular, herding the neighbour's cattle available in season. Seven-nights with Ranch Rider from £1,445pp (two sharing) including accommodation, outdoor adventure camp (guest cabin), meals, most ranch activities and tax. Excludes gratuities left to discretion, transfers from £170 return per vehicle YWL and flights from £795pp. Departures May through October.
Seven years ago the owners of Wyoming's Hideout Lodge & Guest Ranch started their Mustang program. Today, 30 once-wild Mustangs are available for intermediate and advanced equestrians to choose from – the ultimate equine experience to ride your own Mustang in wild horse territory. Set on 650,000 acres, and with altitudes ranging from 4,200 to over 11,000 feet, any riding holiday here will challenge you both mentally and physically – all the more reason to feel spoiled on your stay. Adult oriented and exclusive, expect luxury cabins, fine "health-driven" dining and a choice of over 130 mounts for a maximum of only 25 guests. When you're not working cattle or fine-tuning your horsemanship skills, you can always take a dip – the new lap pool resembling an infinity pool as you swim directly towards Shell Canyon and the Big Horn Mountains. Six-nights with Ranch Rider from 2,690pp (two sharing) including accommodation, meals, most ranch activities, taxes and gratuities. Excludes transfers from £190 return from Cody, based on two + £40pp each additional/ and return flights from £889pp. Novices welcome. Mustang rides with wild horses available: April to the end of May, early June (dependent on conditions) and from September to October. Departures April through November.
Ranch Rider (01509 618 811; ranchrider.com) ATOL PROTECTED No 4660 ABTA 96395/V9150.
Ranch Rider is one of the few remaining independent riding holiday specialists, its handpicked collection of horseback adventures covering the USA, Canada, Argentina, South Africa, Botswana, Namibia, Tanzania and NEW for 2020, Kenya. The company has been operating for over two decades, the team, who share over eighty years combined experience in the saddle, constantly adding new experiences to the mix. Ranch Rider aims to offer horse riding holidays for everyone, the tour operator catering to single travellers (who want to steer clear of supplements), couples, senior travellers and families looking to explore the world from the back of a horse – wannabe cowhands as young as eight learning to work the cattle.
Follow and Share with Jetsettersblog.