Re-Discover the Great Outdoors With Treasure Trails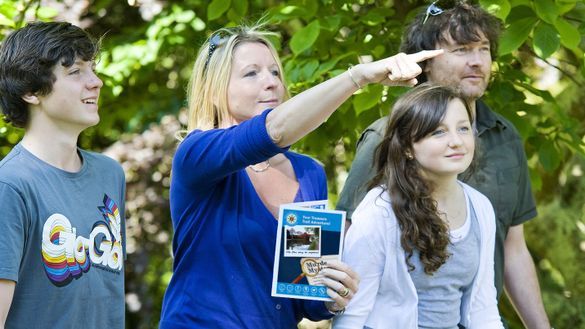 ---
Step outside and re-discover a world of fun and adventure with Treasure Trails this summer.
Solve the clues and uncover the secrets with one of more than 1,200 self-guided adventure trails across the UK.
With themes including Treasure Hunts, Spy Missions and Murder Mysteries, Treasure Trails provide the perfect solution to responsible, social distancing entertainment.
"Getting outside into the fresh air is incredibly important for wellness and mental health, especially in these uncertain times," said Aaron Hutchens, General Manager Treasure Trails.
"Our ethos at Treasure Trails has always been to encourage people to ditch the screens and explore the wonderful places on their doorstep.
"A Treasure Trail is a fun and challenging joint activity with the benefit of discovering something completely new about a destination – even if it's on your own doorstep.
"It's also a really effective way to fit in some exercise, get some much-needed vitamin D and flex those little grey cells," he added.
Lasting around two hours, each trail has its own specific theme and makes use of well-known local landmarks, signs, statues, monuments, images, engravings or any other unique or eye-catching features to create an exciting adventure.
From remote locations to wide-open spaces, there are hundreds of Treasure Trails to choose from across the country, whether you're budding buccaneers, mini Miss Marples or undercover secret agents.
Treasure Trail booklets cost £9.99 (plus P&P if required), are suitable for up to five people and designed to appeal to all ages. Trails are also available to buy online and download to print at home, and therefore can remain completely contactless.
What: Explore the local neighbourhood with Treasure Trails
Why: Treasure Trails are a fantastic way for families, couples and small groups to explore and uncover the secrets of the UK.
How Much: Treasure Trails cost £9.99 for the downloadable and print at home version or £11.48 (including p&p) for the posted version.
Find Out More: treasuretrails.co.uk
For more information please contact: Alice Williams | alice@flamingo-marketing.co.uk | 01637 873379.
TREASURE TRAILS CODE OF CONDUCT
Treasure Trails are ideally suited for everyone to re-discover what's around them in a fun and responsible way.
Please only do Treasure Trails that are local to you at this time at this time. Under current restrictions, we recommend you do NOT travel to other built up areas, cities, towns, villages or local communities.
While exploring your local area, ensure you follow social distancing rules at all times. Be prepared to skip a Clue if social distancing is not possible.
If planning a Trail with people outside your household group, make sure you are still following the latest guidelines for England, Scotland, Wales or Northern Ireland on how many other people you can meet up with outdoors.
Avoid touching any hard surfaces such as plaques, signs or information boards that Clues may be set on, or gates, walls or benches.
Don't linger for too long – if you need to, take a photo of a plaque or sign and move to a quieter area, or solve the Clue at home.
Respect others – remember that there are many vulnerable people who still need to self-isolate. While walking, please keep a safe distance from residential homes, schools and other premises.
NOTES FOR EDITORS: Visit treasuretrails.co.uk to find out more and to download one of more than 1,200 Trails across the UK. Contact Alice direct if you would like to try a Treasure Trail.
Visit the Treasure Trails website for a full list of locations arranged by region and select the one that appeals.
Treasure Trails have entertained over two million people since 2005 and their customers love what they do and rating them 4.8 stars (out of 5) on the Independent Review site Ekomi.