Reasons to Visit Emilia Romagna's Capital, Bologna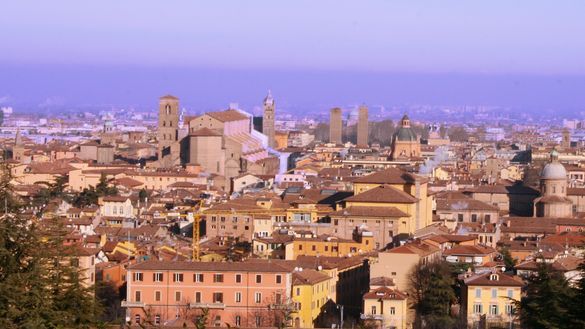 The city of Bologna, Emilia Romagna's vibrant and historical capital, has revealed a series of exciting events, culinary delights and outdoor experiences to enjoy this year, enticing British visitors with great reason to travel to the region, especially now the Foreign Office allows non-essential travel to Italy.
Bologna, located at the heart of the Po Valley, is home to prestigious cultural, artistic and economic institutions which mark the city's enchanting history. Today, Bologna's extensive porticoes, which date back to the 13th century and are still very much part of the city's everyday life, have recently been added to UNESCO's World Heritage List, symbolising the city's sustainable urban lifestyle.
Famed for its medieval charming centres and Bolognese rolling hills, outstanding theatre and music scene – not to mention as its renowned culinary credentials including the tortellini pasta, world-famous ragù and mortadella – Bologna continuously proves to be an intriguing destination for all to enjoy.
Some key events and experiences taking place in Bologna from September 2021 onwards include:
Art and cultural experiences
Gender Bender International Festival
2 – 19 September 2021
Produced by II Cassero LGBTI+ Centre, this annual event highlights gender identities, sexual orientations and body representations through the eye of contemporary culture. Through a series of unique offerings ranging from theatrical productions, installations and workshops, Gender Bender aims to flourish a welcoming society from the human, social and cultural point of view. https://genderbender.it/en
Biennial of the Painted Wall
13 – 19 September 2021
In celebration of its 28th edition, the village and fortress of Dozza will burst with life and host a series of special events to showcase the new biennial, with an array of exhibitions, concerts and appearances from renowned artists. An open-air museum, enriched with hundreds of murals, it's no wonder why Dozza is commonly referred to as one of the most beautiful villages in Italy.
https://emiliaromagnaturismo.it/en/events/1226/dozza-imolese-biennial-of-the-painted-wall
Bologna Festival
Until December 2021
Every year Bologna Festival invites the finest of international talent to partake in exclusive, world-class classical and contemporary concerts, across some of the city's iconic cultural venues – including the Oratory of San Filippo Neri and the sixteenth-century Palazzo dell'Archiginnasio. 27-years-long artistic director, Mario Messinis, is not only broadening the musical programming but educating a younger audience on classical music. https://www.bolognafestival.it/en/
Musica Insieme al Manzoni
25 October 2021 – 16 May 2022
Hosting 15 incredible theatrical performances across the seven months, Musica Insieme will salute its 35th anniversary once again in the leading venue, Auditorium Manzoni. Expect offerings from musical masters such as Vadim Repin and Viktoria Mullova along with new debut talents including Sergey and Lusine Khachatryan.  https://www.musicainsiemebologna.it/i-concerti-2021-2022/
Outdoor adventures
Crinali
Until 3 October 2021
Whether its circus acts in Monzuno, music performances in Borgo Bucciagini or a theatre play in San Benedetto Val di Sambro, Crinali fuses the elements of circus, music and theatre to allow visitors to rediscover the awe-inspiring Bolognese Apennines and the Imola area, through a series of entertaining events along the park trails. https://www.crinalibologna.it/en
Trekking by Train
Until 5 December 2021
The long-running Trekking by Train initiative, organised by Bologna Tourist Destination and the CAI-Italian Alpine Club of Bologna, invites nature enthusiasts to escape the city and immerse in '34 slow explorations' through the beautiful Bolognese surroundings by foot or bike, along Apennine trails, rolling hills and the wide horizon of the Plains. https://www.trekkingcoltreno.it/
Culinary delights
Tartufesta
9 October – 7 November 2021
The famous 'white truffle' festival embraces the Apennines landscape, culture and of course gastronomy traditions. Although the schedule is yet to be defined, five picturesque towns will boast an array of indulging events including, street markets, tastings exhibitions, food stands and truffle dog competitions, to celebrate the rich aromas and flavours of the region.
https://www.cittametropolitana.bo.it/sagrefeste/Tartufesta
FICO Eataly World
All year round
Bologna, commonly known as 'La Grassa', or 'The Fat,' thanks to the city's elite gastronomical scene, happily welcomes the largest agri-food park in the world, FICO Eataly World as its home. Having reopened after its closure due to the pandemic, FICO Eataly is readier than ever to entice visitors to 26 mouth-watering culinary experiences and 30 thrilling attractions for all to discover, including an animal farm, wine route, multimedia rides and more. https://www.fico.it/en/
Located between the Tuscan-Emilian Apennines and the heart of the Po Valley, Bologna is the perfect getaway for travellers to explore and unwind. Whether it's meandering around the vibrant square, Piazza Maggiore, soaking up famous sites such as the Clock Tower and Neptune Fountain, eating and listening your way through Italy's culinary capital and UNESCO creative city of music, or admiring the beauty of the region, from waterfalls, forests and historical villages; Bologna has something for everyone to connect with and discover.
For a list of all 2021/22 events, please visit: https://www.bolognawelcome.com/en/events
For further information on Bologna and the Emilia Romagna region, visit: https://emiliaromagnaturismo.it/en/towns/bologna

Follow and Share with Jetsettersblog.