Record Demand for Japan in 2021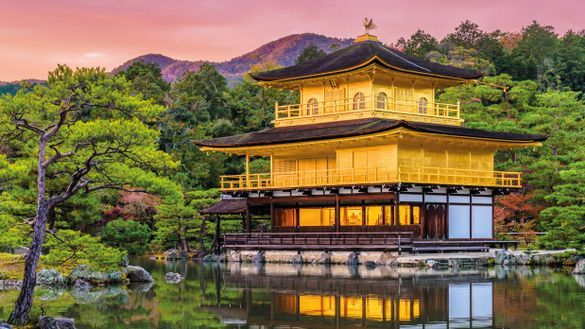 Wendy Wu Tours, the UK's leading and award-winning touring specialists to Japan, launch their new collection of specialist holidays to Japan in response to exceptional demand for travel to Japan in 2021. In addition to a collection of fifteen uniquely designed holidays covering departures throughout 2021 and 2022, including the UK's first three week fully inclusive rail tour of Japan, covering the islands of Kyushu, Honshu and Hokkaido, from now until the end of August the touring specialist is offering a range of Japan special offers on its 2021 departures including FREE single supplements for solo travellers (worth up to £1,790 per person) plus a range of dedicated solo departures; FREE Business Class upgrades with Emirates, British Airways, Finnair, Air China and many more (worth up to £700 per person); FREE British Airways World Traveller Plus upgrades (worth up to £600 per person); FREE Vietnam Airlines Premium Economy upgrades (worth up to £300 per person) as well as savings up to £500 per person across cherry blossom departures throughout March and April. Holidays can all be booked with a £99 deposit.
Highly commended by Lonely Planet in their annual 'Best in Travel' guide and following a recent poll by Wendy Wu Tours of its customers and enquirers which saw Japan top of the list on the 'must see' places to experience, Japan is proving to be a runaway success for 2021. With restrictions in place across many destinations, Japan carries full 'air bridge' status by the UK government, allowing travel without any quarantine measures, and has been approved by the World Health Organisation as one of the safest long-haul places to travel in the world.
Commenting on Japan's success, Wendy Wu, founder and CEO at Wendy Wu Tours said: "For the last consecutive four months running, Japan has been the most in-demand destination for both 2021 and 2022. With its 'air bridge' status and backing of the WHO, there is a confidence in travel for Japan that is unlike any other destination. Japan has seen massive investment in infrastructure, services and accommodation over the last few years, in the run up to the 2021 Olympic Games. With this now completed and available to visitors, the next two years are the perfect time to visit and to benefit from these new and impressive facilities." Wu goes on to say: "Demand from solo travellers has risen exponentially which is why we our new Japan collection features no single supplements across all departures as well as a series of unique, dedicated solo group tours on our flagship holidays which all benefit from smaller group sizes, a VIP airport chauffeur service and lounge access as well as a VIP welcome drinks reception on arrival."
New collection highlights:
UK's first epic three-week, three island, fully inclusive rail journey in Japan! The NEW 21-day 'Japan by Rail' (from £8,990pp) covers the length and breadth of Kyushu, Honshu and Hokkaido. Billed as the ultimate Japan rail adventure, this holiday is a journey through Japan's iconic and breathtaking interior and coastline. Everything from the vibrant and cosmopolitan Tokyo, the serenity and grandeur of Kyoto's temples, to the snow-capped mountains of Sapporo and the snow monkeys in the North, and of course Mount Fuji, is included. Travel is on the world-famous bullet trains as well as the traditional express train, all including the most scenic train journeys in Japan.
The NEW 11-day 'Experience Japan' (from £5,590pp) is the perfect holiday for your first visit to this fascinating country, all within a very comfortable and easily manageable 11-day timeframe. In addition to the all of the 'must see' sights such as Osaka, Nara, Kyoto, Mount Fuji and Tokyo, this holiday includes a range of fully immersive experiences, all set against a backdrop of Japan's breathtaking natural scenery, including a lake cruise overlooking Mount Fuji, a spiritual walk through the Arashiyama bamboo forest and of course, time with the captivating snow monkeys in Nagano.
Experience the very best of Japan with the flagship 17-day 'Japan Uncovered' (from £6,990pp). Covering the length and breadth of Honshu, iconic sights and experiences abound as this holiday takes you on tour from the vibrant Osaka, Japan's second largest metropolitan area after Tokyo, to Hiroshima and bullet train to Kyoto. The tour unfolds as you head North to Takayama via Kanazawa before heading into the Japanese Alps to witness the Snow Monkeys and onto Mount Fuji and the scenic wonders of the Fuji Five Lakes area. Last stop is Tokyo, the ultimate 24-hour city. May departures include the spectacular Shibazakura Festival which sees the base of Mount Fuji transformed into a wash of pink as more than 800,000 moss phlox bloom. Selected May and September departures include entrance to a traditional sumo wrestling tournament.
The best-selling, 11-day 'Jewels of Japan' (from £5,290pp) is the quintessential classic Japan tour. In Kyoto, experience the timeless traditions of ancient Japan in the geisha district of Gion before taking a bullet train to Hiroshima and the emotive Peace Memorial Park and Museum. A boat trip to the symbolic island of Miyajima and the iconic Itsukushima Shrine is just one of the many iconic sights on this tour.
Solo Collection – dedicated solo departures available on all flagship Japan tours, including the 8-day 'Week in Japan' (from £5,190), 11-day 'Jewels of Japan' (from £6,790), 13-day 'Discover Japan' (from £7,390) and 17-day 'Japan Uncovered' (from £8,990). All include, private room, VIP airport chauffeur transfers and lounge access, VIP welcome drinks reception on arrival plus smaller group sizes (18 maximum) to make it easier to get to know fellow travellers.
Tailormade Japan – specialist tailormade team on hand to create your own, personal, bespoke Japan holiday, all designed to your individual requirements.
Extensions and stopovers – extend your holiday with one of Wendy Wu's many extensions and stopovers such as the 5-day 'Classic South Korea' (from £1,490pp), 3-day 'Great Wall Hike' (from £590pp) or 3-day 'Essential Dubai' (from £430pp).
Visit www.wendywutours.co.uk for more information plus full terms and conditions
Ends
Why travel with Wendy Wu Tours?
With over 20 years' experience, Wendy Wu Tours is recognised as market leaders in specialist travel to Asia and South America. The company offers a portfolio of group, private, solo and tailormade tours in over 30 countries across Asia and South America. All tours come with a fully inclusive price with no hidden extras and include the best award-winning guides in the business. In addition to all major airport gateways, you can choose to fly from many regional airports, again returning to the airport of your choice. There's no visa hassle with Wendy Wu Tours as the team have a dedicated visa reception team who will take care of everything for you, plus the service is included in the cost. With a team of highly trained consultants, all of whom have travelled extensively throughout Asia and South America, on hand to help you every step of the way it's no wonder that Wendy Wu Tours continually receive outstanding customer satisfaction reports. ABTA, ATOL and IATA accreditation means every holiday booking is secure, giving full financial peace of mind.
Finally, our customers' safety and wellbeing is and has always been our highest priority. In the wake of COVID-19, stringent safety management processes have been incorporated into all of our holidays, ensuring the safety of our customers and local staff. These new measures include protection whilst travelling, sightseeing, at mealtimes and at hotels. Guided by the UNWTO (United Nations World Tourism Organisation) and WTTC (World Travel & Tourism Council) as well as local government regulations, our protocols include personal protection, extensive disinfecting as well as social distancing measures.
Follow and Share with Jetsettersblog.