Recreate a Day in Copenhagen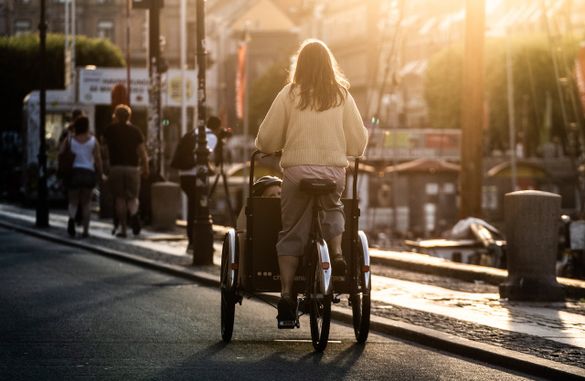 ---
You can experience all the joys of Denmark's characterful capital city right from your own sofa – with this handy guide.
09:00 How do you take your coffee?
According to Copenhageners, coffee is a topic that should be taken very seriously. Many of the city's most popular coffee shops treat coffee-making as a science, and their passion for the craft of brewing coffee is what makes them so endearing. Danish coffee monger Coffee Collective won 1st, 2nd and 3rd place at the recent Danish barista championship, so their brew guides are a good place to start.
10:00 Discover Danish architecture
Time at home is the perfect opportunity to learn a bit more about the development of Danish architecture, and more specifically the firm at the forefront of the innovation: BIG. Recently, the Danish Architecture Centre (DAC) did a grand exhibition on the firm's work and now you can visit it from home. The virtual tour will take you to BIG's world where you can learn more about their projects and design philosophy.
11:00 Take the metro without leaving your sofa
Last year, the Copenhagen locals celebrated as the long-awaited City Circle Line of the metro was opened, and earlier this year, a new extension to the area of Nordhavn followed. A ride on each of the lines is now available to watch from home for everyone who misses their daily commute.
12:00 Make open-faced sandwiches with Danish chef Adam Aamann
Few inventions are as inherently Danish as the open-faced sandwich. In Copenhagen, one of the high temples of this specialty is Aamanns' restaurants. Mr Aamann himself has taken to the internet to bring you tips and tricks for making traditional open-faced sandwiches at home. Follow his instructions right here.
13:00 Get royally creative
Her Royal Highness Queen Margrethe II is an avid lover of arts and crafts having made beautiful costumes for the Royal Danish ballet and illustrations for the Lord of the Rings Trilogy. In these times she inspires us to get crafty with paint and paper. Her dachshund hat has become a bit of a signature project.
15:00 Cosy up with some crime
Hygge is the Danes' primary defence mechanism against the challenges of the current situation or anything challenging really. If you are totally new to hygge, you can do a 101 course with "The Little Book of Hygge". You can also experiment with adding a bit of uhygge (the opposite of hygge) by watching a Danish crime series.
18:00 Dine like a Dane
The need for comfort food is real at the moment and the Danish cuisine is filled with good options. Burning love is a poetically named dish featuring lots of potatoes, butter and bacon – all the Danish staple ingredients. For dessert, you can test your Danish pronunciation skills with the dish rødgrød med fløde. It is easier to eat than it is to pronounce.
20:00 Dress up for a night at the theatre
There is nothing like a night at the theatre. While Copenhagen's physical theatres are closed for the foreseeable, the Royal Theatre has brought its shows online and lets you stream classical concerts, operas and ballets. Homebound theatre guests still have the option to dress to the nines, dust off the binoculars and have a glass of something bubbly. Even the royal family are fans…
\

Follow and Share with Jetsettersblog.