Remote Southern Australian Coast in Sight for Coral Adventurer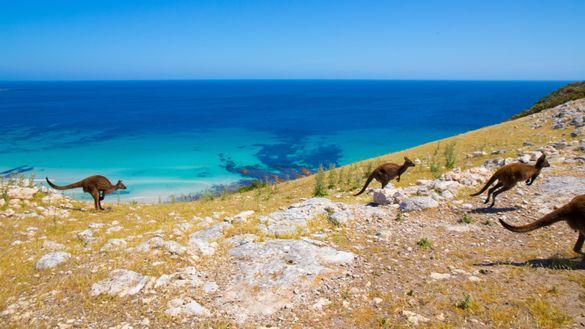 ---
Coral Expeditions, Australia's pioneering cruise line, has announced that flagship Coral Adventurer will return to operations this January after a ten-month hiatus in her homeport of Cairns. Having successfully completed an 8-voyage season with Coral Discoverer on the Great Barrier Reef with new health protocols in place, Coral Expeditions is now ready to expand its domestic itineraries with the return of state-of-the-art Coral Adventurer.  This new series of expeditions involve wilderness coastlines of Australia previously unvisited in the company's 35-year history.
The relaunch marks another significant milestone for the Australian-flagged operator, which was the first company to resume ocean voyages in Australia. It is very encouraging news for the company's Australian seafarers and Cairns-based HQ staff.
The new itineraries commence next month and focus on the pristine nature, rugged landscapes and rarely explored corners of South Australia, the Great Australian Bight, and the coral reefs and islands of Western Australia and Queensland, giving Australians more unique opportunities to explore and discover as domestic travel returns.  Jeff Gillies, Commercial Director states: "As we head into 2021 with ongoing uncertainties for the travel industry, there is no better sanctuary than our own home shores. Our new voyages celebrate Australia with small numbers of local guests and crew traversing a large tract of the continent that we have not explored before on a number of unique voyages between Cairns, Brisbane, Adelaide and Fremantle this summer".
As with other domestic itineraries, guests will be drawn from the Australian market and capped at under 100.  Coral Expeditions operates an all-Australian flagged fleet with an Australian crew.  Its proven SailSAFE health protocols, duly approved by all state authorities, will remain in place till risks recede.  To assist guests and the broader travel industry in this time of uncertainty, Coral Expeditions will continue offering flexible booking and deposit protection terms.
Coral Expeditions new expedition series includes:
Outer Reefs & Cays of the Coral Sea
12-nights   |   Cairns to Brisbane departing 22 January 2021
This voyage uncovers the biodiverse ecology, intriguing maritime history, and the outer limits of the Great Barrier Reef and the Coral Sea.  Plunge below the surface into the extraordinary habitats where abundant marine life awaits. Explore one of the world's best dive sites at Holmes Reef, and snorkel at some of the Coral Sea's most remote reefs, such as Marion, Frederick & Cato Reefs. Along the way, step ashore on deserted cays at Herald Cays & Diamond Islets for beachcombing, hiking, and relaxing sunset drinks. Get close to nature with opportunities for incredible birdwatching, and snorkelling among vibrant schools of pelagic fish and green sea turtles.  Our expert guides will share great stories and insights of Australia's maritime history as we follow the wake of early navigators. Staterooms from $ 6,990 per person twin share, all-inclusive.
Wild Islands and Walks of South Australia
10-nights   |   Adelaide to Adelaide departing 10 February 2021
This voyage offers the opportunity to explore and hike South Australia's wild islands, where forested National Parks give way to sheer wave-carved cliffs and sweeping white-sand beaches. A highlight of the itinerary is a series of guides trekking excursions through coastal nature trails and to rugged island outlooks where guests will be rewarded with sweeping ocean vistas. Hosted by expert guides, including Kangaroo Island resident and well-known writer and photographer Quentin Chester, learn about the flora, fauna, and history of this remote habitat. Cool down with an invigorating ocean swim or enjoy kayaking in the beautiful turquoise waters at destinations such as Antechamber Bay on Kangaroo Island.  Less-visited islands, such as Hopkins Island and Wedge Island, offer the opportunity to encounter charismatic native wildlife – inquisitive Australian sea lions, bettong, fairy penguins, rock wallabies, and many more.  Along the way, enjoy the tastes of South Australian and indulge in fresh regional seafood and hand-selected local wines. Staterooms from $6,390 per person twin share,  all-inclusive
Across the Great Australian Bight
13-nights   |   Adelaide to Fremantle departing 21 February 2021
A once-in-a-lifetime opportunity to cross the Great Australian Bight, this voyage will visit hard-to-reach islands and iconic National Parks along the south coast.  Voyage past the majestic Bunda Cliffs, the world's longest stretch of sea-cliffs forged by the powerful Southern Ocean. Enjoy guided walks along the vast and secluded beaches at locations such as Cape Arid National Park, Cape Le Grand, and Bremer Bay.  Among the scattered islands and outcrops of the Archipelago of the Recherche, discover remote breeding grounds of sea lions and follow the snorkel trail at Shearwater Bay to spot the elusive Leafy Sea Dragon. As we round the southwest edge of Australia discover enjoy time ashore with sunset drinks with the kangaroos at Lucky Bay, a visit to extraordinary Jewel Cave, swimming with stingrays at Hamelin Bay, and walk amongst the vines and sample wines through the Margaret River region. Staterooms from $8,290 per person twin share, all-inclusive
The Abrolhos Islands & the Coral Coast
12-nights   |   Fremantle to Broome departing 10 March 2021
This expedition explores Western Australia's wild and largely untouched coast, with its contrasting coastal palette of rich red sands and turquoise sea.  With a fascinating maritime and Indigenous history – from the Malgana people of Shark Bay to the exploratory journeys of William Dampier, Dirk Hartog, Baudin and Freycinet – this region is layered with stories. The natural coastal reserves harbour an abundance of birdlife and fascinating marine species. Our guides will help guests explore the renowned Houtman Abrolhos Islands, Shark Bay World Heritage Area, Ningaloo Reef, Cape Range National Park, Montebello Islands, Muiron Islands and Dampier Archipelago. Staterooms from $9,290 per person twin share, all-inclusive
Follow and Share with Jetsettersblog.