RIP the Mini Break – Long Live the Big Slow Break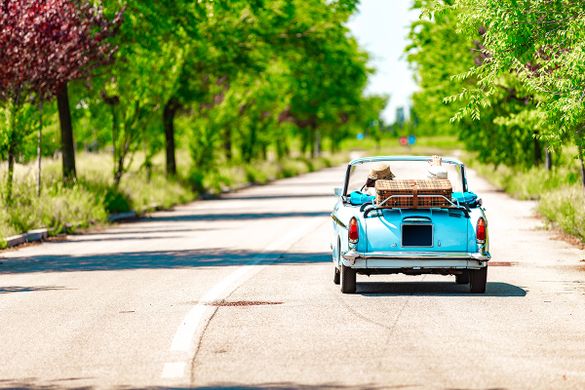 ---
Mini breaks accounted for 8% of Original Travel's business in 2019; that has dropped to 0% in 2021, leading the luxury tour operator to mothball its Big Short Break concept – with which it launched 18 years ago – in favour of a new set of Big Slow Breaks.
The ongoing uncertainty around travelling, plus the rigmarole of quarantines and testing, has put paid to the idea of a mini break for the foreseeable future; if you're going to jump through all those hoops, it's only worthwhile for a longer trip away. As such, Original Travel has created a new collection of Big Slow Break itineraries, each of which are a minimum of seven days in duration and combine two or more popular weekend break destinations such as Florence and Rome, Copenhagen and Oslo or Bilbao and San Sebastian. The cities are connected by a slow meander overland by road or rail, offering a chance to explore more of the country on a longer, more in-depth trip.
Tom Barber, Founder of Original Travel, says: 'Of all the bookings and enquiries we have had since the pandemic began, none have been for a city mini break. Plus, our own survey* showed us that only 15% of our clients are planning on taking city breaks, even when travel frees up. As much as this pains us – Original Travel launched with the concept of the Big Short Break, after all – we have to be realistic, so have turned our hand to Big Slow Breaks instead.
'The collection also aligns with another key finding from our survey: that 81% of respondents wanted to make a concerted effort to get to know a destination better when they can get back to travelling.'
The full collection can be seen on the website here: https://www.originaltravel.co.uk/collections/big-slow-breaks
Sample itineraries include:
Central Italy Train Holiday
Combine three classic European cities with some slower time exploring Italy's smaller towns and countryside over a two-week trip. Stop off at the capital of the French Riviera, Nice, to enjoy a brilliant blend of vibrant culture and gorgeous coast. Explore Florence, the capital of Italy's Tuscany region and visit Italy's beautiful capital, Rome. Weave the city breaks with a slower pace, paying a visit to the five villages in the Cinque Terre coastal area and to Umbria to experience the laidback lifestyle and wonderful vineyards.
Original Travel's 14-day Central Italy Train Holiday itinerary costs from £3,640pp, based on two sharing. The price includes train travel, all transfers, guided tours, and accommodation. Original Travel, 020 3582 4990,www.originaltravel.co.uk.
Full itinerary: https://www.originaltravel.co.uk/itineraries/central-italy-train-holiday
Exploring the Scandinavian Capitals 
Explore the Scandinavian capitals on this epic 11-day trip across three countries. Visit Copenhagen, one of the foodie capitals of Europe, and experience this first-hand on a mouth-watering food tour of the city. Onto the fascinating city of Oslo – a real hub of world-class modern architecture, beautiful museums, a diverse restaurant scene and excellent shopping. Explore Bergen – Norway's second largest city, and one packed with fairy-tale charm and, finally, venture to Sweden's cosmopolitan capital, Stockholm.
Original Travel's 11-day Scandinavian Capitals itinerary costs from £3,465pp, based on two sharing. The price includes flights, ferries, train travel, all transfers, guided tours, and accommodation. Original Travel, 020 3582 4990,www.originaltravel.co.uk.
Full itinerary: https://www.originaltravel.co.uk/itineraries/scandinavian-capitals
Luxury Florence and Venice by Train
Spend eight days in two of Italy's great arty cities: Florence, the birthplace of the Renaissance, and Venice. Enjoy the best of earthy Tuscan cuisine and Venice's Silk Road-inspired seafood, and with plenty of time to spend exploring the cities, you are able to get under the skin of both destinations with expert guides in art and food. Whilst in Venice team up with a photographer who is an expert in taking photos with whichever camera you use – we even have iPhone photography experts – and who knows Venice like the back of their hand.
Original Travel's eight-day luxury Florence and Venice by train itinerary costs from £4,850pp, based on two sharing. The price includes train travel, all transfers, guided tours, and accommodation. Original Travel, 020 3582 4990,www.originaltravel.co.uk.
Full itinerary: https://www.originaltravel.co.uk/itineraries/florence-venice-train
Northern Spain Road Trip
Enjoy a luxury road trip around the wonderful Basque Country, combining two of the best cultural cities with time inland exploring the vineyards. Amble the streets of Bilbao with an expert guide and discover how Bilbao became a thriving art and cultural hotspot. Tour the vineyards of Rioja with an expert oenophile guide and take a private cookery class in the coastal city of San Sebastian.
Original Travel's 7-day Northern Spain Road Trip itinerary costs from £2,640pp, based on two sharing. The price includes flights, all transfers, hire car, guided tours, and accommodation. Original Travel, 020 3582 4990,www.originaltravel.co.uk.
Full itinerary: https://www.originaltravel.co.uk/itineraries/northern-spain-road-trip
*The survey was completed by 210 respondents in February 2021. The survey was sent in an email newsletter to all clients and also shared on Original Travel social channels.
Original Travel curates customised itineraries, crafted by destination experts to 77 countries worldwide from Anguilla to Zimbabwe. Since its launch in 2003, it has created 50,000 itineraries, each unique and adhering to the company ethos that "Life is in the Detail".
In response to the Covid-19 pandemic, Original Travel launched a flexible pledge that allows clients to change their dates or destination up to 30 days prior to departure. For new bookings made between now and 30th June 2021, and for departures until 31st December 2022, while you still need to pay a 20% deposit at the time of booking, your final balance is now not due until 30 days before travel (this is usually 60 days). We will also offer you the full flexibility to change the trip up to 30 days prior to departure. You can, for any reason, change your destination to any other, and to any date up until the end of 2022, and there will be no charge. For all bookings where we cannot fulfil the trip due to changes in travel restrictions, we will postpone your trip – again at no charge – to any departure date until the end of 2022, or offer credit against any future departure, or refund all monies paid.
Original Travel is an Introducer Appointed Representative of Campbell Irvine Ltd, who are authorised by the Financial Conduct Authority and who offer a brand new travel insurance policy that includes cover for cancellation or curtailment of a trip due to contracting coronavirus, or through being quarantined or refused permission to travel due to infection or suspected infection. This insurance policy is only valid for travel to countries where there is no FCDO advice against all but essential travel. Full details can be found on a new section on Original Travel's website, entitled 'Coronavirus Confidence'.
Original Travel also has its own specialist dive division. Original Diving is the world's only luxury dive travel outfit and is staffed by a team that includes a dive instructor, a dive master and a marine biologist. Having completed more than 3,000 dives in over 50 countries, equating to over 100 years' collective diving experience, the team pride themselves on their unparalleled expertise and knowledge of the best dive destinations across the globe.
Five of our consultants were recognised in Conde Nast Traveler's 2021 Travel Specialists list, giving an excellent snapshot of our expertise. Co-founder, Tom Barber, is named as a family specialist, Jacqui Brooks as an Indonesia specialist, Oliver Rodwell as a Mexico specialist, Louisa Fisher as a diving specialist and Matt Shock as a safari specialist.
Original Travel clients enjoy a wealth of additional services they would not find with any other UK tour operator, including:
Access to a network of 70-plus Concierges who live locally, know their destinations inside and out and are extremely well-connected. They lend fantastic ground support, offering insider recommendations, facilitating any last-minute changes and troubleshooting.
A brace of additional services designed to make departure easier than ever. Every Original Travel client, regardless of whether they're off on a long weekend to Seville, or a multi-destination sabbatical, will enjoy UK airport meet and greet, fast track UK check-in, fast track UK security*, lounge access and pre-booked flight seats. There are also upgrade options to include: a luggage transfer service from your home to the airport; fast track check-in and security and lounge access on your flight home; fast track through immigration on your return to the UK.
The knowledge that not only will Original Travel offset the carbon footprint of their international flights, but also – in an industry-first – car-hire and other flights (even if booked independently).
The knowledge that they are contributing to Our Foundation, which supports nearly 100 humanitarian projects in 30 developing countries. To date, nearly £800,000 has been invested to support five key areas: child protection, vocational training, economic development assistance, preservation of cultural and natural heritage and safeguarding the lifestyles of indigenous peoples.

Follow and Share with Jetsettersblog.