Romantic Holidays in the Algarve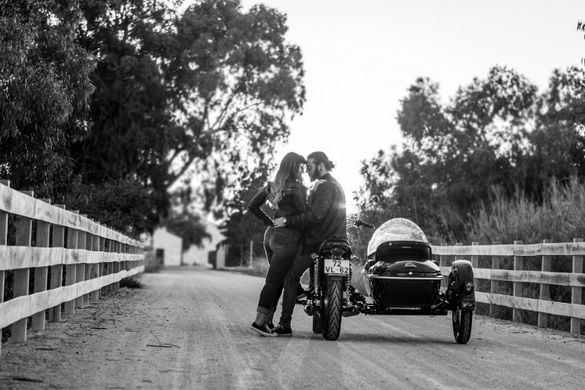 ---
Want to surprise your other half?
Check out these amazing activities and places to stay in the Algarve to get your partner in the romantic mood.
Escape to a Desert Island with your partner
Unwind with your partner with a tour of the only uninhabited island in the region, "Ilha Deserta", 15 minute boat trip from Faro, offering stunning views of the beautiful Ria Formosa Natural Park. Once on the island, you will be welcomed by a mixture of lavender, thyme and rosemary scents as you walk along the 7km white sandy beach. The nature tour also includes a meal of seafood-based dishes made with fresh, local ingredients at the Estaminé Restaurant.
Prices start from €40 per person.
More information at www.ilha-deserta.com/
Hop on a motorbike and explore the Algarve's scenic roads
If you fancy a unique experience for you and your partner, hire a Vespa, Harley Davidson, or even a Mash side-car for the day and set off on the country roads. Along the way you will discover the Algarve's scenic roads, its stunning coastline and can even watch the magical sunset over the cliffs as the sun disappears into the waves.
Prices start from €65 a day
More information and booking instructions can be found at www.soulfulbikes.com
Explore the Algarve's beautiful inland villages
Get away from the crowded beaches and discover the heart of the authentic Algarve with a tour of one of the region's most typical villages, Alte. You will be charmed by its natural surroundings, its church, the locals, and the narrow streets full of craft shops and traditional worshops. The tour ends with a tasty picnic full of regional products, including chorizo, cheese, ham, bread, cold snacks, homemade cake, and a bottle of Algarve wine.
Prices start at 75€ per person, including pick ups and drop offs and surprise gift.
More information here: www.tnnaturetours.com
Where to stay:
Step out of time at Molinum Country House – Boliqueime, Loulé
Stay in a charming former windmill dating back to 1900 at Molinum Country House, in central Algarve. The hotel is surrounded by nature, creating a timeless setting with panoramic views of the coast line and a romantic and peaceful atmosphere. It boasts 2 pools, 1 tennis court as well as several natural areas for you to enjoy the sun and reconnect with nature whilst enjoying a glass of locally produced wine.
Prices range from €99 to €159 per night
More information at: www.molinum.pt/
Get adventurous at Penina Hotel and Golf Resort, Portimao
Get the adrenaline pumping with a stay at Penina Hotel and Golf resort. The hotel offers the chance for you and your partner to enjoy a lavish picnic in a hot air balloon high above the hotel's beautifully manicured gardens. Once back on the ground, you can treat your loved one with a Valentine's day special dinner at a secret table in the hotel's grounds, prepared by the hotel chef. And if that's not enough of an adrenaline rush for you, you can also sign up for an optional parachute jump for two!
Prices start from €367 per person and includes 2 nights accomodation (twin room pool view with breakfast), 1 hot air balloon experience sharing the basket with other guests plus picnic basket.
More information at: www.penina.com
Just Relax with your loved one at Longevity Cegonha Country Club, Vilamoura
Longevity Cegonha Country Club is a charming hotel with Spa & Wellness facilities and services.
Offering an indulgent array of daily Body & Mind activities and a wide range of Spa & Wellness services, within a welcoming and cosy atmosphere it is the perfect place to enjoy a relaxing break with your loved one. Nestled in a tranquil and green area of Vilamoura, it is also surrounded by the amazing Vilamoura lifestyle of beaches, marina, golf courses, walking and biking trails, and many other attractions.
Prices start from €347 per couple based on 1-night accommodation and Breakfast with FEEL ROMANTIC Spa Ritual
More information at: www.longevitywellnessworldwide.com
The Algarve is the southernmost region in Portugal framed by a 200km coastline. Known for its promise of more than 300 days of sun per year, the region is home to award-winning beaches, authentic gastronomy and a range of outdoor activities from surfing to cycling, walking, and birdwatching that attracts thrill seekers, nature lovers alike.  The Algarve's 16 municipalities offer traditional and distinct experiences that allow for visitors to discover its rich heritage as a region.
For high-res imagery, please click here.
020 8614 7503
Follow and Share with Jetsettersblog.