Rottnest Island Welcomes Eight New Offerings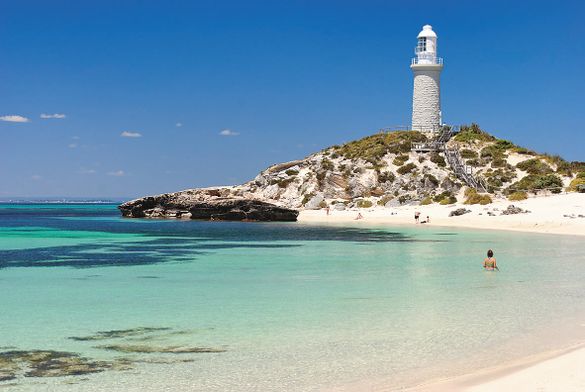 The new offerings on the Island, which sits a 30-minute ferry ride from Fremantle and 90 minutes from Perth in the Indian Ocean, enhance and diversify the experiences available to the hundreds of thousands of people who visit each year.
They include new flight options to travel to the Island, boat tours, water activities, catering and shopping.
Daily Seaplane Commute
Visitors can travel to the Island in a state-of-the-art Cessna turbo-prop seaplane with Rottnest Air Express, operating several daily departures from the Swan River. Flight time is 15 minutes and includes views of the coastal surrounds of Perth.
Skydive and Transfer Package
While skydiving has been an activity on Rottnest Island for some time, courtesy of Skydive Geronimo, the business is now making it possible for visitors to fly from the mainland via Jandakot Airport and skydive onto the Island. After landing on the beach, they can then spend the day on the Island and return by ferry.
Sunset Cruises
There are not one, but two new cruises that highlight the beautiful sunset over the Indian Ocean, departing from Rottnest Island. While sailing along the surrounding bays, guests on the 12.5m catamaran with Charter 1 enjoy a glass of bubbles and antipasto, while Rottnest Cruises serves up all beverages alongside a seafood finger-food menu.
Fishing Cruise
Rottnest Island is a haven for fishing thanks to the many fish species found in its surrounding waters. Acknowledging the opportunity this offers, Rottnest Cruises has launched another new tour – a fishing cruise. Hooked on Rotto includes all equipment required on board a charter boat, with instruction from expert fishing crew.
Refreshments at the West End
The West End of Rottnest Island beckons people to venture out to this part due to its rugged coastline and year-round population of New Zealand Fur Seals. For the first time, food and drink including snacks and hot and cold beverages are available to buy here thanks to a new vintage caravan.
New Shop and Concierge Service
Visitors to Rottnest Island can find out more about the recreational and dining opportunities on offer from a new hub. Located in the Main Settlement, the Salt Store is open every day for people to book tours and purchase high-quality, locally made products that showcase the talent of Western Australian artists and artisans.
Aquatic Playground
Aquaplay has taken over the North Thomson Bay area of Rottnest Island to provide one-hour sea-bike tours, pedal-board and stand-up paddle board hire and a Kids Zone with giant inflatable water-rollers and inflatable jet skis.
About Rottnest Island
Rottnest Island is an A-Class Reserve in Western Australia, located 19km from the port city of Fremantle in the Indian Ocean. It is renowned for its warm climate, native wildlife and beaches and bays, with a multitude of tours and activities available. For 2018-19, Rottnest recorded its biggest ever year, with 785,001 visito
rs.
Follow and Share with Jetsettersblog.