RushAdventures Catered Chalets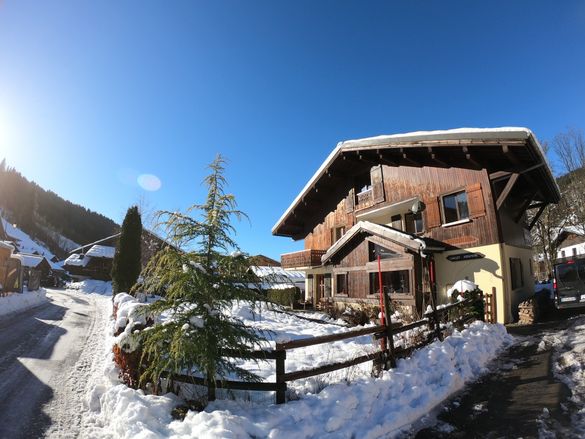 ---
Chalet operator RushAdventures, based in the French resort of Les Gets, has launched its new winter program and kept its traditional catered chalet model running, despite many operators abandoning it in favour of self-catering only.
Whilst many tour operators abandon catered chalet holidays, RushAdventures remain determined to operate as 'normal' this winter.
Social distancing measures and hygiene changes over the summer season have been implemented and will be carried over into winter.
Flexible Covid-19 bookings terms have been put into place in case of cancellations.
RushAdventures is based in Les Gets, one of the closest major ski resorts to drive to from the UK.
The company is confident it's something customers still want and they have spent a considerable amount of time making the necessary changes required to help keep skiers and snowboarders safe when staying in mixed group chalets this winter.
The dining area in Chalet Adventure has been re-designed to conform with social distancing measures so that separate groups can dine apart, and in the event of any Covid-19 related issues preventing the staffed kitchen to operate, all main bedrooms have been converted to offer self-catering facilities (all remaining bedrooms will be re-fitted during the summer of 2021 making each room effectively a self-contained apartment).
During the winter, the chalet can be booked on a room only or sole occupancy basis.
Chris Chapman, co-owner of RushAdventures, said:
We have worked long and hard putting in place new cleaning procedures and establishing dining methods that work whilst respecting social distancing. We know that people still want to ski, our guests will still want to eat, and what was once known as a wonderful experience sharing a chalet and meeting other like-minded couples and families, is unlikely to change. Therefore this winter we will still be offering catered options, we might be forced to go slightly 'off piste' some weeks if we are required to change our procedures, but we will be here, we will be skiing, we will be drinking vin chaud, eating cheese and chatting late into the night about the best places to ski and who did the biggest jump during the day!
Prices start at £555 per person or £6,500 (going up to £940/£11,950 over peak season weeks) for chalet sole occupancy, including 7 nights half-board accommodation in Chalet Aventure, Les Gets, with a full breakfast daily, four course meal including wine for 6 nights and afternoon tea with cake daily. Short breaks for 3 nights during the week or weekend are also available.
Prices do not include travel to resort – Les Gets is a one hour drive from Geneva Airport and approximately 8 hours' drive from Calais, making it one of the closest major ski resorts to drive to from the UK.
Bookings Policy Winter 2020-21
Flexible COVID-19 booking terms have been put in place in response to the current global restrictions on international travel and will temporarily replace the existing booking terms and conditions.
The temporary bookings terms are applicable to all accommodation bookings for the winter 2020/21 and summer 2021 seasons should the circumstances specified in paragraphs number 1 – 4 inclusive below apply. The fully flexible COVID-19 booking terms will be in place until 1 September 2021. In these unprecedented times whilst the Coronavirus is still in circulation, RushAdventures offer the assurance that monies will not be forfeited if a holiday booking is disrupted by any of the following factors:
Customers are unable to travel due to quarantine measures. This will apply to the following circumstances:
Customers are not permitted to leave their home address
Customers have to quarantine when entering France from their home country
Customers have to quarantine when returning from France to their home country
Governments and/or Foreign Office's advice states customers are advised not to travel and/or forbidden to travel to France
Local advice from the Haute Savoie Prefecture prevents customers from staying in RushAdventures Chalets
RushAdventures Chalets are forced to close due to an outbreak of COVID-19
In line with current booking terms and conditions a 30% deposit of the total holiday price is required. The deposit payment is usually non-refundable and non-transferable, but in light of the uncertainties ahead RushAdventures will transfer the deposit payment to a new booking date* either later in the current season or in the next season, or if preferred, a full refund will be issued.
The final balance payment of the holiday price will be due 12 weeks before the date of travel. Once the final balance payment of the holiday price has been made customers will then be able to cancel their existing booking if the circumstances specified in paragraphs 1 – 4 inclusive above apply and either transfer their holiday payment to a new booking date* or receive a full refund of their holiday payment.
*This means the booking deposit payment and the final holiday balance payment can be transferred to any other available winter 2021, winter 2022, summer 2021 or summer 2022 dates.
Follow and Share with Jetsettersblog.