Saint Lucia's Marigot Bay Resort Triple M Service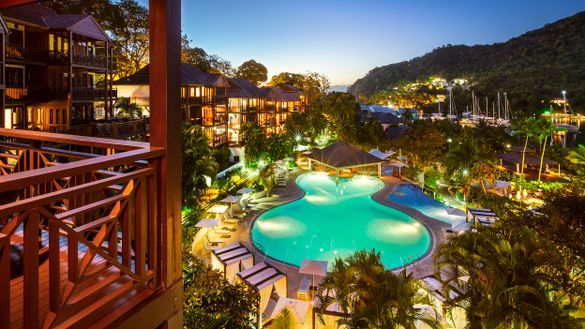 ---
Marigot Bay Resort and Marina has taken this time to completely reimagine a stay at one of the Caribbean's best addresses in Saint Lucia. With the resort's reopening on October 1, guests can indulge in new Marigot Moments to discover an entirely elevated experience feeling secure and at ease from arrival to departure. A collection of 57 one, two, three-bedroom and penthouse Residences offer private retreats for discerning travellers searching for their own tropical sanctuary; a new signature butler service has launched called Marigot Moment Maestros; and the resort's very own Six Star CARE Promise health and safety protocols will be the foundation of future travel to Saint Lucia by land and by sea.
"We have taken the time during our closure to really investigate how people will be travelling and what they want to get from their holiday experience. Our Residences offer the space and privacy guests crave after months in lockdown as they reconnect with loved ones and begin travelling to the Caribbean once again," Director of Operations, Perle Flavien said. "The new Marigot Moment Maestros (Triple M) service will ensure guests feel special from the moment they book and will help to make them feel safe and at ease even before they travel by addressing any concerns they may have about the evolving travel environment."
SECLUSION – PRIVATE RESIDENCES
Marigot Bay offers 57 one, two, three-bedroom and penthouse Residences set into a lush hillside with spacious verandas offering views of the clear, calm waters of Marigot Bay and the resort's yacht harbor. Tucked away from the public spaces, each Residence has its own private entrance and features from 1,435 square feet up to 3,200 square feet of living space, a full state-of-the-art kitchen and dining room, laundry room, and an expansive living room to make all guests feel right at home for the duration of their stay. Private plunge pools are available with upgraded room categories. Guests can enjoy intimate meals in-room with Chef In-Residence Dining where Chef and the expert culinary team prepares guest favorite pre-selected menus on their balcony or set in the resort's dreamy treehouse. The accommodations' large kitchens can be pre-stocked to each guest's order with all groceries unpacked, cleaned and stored ahead of arrival. Rates include breakfast and airport round-trip transfers. For additional information regarding the Residences and rates, please visit the resort's website.
SERVICE – THE NEW MARIGOT MOMENT MAESTROS
Marigot Bay has won its accolades honestly, by emphasising a consistently high level of personal yet unobtrusive service. If anything, this level has only been raised with the introduction of the Marigot Moment Maestros, a signature butler-like service above and beyond the traditional concierge that is available to everyone. Prior to their arrival, guests are introduced to the "Marigot Moment Maestros" team who anticipate every need for the duration of the stay. A "Marigot Moment Maestros" team member will personally meet & greet guests at Hewanorra International Airport with cold towels, bottled water and assist with their airport transfer to paradise at Marigot Bay Resort and Marina. The resort's devoted and welcoming team are available day and night for any guest request big or small. From indigenous spa treatments using natural VOYA products in the resort's tranquil Spa Village and dinner reservations to pre-booked resort activities and island excursions, (ridge climb hikes, sunset yacht charters, day excursions to the Pitons, etc.) and organising special celebratory events – the Marigot Moment Maestros do it all. This dedicated team has full knowledge of Saint Lucia as well as all the resort services and amenities. Marigot Moment Maestros will orchestrate perfect itineraries where every expectation is exceeded and lifelong memories made.
SAFETY GUIDELINES
The Marigot Bay Resort and Marina property team has implemented over 100 preventative actions following the resort's closure due to COVID-19. In constant communication with Saint Lucia Tourism Authority (SLTA) and Caribbean Hotel & Tourism Association (CHTA), the resort has activated a comprehensive CASE programme (Clean and Sanitise Everything). As an extra precaution, the property strictly adheres to guidelines laid out by the World Health Organization (WHO) and US Centers for Disease Control & Prevention (CDC). For a full list of Marigot Bay's new "Six Star CARE Promise" COVID-related protocols, please see below or visit the resort's website here.
For more information, visit www.marigotbayresort.com. Resort reservations can be made online or by calling +1 758-458-5300; Follow Marigot Bay Resort and Marina on Instagram, Twitter and Facebook to continue making memorable Marigot Moments.
About Marigot Bay Resort and Marina 
Nestled in Saint Lucia's Marigot Bay—described as "the most beautiful bay in the Caribbean" by novelist James A Michener—the Marigot Bay Resort and Marina is a luxury getaway perfect for families, friends, and honeymooners alike. The resort's 57 Residences and 67 Junior Suites feature spacious balconies and extensive views of the bay or lush tropical gardens. The Grill at 14°61° offers farm to fork dining while guests enjoy breathtaking views of Marigot Bay. An intimate Rum Cave houses specialty local rums and offers rum tasting classes in a space reminiscent of an authentic distillery. Guests are afforded even more luxury at the world-class Spa Village with three individual spa cottages. Inspired by Saint Lucia's natural environment, the spa has three couple's treatment rooms offering indigenous treatments using organic VOYA products, steam room, sauna, outdoor jacuzzi, fitness center and treehouse for private treatments and meditation sessions. Marigot Bay Marina accommodates some of the most luxurious mega yachts in the world, and guests of the resort are able to arrange exclusive charters. Marigot Bay is a proud member of the Preferred Hotels and Resorts' LVX Collection and American Express Fine Hotels and Resorts.
Follow and Share with Jetsettersblog.