Save Up to 25 Percent on Polar Voyages With Explore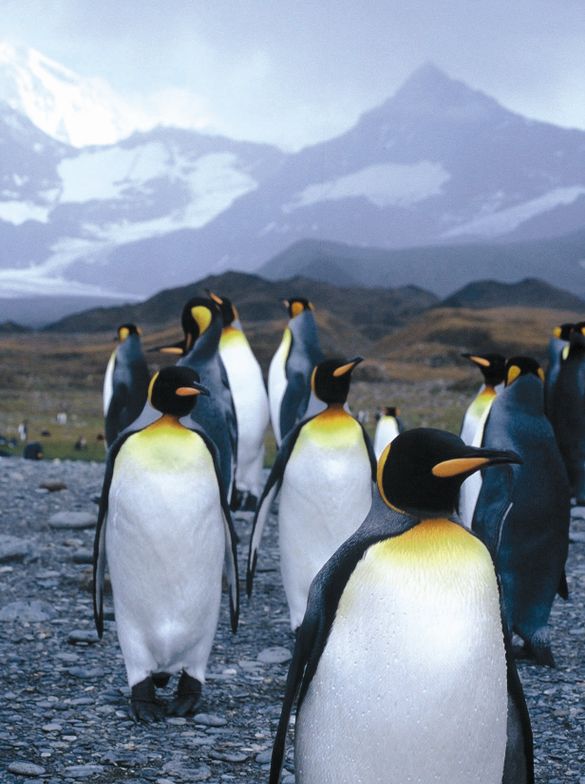 ---
Save up to £4,665 on selected voyages on board the new M/V Greg Mortimer
Explore is offering up to 25% off selected Antarctica 2020/21 and Arctic 2021 voyages on board the brand new M/V Greg Mortimer* with savings of up to £4,665.
Save up to £4,665 on the 22-day cruise 'Antarctica Solar Eclipse' now from £13,996
For a once-in-a-lifetime experience watch the 2021 solar eclipse from the Great White Continent, Antarctica. Visit the South Shetland Islands to spot elephant seals, Adelie penguins, whales and dolphins.  Follow in Shackleton, Worsley and Crean's footsteps and complete the final leg of their walk from Fortuna Bay to Stromness on South Georgia and visit the historic Stanley Town and the Sealion Island Nature Reserve in the Falkland Islands.
The 22-day expedition cruise departs 24 November 2021. Price was from £18,661, now £13,996 saving £4,665. The cost includes 20-nights' premium boat, one night standard hotel, all meals on board the ship, expedition crew and naturalist guides.
Save up to £2,339 on the 21-day cruise 'Falklands, South Georgia and Antarctica' now from £13,252
This exploration of the Southern Ocean begins at the tip of Argentina and heads east towards the Falkland Islands archipelago to see penguins, elephant seals and sea lions in their breeding grounds. In South Georgia passengers have the chance to discover the island's snow-capped mountain landscapes, deep fjords and wild beaches. As well as colonies of king penguins, fur seals and elephant seals, it is estimated that over 10 million sea birds visit South Georgia each year. The islands are steeped in maritime history and are home to the grave of Sir Ernest Shackleton. The highlight of this trip is landing on the Antarctic Peninsula where there is plenty of time to observe the rookeries of chinstrap, gentoo and Adelie penguins as well as the breath-taking scenery of this vast wilderness.
The 21-day expedition cruise departs 9 November or 8 December 2020. Price was from £15,591, now £13,252 saving £2,339. The cost includes 18-nights' premium boat, one night standard hotel, all meals on board the ship, expedition crew and naturalist guides.
Save up to £1,925 on the 13-day cruise 'Realm of the Polar Bear in Depth' now from £5,775
Sail into the kingdom of the polar bear on this voyage to the Arctic. Beginning in the Norwegian town of Kirkenes, the ship crosses the Barents Sea, where there is a good chance of spotting whales, before sailing on to the Svalbard archipelago. On foot and by Zodiac, the trip visits abandoned whaling settlements, trapper camps and historic sites. The trip provides plenty of opportunities to search for polar bears, walrus, Arctic fox and reindeer as well as migratory birds, including little auks, guillemots and puffin, all against the backdrop of spectacular glacier-covered peaks.
The 13-day expedition cruise departs 7 July (Reverse) and 18 August 2021. Price was from £7,700, now £5,775 saving £1,925. The cost includes 12-nights' premium boat, all meals on board the ship, expedition crew and naturalist guides.
*The offer is per booking, valid against all cabin categories and is subject to availability at the time of booking. The offer is valid on selected departures and on bookings made 24 January – 31 March 2019. Lead-in price is based on a triple-shared State-room cabin.
The new M/V Greg Mortimer is a 104-metre custom-designed ship offering cutting edge nautical technology to ensure a comfortable and safe passage through polar waters. Inside the ship there are spacious stateroom cabins for 120 passengers, a large mud room with easy boarding access and a hydraulic viewing platform, offering unobstructed views of the wildlife. Other features include a library, Wellness Centre with a gym, sauna and spa and a multimedia room for keen photographers wishing to edit their photos after a day of exploration.
Explore is a global adventure travel company with nearly 40 years' experience in providing exciting and authentic travel experiences. With over 600 trips in 130 countries, Explore's expertly crafted itineraries combined with award-winning tour leaders, small group sizes and a commitment to responsible travel ensures unforgettable travel experiences in extraordinary destinations. Whether its wildlife, culture, walking and trekking, a polar voyage, cycling or a family adventure, our trips will give you once-in-a-lifetime experiences, every day.
Follow and Share with Jetsettersblog.