SeaLink Brilliant Travels in Australia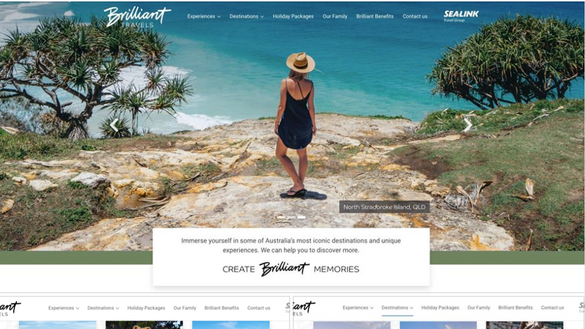 ---
SeaLink Travel Group has launched a new online platform, Brilliant Travels, to promote the diverse destinations and iconic and unique experiences they connect people to across Australia.
Mr Jeff Ellison, CEO and Managing Director of SeaLink Travel Group Limited, said "We believe that travel is about connecting people, sharing experiences and creating brilliant memories."
"Each year we are privileged to connect around 7 million people to various destinations and experiences across Australia. We wanted to create a space where people can go to get inspiration on where to visit next, and to get authentic and unique Australian nature, wildlife, cultural and island experiences."
"Our new Brilliant Travels platform brings all these experiences and destinations onto one website making it easier for travellers to find their next brilliant holiday." He said.
The new Brilliant Travels platform allows travellers to explore Australia based on the experience type they are interested in or the destination they have always dreamt of visiting.
"We hope Brilliant Travels helps inspire people to discover more of our beautiful country. The brilliant destinations, the brilliant experiences and the brilliant people and cultures of Australia that makes us unique," Mr Ellison said.
The Brilliant Travels family has been helping people to discover Australia and create brilliant memories since 1970.
SeaLink Travel Group Limited includes some of Australia's longest serving tourism operators. SeaLink South Australia celebrates 30 years this year and Captain Cook Cruises on Sydney Harbour is set to celebrate 50 years in 2020.
Established in 1989 in South Australia with a ferry connection to Kangaroo Island, SeaLink has since expanded operations to include Rottnest Island, Darwin and the Tiwi Islands, Magnetic Island and Palm Island, North Stradbroke Island, and Bruny Island to name a few.
Captain Cook Cruises on Sydney Harbour, the Swan River in Perth, and the PS Murray Princess on the Murray River are also part of the SeaLink group, as well as the multi-award-winning Kingfisher Bay Resort Group on Fraser Island.
As part of the Brilliant Travels launch, SeaLink Travel Group has also launched their Brilliant Benefits program. Brilliant Benefits is free for people to join and will provide members with exclusive offers and discounts, invites to special VIP events, early notification of deals and packages as well as travel ideas and inspiration.
For brilliant ideas for your next holiday or to sign up to Brilliant Benefits visit BrilliantTravels.com.au.
For enquiries contact:
Phil Boyle, SeaLink Travel Group, General Manager Marketing – 0427 218 584
Jeff Ellison, SeaLink Travel Group, CEO – 0407 407 123
About SeaLink Travel Group
SeaLink Travel Group Limited is one of Australia's most dynamic travel companies, bringing the nation's best tourism and transport experiences to the world. With more than 1,600 passionate staff across the country, we deliver fantastic services to seven million customers annually.  With a vessel fleet of 77 and a coach and touring vehicle fleet of 76 vehicles, our Adelaide-based company has undergone a remarkable period of growth, emerging as a significant player on the national tourism and transport scene.
At SeaLink, we believe travel is about connecting people, sharing experiences and creating brilliant memories.  Our operations extend across New South Wales, Queensland, the Northern Territory, Western Australia, South Australia and Tasmania, including:
Cruises, ferry and charter services on Sydney Harbour, Swan River and on the Murray River
Passenger, vehicle and freight ferry services from Kangaroo Island to the South Australian mainland, North Stradbroke Island and Southern Moreton Bay Islands to south-east Queensland and from Bruny Island to the Tasmanian mainland
Resort accommodation, restaurants, touring and ferry services on Fraser Island, Queensland
Day tours, extended touring and charter operations on Kangaroo Island and on the South Australia mainland
Passenger ferry services in Townsville, Darwin and Perth
Lunch and dinner cruises on the Swan River and on Sydney Harbour
Ferry and barging services in south-east Queensland and Gladstone
Exclusive 4WD foreign language adventure-based tours
Retail travel agencies in Adelaide and Townsville
Tour wholesaling to the travel trade
Adventure, accommodation and bistro at Vivonne Bay, Kangaroo Island
SeaLink successfully listed on the Australian Securities Exchange in October 2013 (ASX:SLK).
Follow and Share with Jetsettersblog.