Seaside- Member of Design Hotels in the Maldives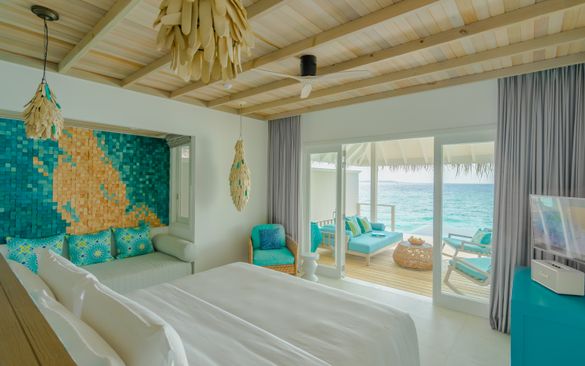 ---
Seaside Finolhu, located in the UNESCO-protected Baa Atoll, is the first luxury resort in the Maldives to be accepted as a member of Design Hotels, the globally recognised resource for curated design-led hotels. Operated by the hotel company, Seaside Collection, Seaside Finolhu earned its place as the only resort in the Maldives to be included in Design Hotels' prestigious international portfolio after successfully meeting the criteria of embodying quality, style, and holistic hospitality concepts.
Gregor Gerlach, owner and Managing Partner of Seaside Collection, spoke about the recognition from Design Hotels: "Our vision for Seaside Finolhu is to bring a modern, bright and open sense of feeling, where our guests can enjoy themselves and create special moments. We are proud to be recognised internationally as a member of Design Hotels, not to mention being the first and only resort in the Maldives in their portfolio. We look forward to improving constantly and transforming Seaside Finolhu to align with the Seaside Collection brand."
The resort's redesign, which is being overseen by award-winning London-based design studio, Muza Lab, is due for completion in the second quarter of 2020 and aims to develop its distinctive barefoot chic atmosphere that combines Maldivian-inspired touches with ultra-luxury modernity. The resort's new look will showcase contemporary design mixed with a distinct organic edge. Natural raw materials such as ropes, clay and timbers are being incorporated into Seaside Finolhu's refreshing new colour palettes to create a visual harmony.
About Seaside Finolhu
Translated as "sandbank", Finolhu is one of the finest island resorts located in the UNESCO-protected Baa Atoll, famous for its mesmerising diversity of reefs, submerged cliffs, and small, round underwater hills known as "thilas".
Finolhu was opened in June 2016 and consists of four islands with long beaches. Whilst popular with honeymooners, the extensive resort is also very family-friendly, with a kids' club, plenty of activities and daily entertainment.
The resort comprises a mix of 125 stylish and private overwater and beach villas, available in one- or two-bedroom options, half of which have their own pools and offer stunning views of the Maldivian seascape. The resort's four beachside dining venues offer a variety of exciting flavours, from laid-back favourites to authentic classics, and delightful fine dining. The fully equipped spa and wellness facility offer holistic programmes and treatments with a fusion of the East and West.
Another distinguishing feature of Seaside Finolhu is its iconic Beach Bubble. The first of its kind in the Maldives, the bubble is located in a secluded spot along Seaside Finolhu's marvellous sandbank. Exclusively available for guests wishing to enjoy a uniquely romantic night under the stars.
About the Seaside Collection:
The Seaside Hotels Chain was founded in 1969 by Theo Gerlach who set out with the idea of building hotels where he himself would love to spend time. This resulted in the growth of unique hotels where luxury is celebrated in an unobtrusive, casual way. Fifty years on, the brand now has eleven boutique properties, located in Germany, the Canary Islands and the Maldives. Each of the eleven four- and five-star hotels is characterised by its exclusive location, individual architecture, high-quality management, excellent gastronomy and passionate hospitality.
As of June 2019, Seaside Hotels began operating as the Seaside Collection. The new Seaside Collection brand image and seahorse emblem serve as a symbol of quality encapsulating the individuality of the hotels within the collection. Further information on both city and resort hotels can be found at www.seaside-collection.com
About Muza Lab:
Muza Lab: a design studio, a boutique laboratory; its story and characters have gathered momentum over the years, through the award-winning spaces designed and the memories made by founders Inge Moore and Nathan Hutchins. With 45 years of combined experience, the members of Muza Lab have won 42 awards during their thirteen years working together. The mission statement: "People have always been our greatest inspiration. We believe good design serves as the armature for their stories, connecting hearts and minds and creating moments that matter. In a world full of material things, our mission is to re-frame what is truly valuable. We design places that respect the intrinsic purity of their surroundings, and that preserve local communities, places that open eyes wide. Places that leave you speechless. We believe in the art of being limitless. We make 'make-believe' real. We are Dreamers who do."
Follow and Share with Jetsettersblog.