Seattle's Secret Island Zen-scape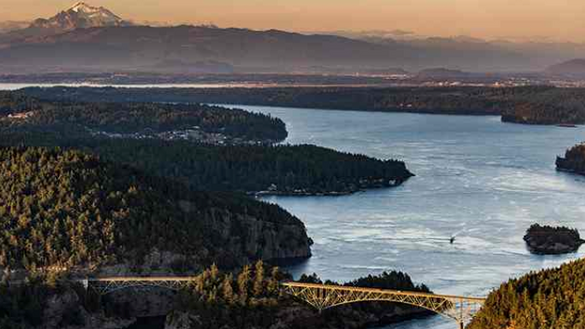 ---
Seattle's Secret Island Zen – scape
Just two hours from Seattle discover moments of pure Zen in a Pacific Northwest treasure – Whidbey and Camano Islands – where whales wallow in calm waters, bald eagles soar, herds of wild deer wander through villages and great food such as local oysters are washed down with Washington's superb wines.
Whales wallow in Whidbey waters – https://www.youtube.com/watch?v=1j2YQ5Bk6pU&feature=youtu.be   
At the northern tip of Whidbey, Deception Pass suspension bridge connects Whidbey island and the mainland. This year, the historic bridge celebrates its 85th anniversary. Spot whales and adventurers floating by on the bubbling Puget Sound waters below – a passage that was first discovered by Captain George Vancouver.
Explore the seasons and characters of Washington state's iconic and most visited state park – Deception Pass State Park with over 4,000 acres of forests, shoreline and wildlife.
Deception Pass with mood mist – https://www.youtube.com/watch?v=aoJPFM48cyQ&feature=youtu.be
Artists, photographers and Honey Bees
Many artists live on these islands and Georgia Gerber, who has lived on Whidbey for over 20 years is one of the most famous. Her bronze sculptures can be found in public places throughout the Puget Sound region and beyond, the most recognizable one being 'Rachael', Seattle's Pike Place Market pig.
Artist at work on Whidbey and Camano Islands – https://www.youtube.com/watch?v=fWzPM8nG1yc&feature=youtu.be
Wildlife habitats include fresh and salt-water wetlands, shorelines, fields and forests and a multitude of species can be viewed in all seasons including bald eagles, herons, Canadian Snow Geese and Quail.
Local bird photographers Craig and Joy Johnson describe the process of taking their most famous shots and the birds that can be seen in the area in this video:
Bird photographer Craig Johnson reveals the bird life on the islands – https://www.youtube.com/watch?v=BhT1oa2s0g8&feature=youtu.be
There is a host of things to see and do on the islands which also showcase the local fresh organic produce. Camano Island Honey is one woman's effort to re-establish bees on Camano Island.
Jennifer explains how she's nurtured the bees of Camano – https://www.youtube.com/watch?v=mLumMVHrfOY&feature=youtu.be 
How to shuck a Whidbey & Camano grown oyster…
Naturally, oysters are readily available on the islands and tend to be the giant variety called Gigas. Chef Vincent Nattress is the owner and chef at Whidbey Island's "Orchard Kitchen" –  a farm to table dining experience. Find out how to shuck an oyster professionally:
Local chef shows us how to shuck Whidbey and Camano oysters – https://vimeo.com/87018790
So close to Seattle…
Drive around 30 minutes north of Seattle on the I-5 (enjoy a visit to the Boeing Factory at Everett on the way) then hop on the 15-minute car ferry ride from Mukilteo to Whidbey Island.  Alternatively,  drive to the northern tip of Whidbey island and over the dramatic Deception Pass suspension bridge. There is also a boat ride to the island, the Whidbey Sea-Tac shuttle from Seattle. The Puget Sound commuter train also calls at Mukilteo and it's a short walk from there to the ferry over to Whidbey. https://whidbeycamanoislands.com/how-to-get-to-whidbey-island/getting-here-by-train/
To find out more, download itineraries, maps, cruise and stay information and brochures for your next visit to Seattle and Washington State at www.seattlecruisealaska.co.uk
Follow and Share with Jetsettersblog.