Secret Compass Expedition to Socotra Island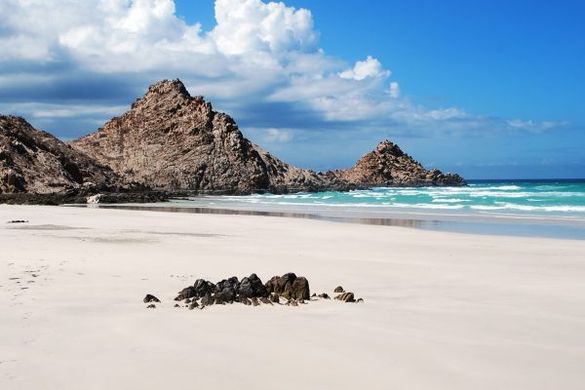 ---
In April 2020, a bold Secret Compass team will head to the isolated jewel of the Arabian Sea for an epic expedition to traverse the UNESCO-listed island of Socotra.
Bisecting the island from coast to coast, this 120km camel supported journey will trek into the heart of the Hajhir Massif, tackling the highest non-technical trekking peaks, exploring expansive wadi gorge systems and crossing plateaus river valleys and forested hills en route. Wild camping and staying with local communities the team will discover the natural beauty the country has on offer, experiencing first hand the culture and hospitality of the local communities.
"For tourists, getting onto the island has been nearly impossible in recent years, so after a 7 year hiatus on Socotra, we're super excited to return," tells Secret Compass founder Tom Bodkin. "The island is unlike anywhere else on Earth, there's tons of endemic wildlife and some pretty mind blowing landscapes. Crossing the whole island, we've designed the itinerary to challenge the team but ultimately offer tangible reward. This is an amazing opportunity to really explore what is probably one of the most unique places on Earth."
Often dubbed the 'Galapagos of the Indian Ocean', Socotra is home to an abundance of biodiversity including a huge number of endemic species. For years, the tiny island off the coasts of Yemen and Somalia remained isolated, plagued by civil war which kept the the number of visiting tourists extremely low. As a result, major developments have largely bypassed the island, preserving its unique flora, fauna and terrain.
Expedition Highlights:
Cross Yemen's isolated Socotra island
Trek 120km with camel support
Discover the UNESCO World Heritage listed flora and fauna
Explore gorges, plateaus and high peaks before descending to untouched beaches
Summit the highest non-technical peaks in the Hajhir Massif
Keep an eye out for dragon blood trees and blue baboon spiders
Swim in natural rock pools before camping for the night
Meet the vibrant communities who call Socotra home
The Bare Bones

Expedition Name: Yemen: Socotra the isolated jewel of the Arabian Sea
What: Discover this unique, UNESCO-listed island for yourself on this Secret Compass trekking expedition to cross Socotra.
Dates: 15 April – 22 April 2020
Cost: £2999
Secret Compass Expeditions
With its military background, expedition company Secret Compass is renowned for offering expeditions and adventure travel to countries eschewed by most operators due to their remoteness, post-conflict reputations or inaccessibility.
Expedition styles range from mixed-terrain trekking and minimalist desert traverses to mountain-biking, rafting and horseback expeditions. Secret Compass welcomes applications from anyone with a good level of fitness keen to achieve the extraordinary in the world's wildest places.
Secret Compass
Secret Compass redefines what is possible by creating pioneering projects in the world's wildest places. Secret Compass is built around a team of trusted experts who combine a passion for exploration with industry-leading professionalism. Secret Compass reignites your primal need for adventure, providing the catalyst for you to come alive and achieve the extraordinary. Upcoming destinations include Afghanistan, Sudan, Bhutan, Iran, Iraqi Kurdistan, Madagascar, North Korea, Panama, Siberia, the Democratic Republic of the Congo (DRC), PNG and the southern Sinai.
Secret Compass for TV, film and brand projects
Secret Compass is trusted by production companies and brands to create and capture the extraordinary in remote and wild regions thanks to its unrivalled location and risk-management expertise. Credits include location-managing Channel 4's Walking the Nile and Walking the Himalayas series, alongside projects for the BBC, National Geographic, Animal Planet and the Discovery Channel. Brand clients to date include Mitsubishi, Sony, Nespresso, Giro, Xbox and Jagermeister.
+44 (0)207 096 8428–
Follow and Share with Jetsettersblog.