Serenade Caribbean Hotels Enters Dominican
SERENADE CARIBBEAN HOTELS ENTERS DOMINICAN REPUBLIC MARKET WITH SOFT OPENING OF SERENADE PUNTA CANA BEACH, SPA & CASINO RESORT;
ALL-INCLUSIVE RATES FROM $206 PER PERSON, PER NIGHT
            PUNTA CANA, Dominican Republic (Jan. 4, 2021) – Serenade Caribbean Hotels finally arrived in the Dominican Republic with the soft opening of the all-inclusive 
Serenade Punta Cana Beach, Spa & Casino Resort
. The newly-constructed, 603-suite resort, set on Playa Cabeza de Toro in Punta Cana, is offering all-inclusive rates starting from $206 per person, per night, based on double occupancy in a Luscious Tropical Garden View suite, for stays through Feb. 28, 2020.
            Families will enjoy the extra value of a Serenade Punta Cana vacation as children under three stay free-of-charge while kids three up to 12 are discounted 50 percent off the adult rate when sharing a room with paying adults.

Luscious Tropical Garden View at Serenade Punta Cana Beach, Spa and Casino Resort
            Serenade Punta Cana's all-inclusive vacation features meals and snacks at á la carte restaurants, a buffet and snack bars; alcoholic and non-alcoholic national and international beverages; cold and hot snacks at the food truck located on the beach; coffee and chocolate shop; room service from 6 a.m. to 6 p.m.; standard Wi-Fi internet access; use of the fully-equipped fitness center; daily activities on the beach and at the pool; entrance for the kids and teens clubs; use of non-motorized water sports; nightly entertainment (casino, disco and shows); and gratuities, taxes and surcharges.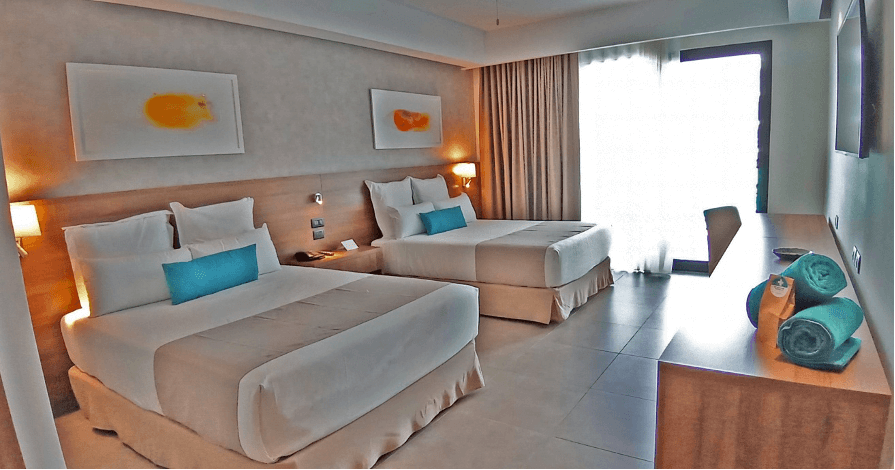 Serenade Punta Cana's suites are divided over seven, four-story buildings all with a terrace and providing views of the Caribbean Sea, the property's lush gardens or swimming pools. Suites are offered in 12 categories with the largest options accommodating six guests. There is a suite and price point for every vacationer and budget.
Luscious Tropical Garden View – there are 181 suites offering two queen beds or a king bed and sofa bed for up to four guests
Luxury Stunning Ocean View – 91 suites offering two queen beds for up to four guests
Luxury Swim Out – 154 suites in this category with a swim out pool with two queen beds or a king bed and sofa bed and accommodates up to four people
Ocean View Superior Suites – there are 24 available, each offering two king beds, terrace, outdoor Jacuzzi and accommodates up to four guests
Deluxe Junior Suites with two living rooms – ideal for four to six people, there are 72 deluxe junior suites offering views of the ocean or gardens with two king beds, two living areas and a terrace
Deluxe Junior Suites with one living room – accommodating two to four guests, these 12 deluxe junior suites provide views of the ocean or gardens with two king beds, one living area and a terrace
Master Suites – providing views of the pool or ocean, these 36 suites feature two king beds, terrace, two living rooms and accommodates up to four people
Premium Suites Preferred Club – these eight suites offer views of the garden or ocean, a king bed, terrace and sleeps up to two guests
Premium Suites Outdoor Jacuzzi – offering ocean or garden views, these 12 suites feature a king bed, outside terrace, Jacuzzi and accommodates up to two people
Family Premium Suites – with three available in this category, each family premium suite accommodates up to six guests with one king and two queen beds, terrace, two living areas and offer an ocean or garden view
Serenade Exclusive Suites – with seven of these ocean front suites available, each sleeps up to two people and includes one king bed, and outdoor Jacuzzi
Serenade Exclusive Family Suite – one ocean front room for up to four people is available in this category and includes two king beds, terrace and outdoor Jacuzzi
Serenade Presidential Suites – two ocean front presidential suites are available, each accommodating up to four people with two king beds, living room, terrace, outdoor Jacuzzi and private swimming pool
All accommodations include queen or king bed; furnished terrace; bathroom with shower and single or double vanity available; hair dryer, bathrobe and slippers for use in-suite; individually controlled air-conditioning and ceiling fan; mini-bar with refill daily; flat-screen cable television; coffee and tea maker; electronic safe; clock radio; direct dial telephone; magnetic key door locks and complimentary standard Wi-Fi.
View of the pools and some of the accommodations buildings at Serenade Punta Cana Beach, Spa & Casino Resort
Serenade Preferred Club
The resort's "Serenade Preferred Club" was designed for guests who want an exclusive five-star experience. Available to guests staying in Ocean View Superior Suites, Premium Suites and Serenade Suites, the Serenade Preferred Club provides the standard all-inclusive amenities PLUS the following VIP amenities:
Exclusive Master Class in Nikkei with demonstrations in the flavors of the renowned Japanese-Peruvian cuisine
Barista Workshop exclusive activity where guests experience making different coffees and participate in a blind tasting to identify the different coffee aromas.
Cocktail Master Class exclusive activity with guests receiving cocktail lessons with an internationally recognized bartender.
Exclusive Wine and Cava Tasting workshop where participants learn to identify the intricacies of the different drinks from an internationally renowned sommelier.
VIP area on the resort's beach featuring European- and Asian-style Balinese sun beds, hammocks and beach umbrellas. Both the exclusive pool and the VIP beach area will have personalized butler service offering guests a selection of hot and cold appetizers, exclusive dishes and beverages.
Access to Sunset Bar, a private rooftop bar with an exclusive swimming pool where guests enjoy spectacular views of the ocean and majestic sunsets. Sunset Bar features a terrace with sunbathing area and an exclusive bar area highlighted by carefully selected international drinks such as Cava sparkling wines, champagne, and other innovative cocktails. The atmosphere is further enhanced by a variety of musical performances sprinkled throughout the day.
Exclusive gourmet restaurant NOT – "Not an Ordinary Thing" offering private service for breakfast and lunch, as well as a carefully selected menu of international culinary specialties for dinner service and a complete wine, Cava and champagne menu.
Exclusive lounge with concierge service. Guests can enjoy a special selection of light dining fare, plus snacks, pastries and baked goods.
VIP Terrace Bar featuring cocktail service, ice cream and natural smoothies made with tropical fruits, Cavas, champagne and premium international drinks.
Exclusive pool with Jacuzzi and sunbathing area featuring use of lounge chairs, hammocks and beach umbrellas.
Nightly turn-down service; access to a special pillow menu featuring five different types of pillows; a personal premium vanity kit and premium bathrobes and slippers for use in the suite.
Private check-in and check-out
Premium alcoholic and non-alcoholic drinks
Vacationers staying in the Luscious Tropical Garden View, Luxury Swim-Out Suites, Deluxe Junior Suite and the Master Suites can pay to upgrade to enjoy the amenities of the Serenade Preferred Club by paying a supplement.
Culinary Experience
            Guests of Serenade Punta Cana will delight in the valueafforded by the dining options available as part of its all-inclusive vacation with á la carte and buffet-style restaurants and snack bars available.
Restaurants include Central Plaza Buffet, the primary buffet restaurant serving international specialties; The Cut Steak House with grill and barbecue options (á la carte); Kyoka serving Asian specialties (á la carte); O'livo Italian Delicatessen (á la carte); Bellum Mediterranean Breeze (á la carte); and Itzen Mexican (á la carte). Serenade Preferred Club guests can dine at all six restaurants plus the exclusive NOT "Not an Ordinary Thing" gourmet restaurant for a total of seven dining options.
Light snacks, drinks and cocktails can be ordered at The Win Sports Bar, Club Concierge Premier (Serenade Preferred Club), Lobby Bar Exclusive Lounge (Serenade Preferred Club) and Beach Club (Serenade Preferred Club).
Additionally the resort offers two swim up bars with Pool Bar 1 and Pool Bar 2 as well as Terraza Bar and Lobby Bar.
Swimming Pools
            In addition to direct access to the beach, vacationers cool off in one of four swimming pools. The main pool is where guests can relax on sun beds under umbrellas, use the Jacuzzi or enjoy a cocktail from the pool bar. The children's pool features a splash park with water slides as well as an integrated Jacuzzi. The exclusive infinity pool with Jacuzzi and the rooftop pool at the Sunset Bar are available only to Serenade Preferred Club guests.
Water Sports
            The resort offers a selection of water sports activities for guests of all ages to fully enjoy the waters of Punta Cana beach. Free options include the hobie cats, paddle board, kayaking, windsurfers and snorkeling. Banana boat rides, parasailing, fishing, glass boat and charter boats are available for an additional charge.
Kids & Teens Clubs
Serenade Punta Cana offers a kid's club (three to 12 years of age) available for children three to 12 years of age with activities divided into the minis – ages three to seven – and maxis eight to 12 years of age with age appropriate activities for each group lead by trained professionals. There is play area located inside the Kids Club as well as an outside playground in a gated section next to the Kid's Club building.
The resort's Teens Club (13-16 years of age) features video game consoles and age appropriate activities.
Serenade Punta Cana has a splash park featuring a section for the little ones and water slides for the older kids.
Reservations
To reserve a stay at Serenade Punta Cana, visit www.serenadepuntacana.com, email reservations@serenade.com.do or call 1-888-399-1224.
Facebook: https://www.facebook.com/serenadepuntacana
Instagram: https://www.instagram.com/serenadepuntacana
Twitter: https://twitter.com/SerenadeHotels
Punta Cana
Serenade Punta Cana Beach, Spa & Casino Resort is a 10-minute drive from Punta Cana International Airport and 15 minutes from downtown Punta Cana. Known as the region of the Dominican Republic where the Atlantic Ocean meets the Caribbean Sea, Punta Cana attracts vacationers from around the world to the country's east coast. Nestled across 100 miles of the world's top beaches, Punta Cana is the Dominican Republic's most lavish and popular destination.
Serenade Caribbean Hotels
Serenade Caribbean Hotels is a management company formed to operate resorts in the Caribbean. Serenade Punta Cana Beach, Spa & Casino Resort is the first hotel developed by Serenade Caribbean Hotels.
Follow and Share with Jetsettersblog.