Seychelles is the Perfect Place for Families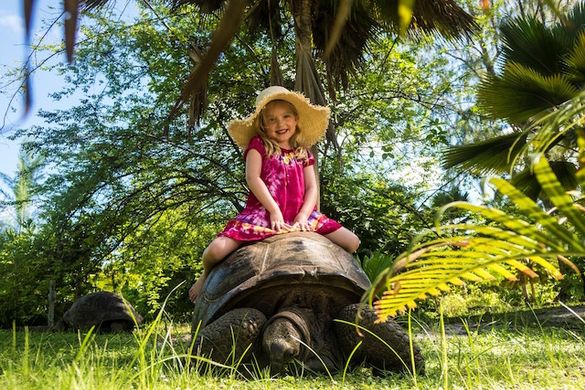 ---
Looking for a new place to holiday with your family? The Seychelles is affordable, easy to travel to and provides the ideal environment for the whole household. Read on to discover why you should go on a family trip to the island paradise this year.
Budget-Friendly and Within Easy Reach
Thanks to the new transport and accommodation options, the Seychelles is more affordable and accessible than ever. For starters, you don't need a visa to get there, and flying from the UK has gotten much easier with new direct British Airways flights.
Seychelles' ever-widening choice of affordable accommodation means that families can opt for small hotels, guesthouses, self-catering chalets and holiday homes. As well as providing excellent facilities that are well suited to families and great value for money, these establishments offer an authentic Creole experience.
Of course, Seychelles has exceptional 5-star stays that provide complete indulgence and peace of mind. Parents can relax as children enjoy the kids clubs and entertainment programmes that many top hotels offer.
The Perfect Environment
Often described as the perfect climate, Seychelles' temperatures rarely dip below 24°C or rise above 32°C. Complementing the ideal climate is the archipelago's pure, unpolluted air and untouched Indian Ocean. What's more, there are no tropical diseases to worry about.
Wonderfully untouched and still relatively undiscovered, the Seychelles has outstanding natural beauty. It features some of the rarest life forms on Earth, including giant tortoises and rare birds that the whole family will adore.
Endless Activities
Just when you thought the Seychelles couldn't get any better, it does. The only difficult choice you will encounter is deciding what activities to do. The whole family can enjoy the ocean with various water sports, from boat trips to snorkelling.
Seychelles also has many scenic hiking routes, where you can experience the wonderful island nature and its many tropical animals – a real treat for the kids! Visit Vallée de Mai, a UNESCO World Heritage Site, and see the famous double-lobed coconut, the coco-de-mer.
For the adventure-seeking families, some of the many activities on offer include zip lining, horse riding, rock climbing and island-hopping. Not to mention, the excellent air and sea connections make day trips, quite literally, a breeze.
Visit seychelles.travel for more information.
About Seychelles
The Republic of Seychelles is a 115-island archipelago in the Indian Ocean. Tourism is one of the main contributors to the country's GDP. Unrivalled beaches, exceptional hospitality and preserved nature make it the ideal holiday destination for peace and relaxation. British nationals do not need a visa to visit the Seychelles.
Follow and Share with Jetsettersblog.