Shinta Mani Angkor – Bensley Collection Opens Doors – and Hearts – in Siem Reap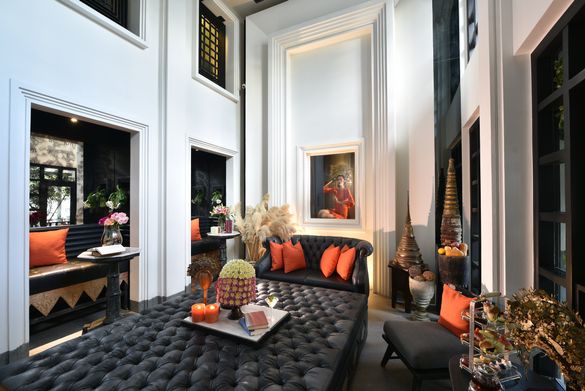 ---
Shinta Mani Hotels, Cambodia's leading luxury boutique hotel group officially launched its first highly anticipated flagship Bensley Collection property on January 1 2018. Set in the cultural heart of the royal historic town of Siem Reap the Shinta Mani Angkor – Bensley Collection villas raise the bar with tropical landscaped gardens, oversized private lap pools and rooftop living areas, and charismatic 'Bensley Butlers' delighting and surprising guests with the visionary designer's unique take on a thoughtfully bespoke hospitality experience that is as luxurious as it is culturally immersive and fun.
Design
In collaboration with acclaimed designer Bill Bensley, Shinta Mani Hotels Bensley Collection, is an exclusive portfolio of sophisticated hospitality experiences showcasing visionary design and truly bespoke service.
In creating his own hotel brand, Bensley has complete freedom to let his famed creative spirit run free and showcase his skill in crafting pioneering luxury experiences. Every single detail of the experience, as well as the aesthetic, from the tiles to the music to the Bensley Butlers' uniforms, has been personally overseen by Bill. The overall design reflects how Bensley himself likes to live; surrounded by lush gardens.
Under the ancient canopy of Siem Reap's palace trees, each villa offers its resident's privacy and extravagance, complete with their own lush tropical gardens that bring the outside in.  Dramatic high walled façades with a monumental three-dimensional carving portraying the 'hands of meditation' set the tone upon arrival at each villa. Within the walls oversized 30ft pools, which can be jumped into straight from the bedroom; a roof terrace, perfect for sundowners and stargazing; and a glazed bathroom with an outdoor bath set within a tropical garden. Prizing the importance of sleep, Bill has designed the most comfortable beds imaginable.  All of this is combined with Khmer-inspired interiors that feature eye-catching monochromatic tile designs; brass details; pops of Khmer orange and over-sized three-dimensional murals which have been carved across entire walls to portray the rippling robes of Jayavarman – a Khmer King known for his powerful, pioneering spirit – the perfect complement to such incredible surroundings.
The Experience
On arrival at Siem Reap's International airport, guests are fast tracked through immigration and whisked away to the secluded entrance of the Villas.
Much of the experience revolves around the Bensley Butlers. An élite group of hand-selected hospitality professionals that live and breathe the guests' experience, they are there when they are needed and invisible when they are not! Whether guests want petals scattered for a romantic outdoor bath, a rooftop BBQ, or an adventure to the temples of Angkor, their dedicated Bensley Butler will go above and beyond to surprise and delight. This small but highly trained band, under the helm of Head Butler Mac, are traditionally trained, endlessly resourceful and look after all the guests' needs, ensuring a flawless stay from arrival to reluctant departure.
Designed as a hotel within a hotel, there are two ways to enjoy the Bensley Collection villas – on a bed and breakfast basis, or as Bensley likes to travel: full on, totally immersed in the culture and nature, with no limits.  Eat what you like, drink what you like, see the most interesting sites, and never sign a bill. In addition, they have access to the restaurants, bars, facilities and the Shinta Mani Spa by Khmer Tonics in the adjacent Shinta Mani hotels, or can enjoy personal service from any outlets in their villa.  The Bensley Collection Butlers Lounge and villas are for the exclusive use of its guests.
The Bensley Collection is the embodiment of an innovative type of indulgence Bensley calls 'escapism' (also the title of his book), and one that guests will long remember and want to experience again and again.
A proportion of the daily room rate from all Shinta Mani hotels is donated to the non-profit Shinta Mani Foundationcreated by owner Sokoun Chanpreda to support health, education and development programmes for the less fortunate in the community.  See here for more information.
Open Doors, Open Hearts
Shinta Mani Angkor- Bensley Collection villas start from $815 (approx £580) per night B&B or from $ 1,310 (approx £930) per night for the full Bensley Experience.
Six of the villas can be combined to create three 312 square meter, two-bedroom villas to accommodate a family or friends travelling together.
For more information and reservations call tel: +855 63 969 234 or visit website: www.shintamani.com
Instagram: www.instagram.com/shintamani.angkor.bensley
Follow and Share with Jetsettersblog.