Silversea Continues to Unlock Experiences in Its 10th Year of Expedition Cruising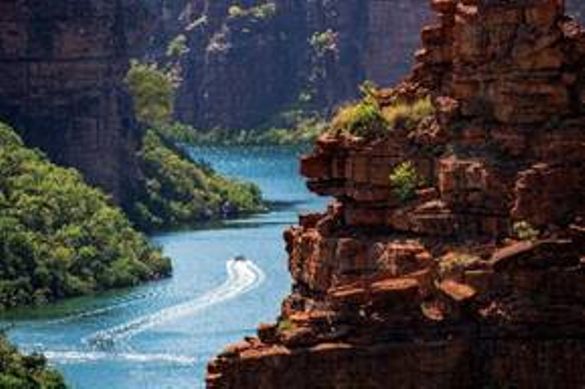 (LONDON – 17 January, 2019) In its 10th year of expedition cruising, industry-leading Silversea Cruises is continuing to unlock a broad range of deep travel experiences for guests, taking them closer to the authentic beauty of the world. From the cool conditions of Antarctica to the warm climates of Australia and beyond, Silversea's guests will explore over 900 destinations in 2019—more than any other cruise line. Standout experiences for 2019 include a recent trip to the isolated waters of the 66th parallel south and a number of upcoming voyages in the spectacular Kimberley region.
Symbolising Silversea's commitment to unlocking unique and authentic experiences, Silversea's Silver Cloud journeyed to the 66th parallel south on 13th January, crossing into the Antarctic Circle. It was the first time the ship has ventured so far south. Guests relished the opportunity to cruise in such remote waters and were rewarded with a special 'Red Nose' ceremony on the pool deck, an initiation ritual that has historically been performed on this momentous seafaring occasion. Shortly after, a record 98 guests participated in a polar plunge, which was followed by informative lectures and trivia games. Guests even spotted humpback whales as the ship sailed northward, rounding off a successful day.
"You could feel the excitement in the air as we sailed closer to the line," says Brooke Greene, a member of Silversea's Expedition Team. "It was a special moment for everyone because most of the staff had never been below the Antarctic Circle, and it was certainly the first time for all the guests. It made it all the more special that it was the first time for Silver Cloud as well."
"Led by our industry-leading Expedition Team, who enrich the adventure for our guests, our voyages to Antarctica are unique in their offering," says Conrad Combrink, Silversea's SVP Strategic Development Expeditions and Experiences. "Not only do guests travel deeper into the last continent, witnessing the iconic sights that define this incredible region, but they do so in ultimate comfort with Silversea's trademark service."
Cruising in a distinctly different ecosystem to that of Silver Cloud, Silversea's Silver Discoverer will enable guests to discover Australia's Kimberley Coast throughout 2019, showcasing the destination's beautiful landscapes, remarkable wildlife, and fascinating aboriginal history, among other alluring features. Offering truly immersive experiences in the region, Silversea guests will journey to the King George Falls by Zodiac, getting close enough to feel the spray from the 80m twin cascades; witness Aboriginal rock art, which dates back more than 50,000 years; and spot spectacular wildlife, including the saltwater crocodile, rare bird species, and various reptiles. Many other memorable experiences will ensure a once-in-a-lifetime voyage.
Accompanied by Silversea's industry-leading Expedition Team, who will provide insightful lectures and lead shore excursions, the following Silversea voyages to the Kimberley region represent a small sampling of what's on offer:
"Many travellers who visit the Kimberley Coast share the opinion that it is a life-changing destination," says Adam Armstrong, Silversea's Managing Director for Australia & New Zealand. "This remote and unspoiled region is a truly unique place that is best explored by ship. Silversea's trademark level of comfort and exemplary service complement the immersive experiences on offer to make these expedition voyages unforgettable for guests."
Aboard Silver Discoverer, as on all other ships in Silversea's fleet, guests enjoy ocean-view suites, sumptuous cuisine, and the personalised service of a butler. Enriching the experience are such all-inclusive amenities as complimentary premium wines and spirits, speciality coffees, bottled water, juices and soft drinks served throughout the ship; an in-suite bar, stocked with guests' preferences; in-suite 24-hour dining; and unlimited complimentary Wi-Fi.
About Silversea
Silversea Cruises, in which Manfredi Lefebvre d'Ovidio serves as Executive Chairman, is recognised as an innovator in the ultra-luxury cruise line industry, offering guests large-ship amenities aboard its intimate, all-suite vessels: Silver Wind, Silver Shadow, Silver Whisper, Silver Spirit and Silver Muse – all designed to offer an atmosphere of conviviality and casual elegance. With the inclusion of the expedition ships Silver Explorer, Silver Galapagos, Silver Discoverer, and with Silver Cloudrecently joining the Expedition fleet, Silversea's itineraries encompass all seven continents and feature worldwide luxury cruises to the Mediterranean, Caribbean, both Polar Regions and hundreds of fascinating destinations in between. Silversea is also looking forward to the launch of five new ultra-luxury ships. Browse Silversea's new blog Discover and subscribe to receive the latest content directly into your inbox.
Follow and Share with Jetsettersblog.