Silversea to Deploy Three Ships to Asia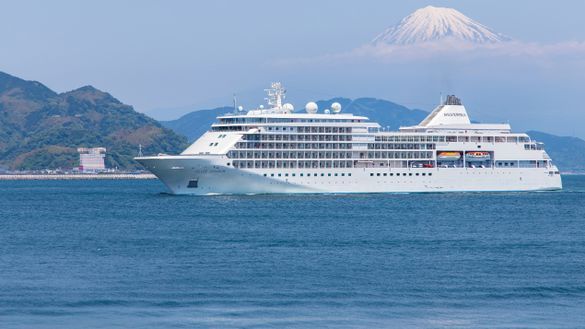 ---
As part of its new itinerary release, Silversea has unveiled 17 new sailings in Asia with three ships based in the region for the first time. 
Silversea Cruises, the leading ultra-luxury cruise line, has launched 86 new classic itineraries for (southern) summer 2021/2022 across 222 destinations in 67 countries, with eight maiden calls, including three in Asia – Miyako, Japan; Makassar, Indonesia; and Vigan-Salomague Port, The Philippines.
Departing between October 2021 and April 2022, the new program features voyages in Asia, Australia & New Zealand, South America, Galapagos, the Caribbean and the Middle East.  Of particular note is an expanded program of sailings in the Asia Pacific region with the brand new Silver Moon and the reimagined Silver Shadow to join flagship Silver Muse as the third Silversea vessel to offer voyages in Asia.
"We are delighted to launch these new summer 2021/22 voyages," says Adam Radwanski, Silversea's Managing Director Asia Pacific. "Our new voyage collection offers numerous maiden calls, the opportunity to select from three different Silversea ships in Asia and our most extensive Australia & New Zealand program to date, combined with a number of other adventures such as an in-depth exploration of the Amazon River".
Maiden calls in the global program are Miyako, Japan; Makassar, Indonesia; Vigan Salomague, the Philippines; Phillip Island and Geelong in Australia; Manama, Bahrain; Puerto Bolivar, Ecuador; and Kingstown, St. Vincent.
Key highlights include:
A diverse range of voyages across Asia, including an enhanced offering in Japan, deep discovery of Vietnam, and new itineraries to Indonesia and Papua New Guinea: Silver Muse, Silver Shadow and our new ship Silver Moon will take travellers closer to the delights of this region.
Silver Moon will offer five alluring options in South East Asia between Hong Kong and Singapore with a focus on captivating Vietnam.
Silver Muse will sail eight different voyages in the region including the opportunity for an immersive discovery of Japan on four round-trip voyages from Tokyo
Silver Shadow will offer four diverse and leisurely itineraries including the opportunity for extended stays in both Yangon and Ho Chi Minh. A key highlight are two unprecedented voyages to the fascinating and unspoiled paradise of Papua New Guinea between Singapore and Cairns in January and April 2022 which also include special experiences in Komodo and Makassar.
Iconic favourites and lesser-visited jewels, as part of the most extensive Australia & New Zealand program to date: 12 new voyages aboard two ultra-luxurious Silversea ships: the elegant 596-guest Silver Muse and the completely reimagined 388-guest Silver Shadow will take guests deeper into this region than ever before.
Silver Muse:  From December to February Silver Muse will be protagonist in Australia and New Zealand, with four voyages in the popular route between Auckland and Sydney offering a deep exploration of New Zealand in combination with South-East Australia to include Sydney, Melbourne and Hobart-Tasmania. Other options will include a combination of the Western Coast of Australia with the Java Sea.
Silver Shadow: From January to April, Silver Shadow will offer six voyages including a unique South Pacific cruise visiting Lanna Island, Vanuatu on 5 March. Guests will also enjoy two brand new itineraries between Cairns and Sydney, uniquely combining ports of call in Queensland, Victoria, Tasmania and New South Wales in one voyage.
A 74-night circumnavigation of South America aboard new ship Silver Dawn, with an unprecedented exploration of the Amazon River: Sailing round-trip from Fort Lauderdale, this Grand Voyage on our newest vessel will take guests deep into the gems of South America including the opportunity to travel down the Amazon River to Manaus on the trip on a lifetime.
30 Galapagos voyages aboard new 100-guest ship Silver Origin, including longer holiday options of 10 and 11 days: The newly launched destination-specific Silver Origin will form deep connections between Silversea's guests and the Galapagos Archipelago on 30 new voyages between October 2021 and April 2022.
Six new itineraries on both Silver Shadow and Silver Moon in the Middle East and the Persian Gulf, plus new adventures in the Indian Ocean's iconic destinations of India, Sri Lanka, and Myanmar:
Feelings of exclusivity in the Caribbean, with an emphasis on the small islands, as well as calls at the classic destinations.
Silversea's World Cruise, the Tale of Tales 2022: Journeying from 65°S to 65°N, Silver Whisper will visit 69 destinations across 32 countries, departing 6 January 2022.
On new bookings made before 30 June 2020, travellers will benefit from Silversea's new Double Bonus offer, through which guests can reserve their voyage with low deposits from just USD 1,000 per suite. Guests will also receive USD 1,000 to spend on-board. This offer is fully combinable with the Early Booking Bonus and, for select sailings, qualifies for Silversea's "Cruise with Confidence" policy.
Find out more information about Silversea's new summer 2021/2022 itineraries:
https://www.silversea.com/lp-new-itineraries-2021-2022.html
About Silversea Cruises:
Silversea Cruises, in which Manfredi Lefebvre d'Ovidio serves as Executive Chairman, is recognised as an innovator in the ultra-luxury cruise line industry, offering guests large-ship amenities aboard its intimate, all-suite vessels: Silver Wind, Silver Shadow, Silver Whisper, Silver Spirit and Silver Muse – all designed to offer an atmosphere of conviviality and casual elegance. With the inclusion of the expedition ships Silver Explorer, Silver Galapagos, and Silver Cloud, Silversea's itineraries encompass all seven continents and feature worldwide luxury cruises to the Mediterranean, Caribbean, both Polar Regions and hundreds of fascinating destinations in between. Silversea is also looking forward to the launch of five new ultra-luxury ships: Silver Moon, Silver Dawn, Silver Origin, and two Evolution-class ships. Silversea is also looking forward to the launch of five new ultra-luxury ships: Silver Moon, Silver Dawn, Silver Origin, and two Evolution-class ships. Browse Silversea's new blog Discover and subscribe to receive the latest content directly into your inbox.
In Asia Pacific, Silversea was voted "Best Luxury Small Ship Cruise Line" by Australia's Luxury Travel & Style Magazine every consecutive year from 2006 to 2012 and Silver Whisper or Silver Shadow won the Gold Award as "Best Small Cruise Ship" in each of those years. Silversea has also won similar awards from readers of Australia's Cruise Passenger Magazine, including "Best Expedition Cruise Ship" (Silver Explorer) 2013, "Best Luxury Cruise Line" 2010, 2011, 2012, 2015, 2016 & 2019 and "Best Luxury Cruise Ship" (Silver Shadow) 2010, 2011 and 2012. In 2017, 2018 & 2019, Silversea was voted "Best Luxury Ocean Cruise Line" at Luxury Travel Magazine's Gold List Awards, and in 2017, received the award for "Most Innovative Itinerary – Cruise" at the 29th annual Virtuoso® Awards. In 2018, Silver Galapagos won "Best Overall Ship", "Best Shore Excursions", and "Best Value" in the annual Cruise Critic Cruisers Choice Awards, and Silversea was recognised as "Best for Luxury" in Cruise Critic's 2019 Editor's Choice awards.
In 2
Follow and Share with Jetsettersblog.