Simpson Travel Luxurious Adult Only Hotel in Paxos,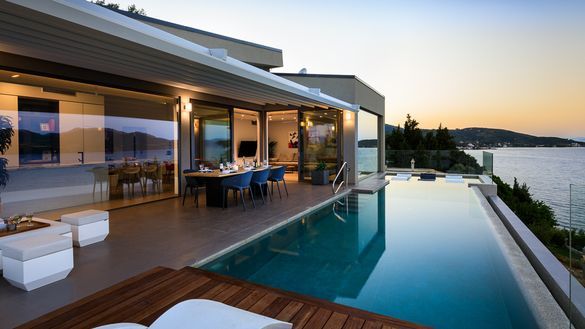 A new, luxurious adult only Simpson Hotel in Paxos, an expanded programme to Crete and six charming cottages in Ithaca are amongst the additions to independent villa and boutique hotel specialist Simpson Travel's (www.simpsontravel.com;  020 8003 6557) portfolio for 2021.  Also new are some unique, award-winning architect designed villas in Corfu and Lefkada, as well as new villas in Kalkan, including a fabulous hilltop house for eight and three new waterside properties.  The expanded Crete programme, with the addition of three new partner hotels – two in Loutro and one high in the Asterousia Mountains in southern Crete – complement Simpson's existing portfolio of villas and boutique hotels on the island and position Simpson as offering the widest choice of destinations in Crete of any of the Greek specialist operators.
Highlights of the new collection include:
Thymari Hotel, Paxos: Adult Only Hotel
Offering guests all the benefits of their own luxury villa and private pool, complemented by the exceptional service of a small high-end boutique hotel, Thymari – which is exclusive as a hotel to Simpson Travel – strikes the perfect balance between discreet elegance and blissful informality.
Set on a lush hillside on the north east coast of Paxos, a 20-minute stroll from the waterfront village of Lakka, the hotel comprises five, beautifully restored, stone-built houses, built from the remains of an ancient hamlet. Each villa is attractively spaced to offer plenty of privacy within the expansive grounds and linked by little pathways that meander down through communal gardens to the sea.
Villas offer a choice of one or two bedrooms as well as a living area, terrace and private pool. Interiors are individually furnished with elegant antiques, luxury linens and charming boho touches that reflect the Italian owner's eye for detail. Some even have indulgent outdoor bathrooms reminiscent of those you might find in the tropics.  Exquisite breakfasts and a choice of lunch or dinner are included daily, each one beautifully prepared by the hotel chef and can be taken outside on the elegant hotel terrace with views across to the Greek mainland.
Simpson Travel (www.simpsontravel.com ; 020 8003 6557) offers a week at Thymari Hotel from £1,077 pp (departing 2 May 2021) to £2,143 pp (departing 5 September 2021). Cost includes flights to Corfu and transfers from Corfu airport to Paxos port, daily breakfast and either lunch or dinner, car hire, plus pre-departure and overseas concierge services based on two sharing a one-bedroom villa.
Expanded Crete Programme
The expanded programme in Crete features three new partner hotels, opening up possibilities for more varied multi-centre itineraries and 10 night twin-centre stays, combining two or more hotels.
Two hotels are located in the unspoilt fishing village of Loutro – decidedly a destination for those in the know.  Accessed only by boat – Simpson guests arrive by private water taxi – this low key but remarkable fishing village is set on the shores of south west Crete, with no roads in or out.    Such is Loutro's appeal that a loyal clientele returns again and again for its beautiful setting, the gentle simplicity of everyday life that can be found there, and the hospitality of their Cretan hosts. Porto Loutro on the Beach is very much at the heart of village life, enjoying pole position along the waterfront; the amble from bed to sea takes a matter of moments for a morning dip before breakfast on the hotel's pretty terrace. Porto Loutro on the Hill is a step removed from the gentle hubbub of the beach, with larger rooms and a more contemporary feel.
Also new to the programme is Thalori – aptly named after the Greek words Thalassa, meaning sea and Ori meaning mountain. This unique property comprises a number of beautifully restored suites and houses, which blend seamlessly into their setting in the working hamlet of Kapetaniana.  Set high in the Asterousia Mountains, amidst the remote and rugged landscape of southern Crete, Thalori is a place of magnetic beauty and simple elegance in an extraordinary position.  The suites and houses are all individually styled and attractively furnished, making use of local natural materials.   All guests have access to the dazzling pool – surrounded by rugged rocks and mountains and with a wonderful view out over the glittering waters below.  There is also a highly acclaimed restaurant, on the site of the old monastery, surrounded by an alfresco dining terrace with phenomenal views, serving fresh produce from Thalori's own farm. 
New Collection of Simply Simpson Cottages in Ithaca
Six charming one and two bedroom properties have been added to the Simply Simpson programme in tranquil Ithaca.  Their locations make them ideal for taking as a couple, or with groups of friends or family who want to combine a holiday together with a bit more privacy.  They are ideal for enjoying the gentle, unhurried pace of island life which Ithaca offers, whilst still promising the same high levels of accommodation and exceptional service that one would expect of the luxury villa specialist.  Two have private pools, whilst the other four are a mere two or three minute walk to a beach. Whilst staying on Ithaca, explore the island by self-drive boat hire or enjoy guided walks – or perhaps take one of the art workshops which can be arranged on request.  Simpson Travel (www.simpsontravel.com ; 020 8003 6557) offers a week at Amalthia Cottage or at Arethusa Cottage from £822 pp (departing 1 May 2021). Cost includes flights to Kefalonia and transfers from Kefalonia airport to Ithaca port, car hire, plus pre-departure and overseas concierge services based on two sharing a one-bedroom villa. 
Villa Artemis, Corfu
In a prime spot overlooking north east Corfu's spectacular coastline, this fabulous three-bedroom villa has been newly built by an award-winning British architect and is a truly luxurious retreat.  The interiors are chic and stylish, with a state-of-the-art kitchen, spacious open-plan living area and beautiful pool terrace.  But it's the huge roof terrace that gives this property a really special edge. Suspended above the house and garden, from sun worshipping by day to sundowners in the early evening, it's an amazing spot from which to enjoy outstanding views across the water to the mountains of Albania.  Simpson Travel (www.simpsontravel.com ; 020 8003 6557) offers a week at Villa Artemis from £1165pp based on six sharing. Prices include return flights, car hire and seven nights accommodation.
Villa Simi, Lefkada
Close to the beautiful waterfront in Nikiana, this striking villa makes the perfect setting for a memorable and stylish holiday in the Ionian.  Its sensational open plan top-floor living area offers incredible views across the water to the Greek mainland. The lounge area and dining space seamlessly flow out onto the terrace, where an infinity pool comes compete with partially submerged beds for reclining in the water.
Downstairs, all three en-suite rooms have doors opening onto the lower terrace.  Just a short stroll down the hill gives access to a private pontoon, shared only with two neighbouring properties – Villa Melia and Villa Selina, making the transition from pool to sea a delightfully simple one at any time of day. For those looking for a holiday for three families or groups of friends travelling together, but wanting their own independence, taking all three properties would make a perfect combination.
Simpson Travel (www.simpsontravel.com ; 020 8003 6557) offers a week at Villa Simi from £643pp based on six sharing. Prices include return flights, car hire and seven nights accommodation.
Villa Venus, Kalkan
Set high on the hillside above Kalkan's celebrated waterfront, Villa Venus offers magnificent panoramic views across the bay.  With not just one, but two inviting pools, spacious, stylish interiors, plenty of balconies from which to enjoy the view and ample entertaining space, this is a very special property. For those looking for a truly relaxing experience, a private chef can be arranged to prepare meals on request. Within easy walking distance of Kalkan's vibrant centre and the host of upmarket beach clubs dotted around the bay, Villa Venus is perfectly placed to enjoy this cosmopolitan and sophisticated harbour town. A little further afield Turkey's stunning Turquoise Coast is waiting to be explored, and for those seeking splendid isolation, nearby Patara beach is stunning, with some seven miles of uninterrupted sand to roam.
Simpson Travel (www.simpsontravel.com ; 020 8003 6557) offers a week at Villa Venus from £629pp based on eight sharing. Prices include return flights, car hire, seven nights accommodation and a complimentary hammam at the Kalkan Regency Hotel spa, along with an all-day excursion on the hotel's traditional gulet boat, Poseidon.
For bookings, contact Simpson Travel (www.simpsontravel.com  020 8003 6557)
– Ends –
For further media information, please contact:
Sarah Bolam on 07714 337756 or email sarahbolamcommunications@gmail.com or Anthea Yabsley – 0208 578 6777 or email anthea.yabsley@ideal-pr.co.uk
Notes to Editors
Simpson Travel: Independently owned, Simpson Travel was established in 2002, yet its heritage predates this by many years. Founder Graham Simpson, a veteran of the travel industry, built up the highly successful Simply Travel in the 1970s with his Greek wife Yianna. From humble beginnings in a flat in Chiswick, it became one of the most respected independent travel companies of its time, renowned for offering authentic rather than 'packaged' holiday experiences, with carefully researched programmes, exceptional product knowledge and service. In Simpson Travel, he recreated the original ethos of Simply Travel, offering a very personal service, with individually selected properties, exceptional local knowledge for each destination, a highly experienced team of staff and excellent local representatives. Clients booking with Simpson Travel can be safe in the knowledge that their holiday has been created with their needs in mind and each property matched to their individual tastes and requirements.

Follow and Share with Jetsettersblog.