Six of the Most Remote and Relaxing Places in the Yukon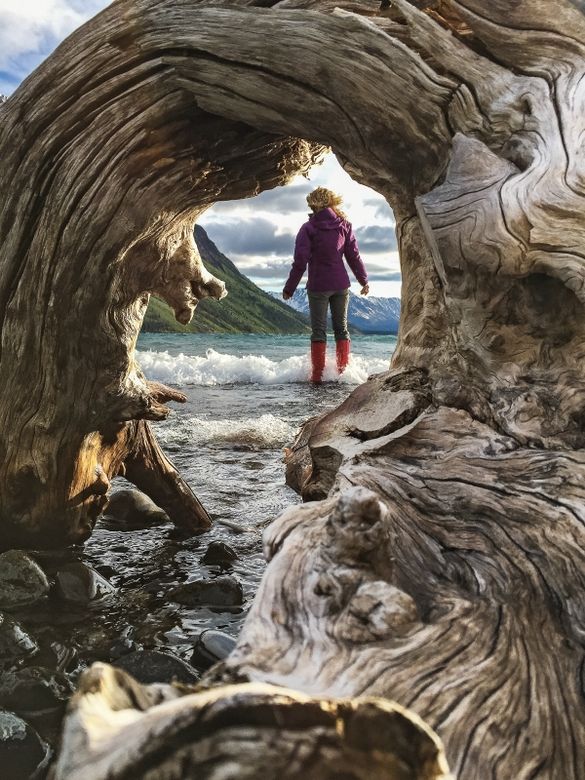 ---
The Yukon is 80% pure North American wilderness, ideal for escaping the crowds and getting away from it all. With national and territorial parks in abundance, including the UNESCO World Heritage site, Kluane National Park, four Canadian Heritage Rivers, and 3,000 miles of road, some of Canada's most remote areas become accessible to visitors in the Yukon. The Yukon is home to 5,000-metre peaks, forested valleys, unspoiled waters and untamed wildlife, including 160,000 caribou, 70,000 moose, 22,000 mountain sheep, 6,000 grizzly bears, 220 species of birds and only 40,000 humans.
Here are the six top locations to take a serious timeout in the Yukon:
Tombstone Territorial Park
Yukon's Tombstone Territorial Park protects a unique wilderness of rugged peaks, permafrost landforms and abundant wildlife, all reflected in a rich First Nations culture. The area's Hän name Ddhäl Ch'è Cha Nän means "ragged mountain land." The park is a legacy of the Tr'ondëk Hwëch'in land claim agreement and lies entirely within their traditional territory. Known as the "Patagonia of the North", Tombstone Territorial Park is located just a short drive (112km/69mi.) north of Gold Rush town Dawson City. Tombstone is a dramatic sub-arctic landscape that offers outstanding wildlife viewing, birding and hiking.
This beautiful body of water can be found in UNESCO listed Kluane National Park and Reserve, just south of Haines Junction. The adjacent campground features a day-use area, several hiking trails and a boat launch, which is the perfect way to catch plentiful rainbow trout. Those feeling adventurous can ascent to the top of King's Throne Trail, a challenging 5-kilometre ascend to an alpine cirque, a natural amphitheatre formed by glacial erosion. From the cirque, visitors can follow an unmarked, unmaintained route to the peak of the mountain.
Above the Arctic Circle and with zero road access, Ivvavik National Park welcomes a limited number of visitors each year. This protected place borders the Arctic Ocean, Vuntut National Park and Alaska's Arctic National Wildlife Refuge, serving up some unparalleled remote-wilderness opportunities. Ride a raft down the mighty Firth River, photograph tiny wildflowers and giant sweeping landscapes, cast a fishing line into the clear water and keep an eye out for impressive mammals like muskox, grizzly bears and wolves. Ivvavik National Park is also home to the Porcupine Caribou Herd and each spring, the herd migrates to the calving ground that the coastal plains create.
If the Arctic is just a little too out there, visitors can always head south from Whitehorse to Kusawa lake, about halfway between Whitehorse and Haines Junction. Kusawa means "long narrow lake" in the Tlingit language and the name fits. Kusawa Lake Campground has 53 campsites and a kitchen shelter. Plus, it also has a boat launch, just for those wanting to explore the water—many paddlers begin their Takhini River day trips from here.
Lapie Canyon is a great place for kayaking, canoeing, rafting and spotting ravens' nests dotted along the canyon walls. Land lovers can hike the scenic trail that goes along the edge of the canyon
Just a float plane ride away, Primrose Lake is the perfect place to explore the untouched alpine wilderness and frolic amongst the sheep and caribou. Plus, with various drop off and pick up points around the lake, there are a number of different hiking routes to plan.
Take me to the Yukon in 2021 with Audley Travel from £4140 per person
Audley Travel offer a 17-day Spectacular Yukon Self-Drive itinerary from £4140 per person. Price includes 16 nights' accommodation, fully insured vehicle hire throughout and scheduled international and domestic flights.
To book call 01993 683 871 or visit https://www.audleytravel.com/canada/tours/spectacular-yukon
For further information on the Yukon, visit www.travelyukon.com