Ski-Livigno.com 7 Nights Stay €230 PP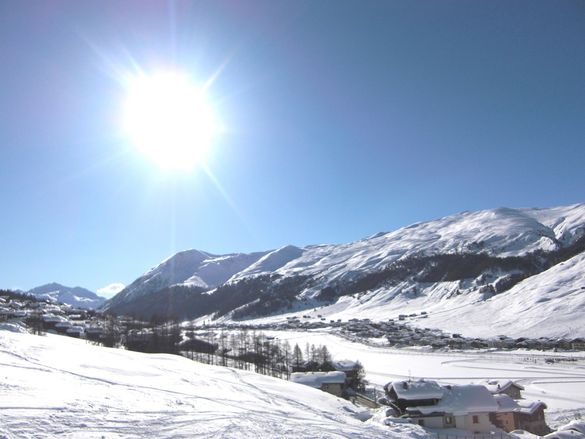 ---
The ski resort of Livigno, located in a valley enclave high in the Italian Alps on the Swiss border is poised to open for skiing on January 7th 2021 (subject to Italian Government approval). www.ski-livigno.com guests arriving on January 9th or 16th for 7 nights will receive apartment accommoidation, 6 days skipass and ski rentals for only €230 per person. There is no catch and there is no minimun occupancy requirement. Flights and airport transfers are not included. Normally during this period a 6 days skipass alone would cost and adult €202. There are no cancellation charges in the event of the holiday being non-operational
Livigno is a snowsure ski area with top to bottom skiing from the first day of the season until the last. There are over 100 km of piste on two sides of the valley with a snow range from 1,800 m – 3,000m. It is an ideal destination for beginners and families with many easy slopes accessed from the village. www.ski-livigno.com has a ski hire shop and ski school in the village with its own skilift, which links into the Carasello side of the Livigno ski area. The other side of the area is called Livitur, and while both sides aren't connected by skilifts, the frequent free ski bus makes it easy to get from one side to the other.
Away from the skiing, the characteristic village centre, where traditional wood faced buildings mix with more modern Alpine architecture, is a pedestrian zone. This is the heart of Livigno occupied by hotels, bars, restaurants and numerous shops. An enduring attraction of Livigno is its Duty Free status, bestowed upon it during the Napoleanic era as the area was deemed too poor to pay taxes. Today, there are more than 230 shops selling a range of duty free goods including electronics, alcohol, tobacco and much more. The tax free status extends to all purchases in Livigno, including hotels and restaurants, where no VAT is levied. Examples of this tax free advantage include litre bottles of Bells whisky for about €7 and for drivers, petrol is less than €1 per litre.
It is said there are more bars in Livigno than any other ski resort with the exception of Vail, Colorado. Whether this is true or not, the choice is immense. There is even a bar, the Bait Al Ghet (Cat Bar) where the first drink is on the house! Livigno is also reknowned for its nightlife with clubs such as Bivio open late into the night.
www.ski-livigno.com offers a wide choice of accommodation with apartments being the stand-out choice for guests, particularly so during the ongoing health crisis. All of the apartments in our programme are either within walking distance of the slopes or close to a bus stop for the Livigno free bus service. A wide selection of apartments from studio units to three roomed apartments sleeping up to 7 people are available. Each apartment, irrespective of size, includes a bathroom with shower and wc, and fully equipped kitchen. Two examples of comfortable accommodation are Chalet Picchio and Chalet Li Palu. Both are well furnished in a warm Alpine style with traditional wooden exteriors and are well positioned near to skiing, skibus, shops, restaurants and other facilities in the centre of Livigno.
Other activities in Livigno include cross country skiing, snowshoeing, ski touring, fat bikes, winter walks and access to the amazing Aquagranda leisure facility with swimming pool, water slides, spa, gymnasium and cafe. Further afield, the Bagni Termi spa complex in nearby Bormio is a treat. Skiers who fancy a change of scenery can spend the day in St Moritz, about an hour away.
Ski-livigno.com facts:
Livigno, in the Italian province of Sondrio is one of Italy's most popular ski resorts. The closest airports are Innsbruck, Austria (2 hrs 30 minutes), and three Milan airports (About 3 hrs 30 minutes). Arrivals by car come over the Foscagno pass from Bormio or through the Munt La Schera tunnel from Switzerland.
www.ski-livigno.com has provided ski holidays in Livigno since 2013 and offers ground arrangements including airport transfers, accommodation (hotels, B&B, apartments), ski pass, ski/board rental and ski school.
In a normal season, Livigno opens for skiing in late November and ceases operations at the beginning of May. From the first day until the last there is top to bottom skiing.
F
Follow and Share with Jetsettersblog.