Skiing Into Spring in the French Mountains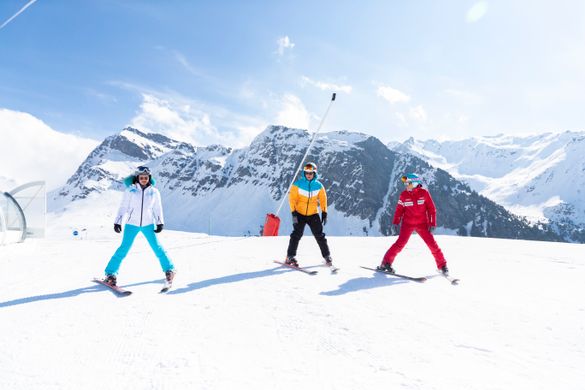 ---
Spring is around the corner but it doesn't mean you have to tidy away your ski gear. From March 20th, 26 French resorts across most mountain ranges (Alps, Pyrenees, Vosges…) are taking part in the France Montagnes organised initiative 'Skiing into Spring'. Skiing in spring is the key to good weather, good quality snow, ultra-competitive prices, fewer people on the slopes and a wide range of non-skiing activities.
The best weather condition
Some resorts, like Tignes are open until early May, so why not go away for a long weekend in one of the many ski resorts open in spring? This is the best time to go especially when you are making your first turns on the slopes. The daylight lasts longer giving you more time to enjoy the good weather. At this time of year, the snow is softer and becomes a dreamy playground for beginners. The few extra degrees give you the chance to take off some layers of clothing to move more freely and to learn how to ski in total serenity. A 'beginner's guide' created as part of the Skiing into Spring initiative advises on how to travel light, yet not forgetting to pack anything.
A 2-for-1 offer for the beginners
Going skiing in spring gives you better flexibility over the length of your stay. A long weekend or any other short stay in the mountains is possible in France with the accommodation, activities, ski lessons and other activities at very attractive prices at this time of the year.
The French resorts participating in the 'Skiing into Spring' offer have, this year again, gathered the best deal for first-time ski holidays: for every ski package purchased, you can get an adult beginner package completely free. These offer based on a 3 to 6 days stay include:
ski passes (for beginners, the resort may define a specific perimeter)
half-day or full-day ski school classes according to the local agreement (group lessons for beginners)
Equipment rental: alpine or nordic ski + poles + boots + helmet or snowboard + boots + helmet
Fewer people on the slopes and… even more activities 
Although French resorts are very popular during the Christmas and half-term holidays, they see a decrease in holidaymakers during spring, especially at Easter half-term. An undeniable advantage when you are a beginner ready to take your first turns on the slopes. The French slopes are less crowded, suitable for all levels and offer dedicated areas for newbies.
Follow and Share with Jetsettersblog.