Small Canadian Towns with Big Personality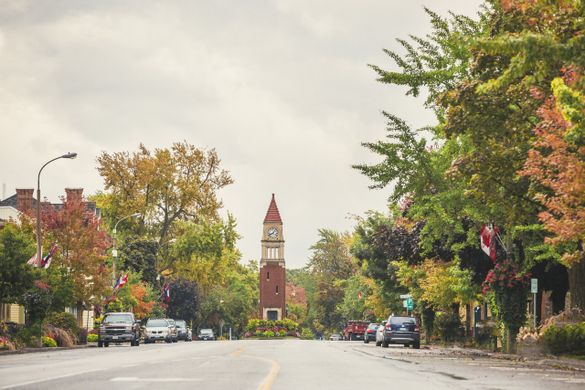 Trending: Small Towns With Big Personality
What's the buzz?
Tiny trend: Small towns are gaining attention as people increasingly work remotely, gravitate towards nature and seek affordability and a sense of community. Plus, small towns maintain a slower pace both residents and visitors find soothing.
And how do visitors get there? Through big city hubs like Toronto, Montreal, and Vancouver. Bitty is big: While Canadian towns may be small (hello, Tilt Cove, NL, the country's smallest town, with a population of four), they can boast as much culture or amenities as the urbs. For example, Niagara-on-the- Lake, Ontario (pop. 17,511), is situated close to popular tourist attraction Niagara Falls; here, residents bask in a picturesque countryside, amongst spectacular golf courses and a lively downtown. Ucluelet, BC (pop. 1,717), also offers scenic surroundings. Situated south of the world-famous surf mecca of Tofino, "Ukie" encompasses rugged beaches, beautiful resorts, under-the-radar restaurants and the lush Pacific Rim National Park Reserve at its doorstep.
Small sampling: There are hundreds of charming small towns to explore from coast to coast. Below, eight insider picks, each with a population below 10,000, unknown even by many Canadians, and brimming with reasons to visit.
Keno City, Yukon Population: 24.
Profile: Once a bustling mining town, Keno City is now a jackpot for travellers seeking explorations in history and experiences in nature. Keno Hill was once home to one of the richest silver deposits globally – a fascinating story that visitors can dive into at the Keno City Mining Museum, which houses one of the Yukon's most extensive collections of mining artifacts, photos and memorabilia. At the adjacent Alpine Interpretive Centre, learn about the area's abundant wildflowers, birds and four-legged residents, which far outnumber the resident humans. Then, wander over to the famed Glass Bottle House, a 1970s home encased in 32,000 (empty) beer bottles.
Gateway city: Whitehorse.
Almonte, Ontario Population: 5,000.
Profile: Almonte, situated west of downtown Ottawa, is every gourmand's dream – particularly those with a taste for sustainable food production. Small
businesses here are attracting acclaim for crafting responsible goodies, with must-see stops including Hummingbird Chocolate Maker, which earned accolades for producing the world's best bean-to-bar chocolate; Dairy Distillery, whose Vodkow liqueur has half the carbon footprint of traditional vodka; and Equator Coffee Roasters, whose decadent brew is organic, fair trade certified and a certified B Corporation. Sample from each, and more, on a culinary walking tour with local tour operator Good Food Tour.
Gateway city: Ottawa.
Gimli, Manitoba Population: 2,246.
Profile: Icelandic settlers founded the lakeside community of Gimli, and their Viking roots live on through the town's thematic festivals, museums, public art and spirit for adventure. An hour north of Winnipeg, Gimli is home to thrilling Viking battle re-enactments; year-round adventures on Lake Winnipeg, including winter ice shacks and ice fishing, and summer kayaking, sea-doos and unicorn floaties; and an enticing array of eateries, including several serving the traditional Icelandic treat vinetarte, a layered cookie-cake often filled with prune or apricot puree. Hear about Gimli's enthralling past on the North Americana podcast.
Gateway city: Winnipeg.
Caraquet, New Brunswick Population: 4,248.
Profile: This little town in the Acadian Peninsula calls itself the "Coeur de l'Acadie," or heart of Acadia. Located in northern New Brunswick, along the coast of the Baie des Chaleurs and the Gulf of St. Lawrence, Caraquet is the gateway to the Acadian Peninsula and home to the Village Historique Acadien, a preserved ecosystem of some 40 historic buildings and 2.2 kilometres of trails brought to life by costumed interpreters who replicate the Acadian lifestyle between 1770 and 1949. Caraquet, which received the Cultural Capital of Canada Award twice, is also a culinary haven: taste for yourself by ordering the sustainably harvested Dugas Caraquette oyster. On National Acadian Day (August 15), join tens of thousands of Acadians
across the province in celebrating through the "tintamarre," a lively march through town with instruments and noisemakers.
Gateway city: Moncton.
Cowichan Bay, BC Population: 2,394.
Profile: This waterfront community in the Cowichan Valley on Vancouver Island is part of Canada's only maritime Mediterranean climatic zone,
boasting the warmest year-round temperatures of anywhere in Canada. In addition to adventures like kayaking and stand-up paddleboarding, outdoor enthusiasts can hike Old Baldy Mountain (with its iconic swing overlooking expansive Cowichan Bay) or Stony Creek Trail (a steep but short trek whose viewpoint overlooks wildlife-rich Sansum Narrows Channel). In summer, visitors can witness the sparkling spectacle of bioluminescence – light
energy produced by living micro-organisms, which give the sea an eerie glow. Join Cowichan Bay Kayaking for a magical moonlight guided tour. In nearby Duncan, order a fragrant brew at Westholme Tea, Canada's only grower and maker of rare Canadian terroir tea.
Gateway city: Vancouver.
Montague, Prince Edward Island Population: 2,107.
Profile: Known to locals as "Montague the Beautiful," this pretty town boasts a tranquil river running through its heart, along with treelined streets and stately heritage homes. The town is anchored by the wharf and marina, lined by a boardwalk that connects to the Confederation Trail. Visitors can take in the scenic surroundings at Harvey Moore Sanctuary, a haven for migrating birds; a pleasant trail meanders through various woodlands and fields, offering a leisurely one-hour jaunt. At the Roma Historic Site, immerse yourself in a historical recreation of the first French settlement through an
authentic pioneer experience and guided heritage tours. Montague is also part of the Points East Coastal Drive, a scenic road trip through eastern Prince Edward Island.
Gateway city: Charlottetown.
Saint-Sauveur, Quebec Population: 9,881.
Profile: Situated in the foothills of the Laurentian Mountains, Saint-Sauveur is a picturesque mountain resort town straight from the pages of a
fairytale. The town is particularly enthralling after winter snowfall, when visitors can tackle Mont Saint-Sauveur's expansive night skiing area, along with cross-country skiing, tobogganing and sledding. In summer, head to a nearby lake for jetskiing or kiting, then venture into the Laurentian Mountains to golf, hike and cycle. There are also quaint shops along Rue Prinicipale (Main Street) and a collection of outdoor and winter festivals.
Gateway city: Montreal.
Cape Dorset, Nunavut Population: 1,236.
Profile: Also known as "Kinngait" in Inuktitut, the local Inuit language, Cape Dorset is a main stop for Arctic-bound cruise ships. Inhabited by Indigenous peoples for 3,000 years, Cape Dorset is world-renowned for the artwork of its visual artists. They regularly chat with visiting naturalists and art lovers (in fact, Canadian postage stamps and the Canadian quarter have featured drawings of snowy owls by local artist Kenojuak Ashevak). In addition to breathtaking landscapes and an abundance of wildlife, Dorset Island and nearby Mallikjuaq Territorial Park are ideal places to view, draw and photograph migratory caribou, seabirds, whales, seals and walruses.
Gateway city: Iqaluit.
Readers wanting more information on Canada should go to www.explore-canada.co.uk
Image : Niagara on the Lake, Ontario, Credit  : Destination Canada
Images, news, Video is available through www.destinationcanada.com/media
Follow and Share with Jetsettersblog.