Sonesta Atlanta Northwest Galleria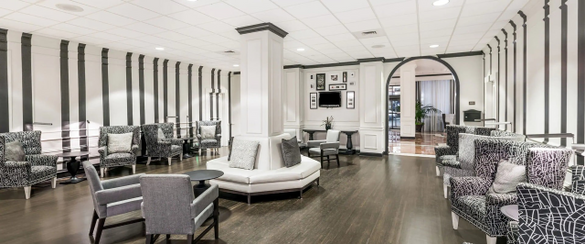 ---
Sonesta International Hotels Corporation is thrilled to introduce Sonesta Atlanta Northwest Galleria, expanding the brand's national footprint in this key tourism and business region. With the addition of this hotel, Sonesta now has nearly 60 properties operating in the United States and over 80 properties operating worldwide. Sonesta Atlanta Northwest is the fifth Sonesta property in the greater Atlanta.
Sonesta Atlanta Northwest Galleria, formerly Wyndham Atlanta Galleria, is in the heart of the city's cultural attractions. Within minutes of the hotel, enjoy shopping at Cumberland Mall or a day at TruistPark cheering on the Atlanta Braves. Explore downtown for popular attractions such as Mercedes-Benz Stadium, State Farm Arena, The King Center, and Six Flags Over Georgia. Enjoy southern cuisine at the hotel's Chattahoochee Grille where a southern menu is influenced by European flare. Hotel features state-of-the-art, 24/7 fitness center, indoor and outdoor swimming pools, 12,000 square feet of flexible meeting space -which includes versatile indoor and outdoor areas to accommodate up to 400 conference guests. The hotel is located at 6345 Powers Ferry Road Northwest, Atlanta, GA 30339.
"We are excited to welcome visitors at the new Sonesta Atlanta Northwest Galleria while we expand our presence in a significantly growing region for us – greater Atlanta. The location near the Galleria in a major tourist and business hub makes it an ideal choice for both business and leisure travelers to the destination," said Carlos Flores, President and CEO, Sonesta International Hotels Corporation.
Sonesta recently introduced Stay Safe with Sonesta, a program created to take the company's standards on safe and clean hotels to the next level in response to COVID-19. Sonesta cares deeply about the health and well-being of our guests and employees. We have developed a rigorous new health and cleanliness program, Stay Safe with Sonesta, for all of our U.S. hotels. Working with Ecolab Inc., a leading provider of cleaning and disinfecting solutions for the hospitality industry, we have designed the Stay Safe with Sonesta program to meet or exceed applicable CDC and/or governmental requirements and guidance related to the current Coronavirus pandemic. The program will continue to evolve as we revise our protocols to follow updated guidance from public health authorities and maintain the most relevant levels of protection for our guests and employees. The pledge includes:
All guests and employees wear masks in interior public spaces as a Sonesta standard.
Enhanced sanitizing and cleaning throughout the hotel including specific focus on high traffic/high touch areas.
Guest protection and social distancing guidelines allowing guests to take advantage of the entire hotel while still adhering to social distancing guidelines.
Guest room safety sealed guest rooms with drop off or on request service only, and wipes available in room.
Team member safety includes training, use of personal protection equipment and health & wellness checks.
Guests of Sonesta Atlanta Northwest Galleria will be encouraged to enroll in Sonesta Travel Pass, whose members can receive 10% off the best available rate. Visitors at the hotel are eligible to earn Sonesta Travel Pass Points, as a part of Sonesta's overarching guest loyalty program. Sonesta Travel Pass is an award-winning and nationally recognized rewards program from Sonesta International Hotels Corporation that is free and takes seconds to join, and offers points, perks and exclusives for members only. Sonesta Travel Pass members accrue 10 points per qualified dollar spent on their room and can use points at participating locations in the United States, South America and St. Maarten. Sonesta will match preferred or elite status in any other hotel loyalty programs, or travelers can earn elite status with Sonesta Travel Pass in just 12 nights. 
About Sonesta
With a portfolio of diverse and distinctive properties as individual as its guests, there is no typical Sonesta. Offering a full range of exceptional experiences found in many of the most memorable destinations in the world, Sonesta proudly exceeds guest's expectations delivering an authentic experience time and time again. Follow us on social media @Sonestahotels.
Sonesta is a growing hospitality company, with nearly 200 properties and 5 brands operating in the U.S., Canada, Chile, Colombia, Ecuador, Egypt, Peru and St. Maarten. Discover Sonesta hotels, resorts and suites in many of the most traveled U.S. destinations, including Boston, Atlanta, Chicago, New Orleans, Hilton Head, Houston and San Francisco. For more about Sonesta and its locations, visit Sonesta.com or call +1.617.315.9200 or 800.Sonesta (800.766.3782) in the U.S. and Canada.
Follow and Share with Jetsettersblog.