Sonesta Hotels Offer Flexible Group Attrition + Free Lunch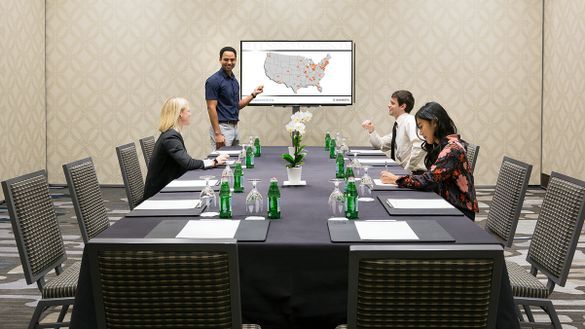 In the wake of the COVID-19 pandemic, Sonesta International Hotels Corporation is introducing flexible attrition policies for group meetings and events and added value in the form of socially distanced food and beverage. As this unprecedented situation is ever evolving, Sonesta wants to give its clients confidence in booking groups and meetings, highlighting the roll out of Stay Safe with Sonesta program.
Meetings and events impacted previously by the pandemic, such as those which were larger than the CDC's guidelines of group sizes, may now rebook before the end of the year with confidence that Sonesta will meet their needs with flexibility and creativity in the form of two new promotions and the introduction of Stay Safe with Sonesta throughout the US. (Both promotions are offered on new business booked by 12/30/20 that travels by 4/30/21.)
Group planners have a new option when taking advantage of these new flexible focused offers in the US.  For rooms-only group blocks, Sonesta hotels in the US will provide $25-100 food and beverage credit per room (discount varies based on number of rooms on peak night), simplifying the detail planning for the group.  This credit allows your attendees to take meals on their own terms and based on their comfort level (i.e. grab and go, room delivery, or seated meal in the hotel restaurant.) Flexible attrition terms up to 100% are available. *
Meeting planners will find Sonesta full service hotels ready to accommodate their meetings and events in pandemic friendly redesigned meeting rooms and event cleanliness standards with confidence. Two-day meetings will include free lunch pandemic friendly socially distanced lunch for the group and 3+ day meetings will include lunch on two days. All meeting guest will be provided with a VIP amenity that will include mask, wipes & hand sanitizer for use during events.**
For a full list of hotel properties, or for more information, visit https://www.sonesta.com/meetings/group-offers.
Sonesta is committed to providing a safe and secure environment for our guests, visitors and employees. Working with our primary partner, Ecolab, we have created Stay Safe with Sonesta – a program that exceeds all CDC, WHO, and governmental requirements and recommendations related to the Coronavirus pandemic. This program will evolve as we continue to update our procedures and protocols to ensure our standards maintain the most relevant levels of protection for our guests and employees.
Sonesta is a growing, global hospitality brand with over 80 properties in seven countries, centered on a corporate dedication to delivering a guest experience that provides more than just a place to stay. With a portfolio of diverse and distinctive properties as individual as its guests, there is no typical Sonesta. Offering a full range of exceptional experiences found in many of the most memorable destinations in the world, Sonesta proudly exceeds guest's expectations delivering an authentic experience time and time again.
Discover Royal Sonesta and Sonesta Hotels & Resorts in Atlanta, Austin, Baltimore, Boston, Chicago, Fort Lauderdale, Hilton Head Island, Houston, Irvine, New Orleans, Philadelphia, San Francisco, San Jose, Scottsdale, St. Louis, St. Maarten (2), Chile, Colombia (7), Ecuador (2), Peru (6), and Egypt (2 + 3 cruise ships). Sonesta ES Suites is an extended stay hotel brand managed by Sonesta currently found in 43 locations across the US. For more about Sonesta, visit Sonesta.com or call +1.617.315.9200 or 800.Sonesta (800.766.3782) in the U.S. and Canada.
High resolution images are available at www.sonesta.com/media for all Sonesta hotels.
*100% Attrition for groups up to 50 total rooms, 50% attrition on larger groups. Subject to room availability on dates requested. Blackout dates may apply. Offer is not applicable to already contracted groups, repeat business, based on outlet availability, date changes or extended stay groups (over five peak nights). Upgraded room types are based on availability.
**Complimentary lunch for number of attendees, equal to actual peak night attendance plus 10%. Lunch meal options (chef's choice) will follow social distancing standards. To earn complimentary lunch(s), book a 2-day meeting with equal peak nights or book a 3-4 day meeting with equal peak nights or 50% allowable attrition for F&B. Complimentary lunch(s) will be reflected in the food and beverage package pricing. Minimum food and beverage spend is required for complimentary lunch(s). Subject to room availability on dates requested. Blackout dates may apply. Offer is not applicable to already contracted groups, repeat business or date changes. Attrition, up to 50% for room revenue.
Media Contact: Lorie Juliano, Sr. Director Marketing & Communication, Sonesta 1.617.421.5429 ljuliano@sonesta.com