Sonesta Micro-Weddings and Minimonies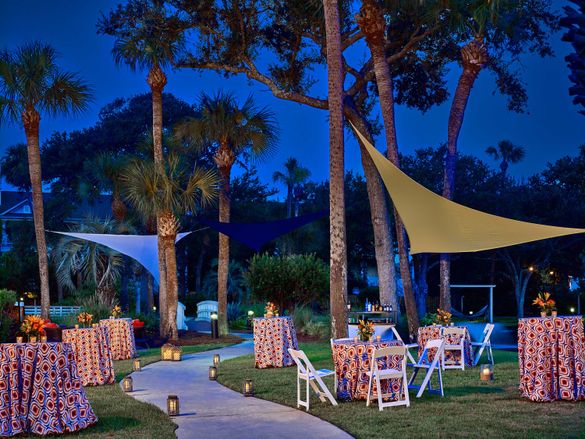 In the wake of COVID-19, Sonesta International Hotels Corporation has introduced new smaller wedding options for couples planning their nuptials. These two options include a private wedding ceremony in a spectacular venue (minimony) or a full wedding on a smaller scale (micro-wedding).
Minimonies are intimate ceremonies with just 10 of your closest family and friends, held in a breathtaking venue (maybe even one not normally available to such a small group) and includes a sparkling wine toast and overnight accommodations for the couple in an upgraded room, a discounted guest room rate for any guests, and 10% off any future wedding plans. Our team will take care of the smallest details – and ensure a memorable moment.
Micro-weddings embrace all of the details and elements of a traditional wedding – just on a smaller scale with 50 or less guests attending. The new micro-wedding package includes 10% off our traditional wedding menus, sparkling wine toast, complimentary night for the wedding couple, a special overnight guest room rate for your guests, and 30,000 Sonesta Travel Pass points to use toward your honeymoon or anniversary. We'll take care of the smallest detail, providing preferred vendors as resources as you plan your smaller scale event!
For a full list of full-service hotel properties, or for more information, visit https://www.sonesta.com/weddings.
Sonesta is committed to providing a safe and secure environment for our guests, visitors and employees. Working with our primary partner, Ecolab, we have created Stay Safe with Sonesta – a program that exceeds all CDC, WHO, and governmental requirements and recommendations related to the Coronavirus pandemic. This program will evolve as we continue to update our procedures and protocols to ensure our standards maintain the most relevant levels of protection for our guests and employees.
Sonesta is a growing, global hospitality brand with 80 properties in seven countries, centered on a corporate dedication to delivering a guest experience that provides more than just a place to stay. With a portfolio of diverse and distinctive properties as individual as its guests, there is no typical Sonesta. Offering a full range of exceptional experiences found in many of the most memorable destinations in the world, Sonesta proudly exceeds guest's expectations delivering an authentic experience time and time again.
Discover Royal Sonesta and Sonesta Hotels & Resorts in Atlanta, Austin, Baltimore, Boston, Chicago, Fort Lauderdale, Hilton Head Island, Houston, Irvine, New Orleans, Philadelphia, San Francisco, San Jose, Scottsdale, St. Louis, St. Maarten (2), Chile, Colombia (7), Ecuador (2), Peru (5), and Egypt (2 + 3 cruise ships). Sonesta ES Suites is an extended stay hotel brand managed by Sonesta currently found in 43 locations across the US. For more about Sonesta, visit Sonesta.com or call +1.617.315.9200 or 800.Sonesta (800.766.3782) in the U.S. and Canada.