Spain – Cartagena Is Definitely Worth a Visit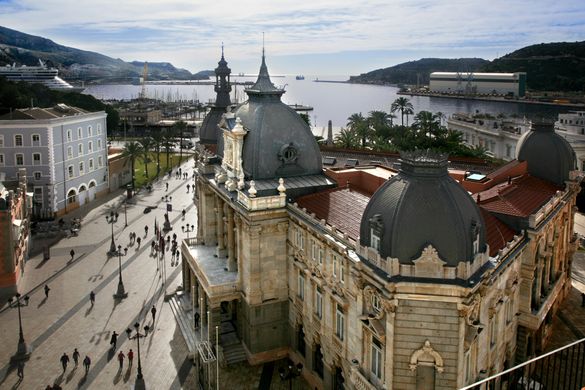 ---
With the weather taking a turn for the better, both at home and abroad, now is the ideal time to consider taking in the culture available in the Costa Cálida, Region of Murcia – especially as a four-night break could cost from as little as £23pppn in May.
The region's strategic location as a Mediterranean enclave and, at the same time, a border territory midway between the Meseta and Andalusia, has ensured it retains many of its important historical links: rock-paintings in cave-shelters dating back to the Iberian period; the splendour of Roman antiquity with its urban refinement and penchant for the theatrical; Visigoth cities; Arab medinas; Christian castles, watch-towers, churches and temples; and numerous civil and military buildings.
The mix of cultures affords an opportunity to sate one's appetite for all things cultural, historic and relaxing in a picturesque region of Spain in any number of attractive and welcoming towns and cities.
The port of Cartagena is located 27 miles south of the city of Murcia, and can trace its maritime origins back to 227 BCE, when the Carthaginians first set foot on its shore. Like the region as a whole, Cartagena is renowned for its archaeological sites with many Phoenician, Roman, Byzantine and Moorish ruins remaining.
And, its Port of Cultures project is designed to make the city's historical and cultural sights more accessible for tourists – a good example being the panoramic elevator which connects the port with the Concepción Castle, which adorns the top of one of the city's five hills.
Directly across from City Hall, the Museo del Teatro – the city's jewel – showcases artefacts excavated from the magnificent Roman Theatre, which dates from between 5 and 1 BCE.
And, of course, the city has fresh seafood aplenty. Try the typical caldero, a type of fish stew served with rice and garlic, washed down with local wines and accompanied by the traditional drinks of the area such as the asiático coffee – coffee with condensed milk, cinnamon, lemon and whole coffee beans.
An hour west of Cartagena is Lorca, the city of the sun; the city of 100 shields … or, maybe, even 100 names. Indeed, its many names are a consequence of its various influences from the Iron Age to the 21st century.
It has, arguably, more monuments than any other locality in the region, with plenty of free-to-enter museums, squares, palaces, notable buildings and churches too. The impressive medieval castle, for example, where Muslims, Christians and Jews lived together for centuries, can be seen from far away.
Its baroque town centre is one of the most important in the region, while the Columna Miliaria, milestones – eliocroca to the Romans – for the Via Augusta, which passed through the district, can be seen at the Lorca Municipal Archaeological Museum together with other Roman artefacts.
A four-night, three-star break in the city of Cartagena, on the Costa Cálida, in May can cost from just £91 per person, based on two sharing, on a room-only basis, at the NH Campo Cartagena, in a residential area of the city, just a five-minute drive from Cala Cortina beach.
Or, if you'd prefer the smaller but equally entrancing Lorca, the four-star Amaltea Hotel Spa Center, set in 12,000m² of gardens, with lakes, streams and waterfalls, offers the same room-only package for £111.50 per person.
Access to Costa Cálida, Región de Murcia, is simple as it is served by Murcia-San Javier airport all year round, while Alicante airport is also nearby. Both airports are served by numerous airlines flying from a wide variety of UK and Irish airports and flights in May cost from just £54 return.
About Región de Murcia
The Costa Cálida, Región de Murcia is an ideal leisure and sport destination for UK travelers. The area offers year-round sunshine with an average temperature of 19.4°c and 315 days of sunshine per year.
The picturesque region is just two hours from the UK by plane, in the south-east of Spain. Región de Murcia  is in a privileged setting within the Mediterranean basin and includes 252km of coastline, known as the 'Costa Cálida' or warm coast. Visitors can take their pick from numerous sandy beaches; a variety of water sports and diving locations; 22 top-quality golf courses, all within easy reach of each other; delicious culinary delights; relaxing spas; and the opportunity to explore the beautiful countryside and regional parks.
The Mar Menor is a saltwater lagoon with warm shallow waters, gentle wind, sheltered coastline and many hotel facilities and sports infrastructures, which make it the ideal setting for water sports at any time of year, for all tastes and ages. Here, visitors can enjoy kite surfing, canoeing, sailing, windsurfing, water skiing and much more.
They can also enjoy diving in the marine reserve of Islas Hormigas, settled in Cabo de Palos, which has been recognised as one of the best places for diving anywhere along the Mediterranean and where you can explore everything from historical wrecks to amazing underwater landscapes.
The port of Mazarrón offers visitors a rich artistic heritage and a range of interesting leisure options, with more than 35km of beaches, unspoiled coves and rocky sea beds. Mazarrón Bay is sheltered by the foothills of the Sierra de la Almenara, while the port offers visitors many opportunities to learn about the town's seafaring tradition.
And just half-an-hour along the coast, another delightful port city, Águilas, blends a tradition of seafaring with a wide range of tourist facilities, making the most of one of its main attractions, the extensive coastline. There is much to remind visitors of its 19th-century heyday, when it was a major mining enclave, such as the Hornillo jetty, where iron, lead and silver were loaded on to ships.
There is always something going on in the region with a host of big events and festivals taking place throughout the year, including an international music festival in Murcia at the beginning of May, or the varied summer festivals including 'La Mar de Músicas' in Cartagena, or the International Jazz Festival in San Javier, both in July. And visitors can also enjoy August's 'El Cante de Las Minas Flamenco Festival' in La Unión.
Región de Murcia is the perfect holiday destination – for sea, spa, or sport, countryside, culture or cuisine – at any time of the year, whatever your passion.
For more information, please visit www.murciaturistica.es/en
Follow and Share with Jetsettersblog.