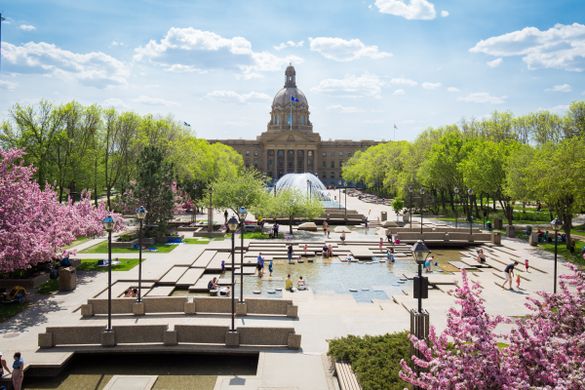 ---
A round up of florals ways to enjoy Spring in Canada.
Vancouver, British Columbia
Mild West Coast Vancouver is Canada's best city for cherry blossoms, thanks to a generous 1930s gift from Japan: hundreds of trees as a thank-you to Japanese-Canadians who served in WWII. April is the time to see the 40,000 trees: Queen Elizabeth Park, Stanley Park and downtown's Burrard Skytrain Station, where the pale-pink blossoms delight passers by, and the Vancouver Cherry Blossom Festival.
Victoria, British Columbia
What makes  viewing in this West Coast provincial capital is the popcorn-like buds against the backdrop of turn-of-the-century Victorian buildings. Top spots are James Bay, Beacon Hill Park, Fairfield, South Turner Street, Moss Street and the Victoria Clipper Ferry Terminal.
Niagara-on-the-Lake, Ontario
Catch cherry blossoms a bit later in May in Niagara-on-the-Lake, Ontario's fertile wine region between Lakes Eerie and Ontario, when blue skies set off the showy display. Take a self-guided bike tour or road trip, consulting the Niagara Parks "What's in Bloom" calendar.
Edmonton, Alberta
Alberta is filled with farms and orchards, and vintners have started making high-quality fruit wines just like the pioneers. Alberta's capital city blooms, too, in May, with cherries at their peak at the Fairmont Mac Courtyard, George F. Hustler Memorial Plaza, the French Quarter, the Victoria Promenade and the Alberta Legislature grounds.
Toronto, Ontario
In Canada's metropolis, you can dine, shop, go to the art museum and see a musical, then stroll through the blossoms and enjoy a picnic. The best places in late April and May are Toronto's High Park, especially the Hillside Gardens area, and the Toronto Islands with a grove of 30 trees, accessible by ferry for a day trip.
Ottawa, Ontario
If you're in Canada's capital, find a bench, walk or cycle at Central Experimental Farm National Historic Site's Arboretum along the waterway, home to many fruit tree varieties including cherries and crab apples (known for bright blossoms), plus Dow's Lake and wide open spaces. Stroll the green Ottawa River Valley, too, bursting with colour in May. And don't forget the annual Tulip Festival also in May, which originated in 1945 as gift from the Netherlands to Canada in gratitude for offering safe harbour for the Royal Dutch Family during WW2 and nowadays gathering support from over 26 embassies in a showcase of international co-operation.
For more media information about Spring time in Canada please contact: Nim Singh, Media and PR Manager, Destination Canada on 0207 389 9983 singh.nim@destinationcanada.com @canadanim (not for publication).
Images are accessible by registering at www.destinationcanada.com and going to the link for Visual Images. You will need to register to be able to access the library.
Please direct to www.explore-canada.co.uk. 
Follow and Share with Jetsettersblog.