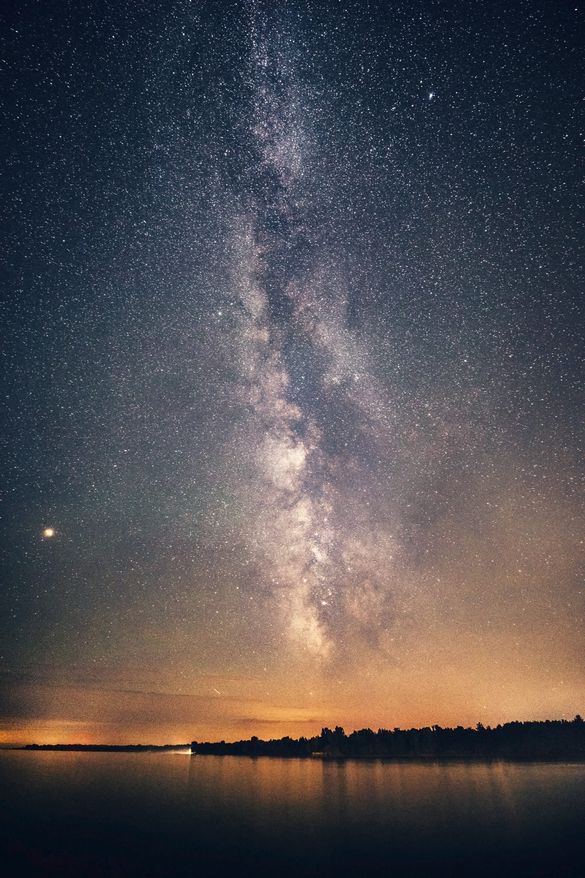 ---
Michigan has some of the darkest parks, lakeshores and wilderness areas in the U.S., making it one of the leading destinations for stargazing. The state is surrounded by four of the five Great Lakes which provide near total darkness resulting in perfect conditions for dark skies. There are two International Dark Sky Parks and state-designated dark sky preserves within six state parks.
Dr. T.K. Lawless Park
In January 2020, Dr. T.K. Lawless Park in Cass County was designated as an International Dark Sky Park by the International Dark-Sky Association, an exceptional distinction given to locations that offer unspoiled night-sky viewing.
The 860-acre park, nine miles east of Cassopolis, is only the second park in Michigan to be honoured with the distinction. In 2011, the Headlands International Dark Sky Park in Mackinaw City became the first such park in the state, and one of the first 10 international dark sky parks in the world. There will be an official grand celebration of the International Dark-Sky designation during the annual Star Party held April 24-26 at the park.
Headlands International Dark Sky Park
Headlands contains approximately 550 acres of pristine woodlands, more than two miles of undeveloped Lake Michigan shoreline and many species of rare and endangered plant life. Visitors to the Headlands may experience sightings of the many wild animals native to the area including: bald eagles, osprey, white tail deer, wild turkeys, coyotes and occasionally a black bear. Marked nature trails guide hikers, bicyclists, cross-country skiers, and nature photographers to experience the park throughout the changing seasons.
Dark Sky Preserves
Wilderness State Park, just ten miles west of Headlands, offers similar super-dark views along its 26 miles of coastline overlooking the upper reaches of Lake Michigan and Sturgeon Bay.
Thompson's Harbor State Park, Rockport Recreation Area and Negwegon State Park, along the northeast coast, all overlook Lake Huron and protect untouched stretches of the shore. There are strict rules for dark sky preserves to keep campers and other visitors from spoiling the night sky with too much light, so they are great locations for setting up a telescope or just sitting on a log and hunting for Mars.  Sky gazing isn't the only activity: each park has miles of trails for day hiking, and Rockport has unusual sinkholes, a bat hibernaculum, a shipwreck, and great coves for sea kayaking.
Port Crescent State Park, includes 565 acres of woods, dunes, and beaches as well as a viewing platform near the day-use area that is perfectly situated for getting the widest prospect of the protected night sky., Lake Hudson Recreation Area, along the Michigan-Ohio border, in the more populated southern section of the state, is also a dark sky preserve.
Other areas for Stargazing
Sleeping Bear Dunes National Lakeshore, celebrating its 50th anniversary this year, has some of the largest sand dunes in the eastern United States. It also has some of the best stargazing along the Lake Michigan shore. Each month, the lakeshore hosts a stargazing party in conjunction with the Grand Traverse Astronomical Society.
The whole of the Upper Peninsula is a great dark sky viewing destination. Particular areas of note include Pictured Rocks National Lakeshore which overlooks Lake Superior. Here you can see meteor showers, auroras, and views of the Milky Way. Porcupine Mountains Wilderness State Park and the top of the Keewenaw Peninsula also offer wonderful viewing areas.
The remote Isle Royale National Park, situated in the middle of Lake Superior, has almost no skyglow and just a couple of small lodges on either end. No need for binoculars or telescopes here. When the sky is clear, the Milky Way can fill up the whole view and the Aurora Borealis pulsates across the horizon.
For more information on Michigan's Dark Skies go to: https://www.michigan.org/darksky
The State of Michigan is a state blessed with the riches of unspoiled nature: the longest freshwater coastline in the United States, lakes that feel like oceans, shimmering beaches, miles and miles of cherry orchards, glorious sunrises and sunsets, daytime skies of the deepest blue, nighttime skies scattered with stars.
Home to more than 100 public beaches, some of the highest freshwater sand dunes in the world, stunning multi-coloured sandstone cliffs, two National Lakeshores and the only national marine sanctuary in the Great Lakes, the Thunder Bay National Marine Sanctuary in Lake Huron. More than 129 lighthouses, numerous maritime museums, ten shipwreck-diving preserves and historic military fortifications rim Michigan's Great Lakes shoreline.
Lakes, campgrounds, wildlife refuges and 103 Michigan state parks and recreation areas create a wide variety of recreational pursuits. Rivers for water sports, and thousands of miles of hiking, biking, cross-country skiing and snowmobiling trails thread their way among some 100 species of trees.
Long days, relaxing weather and more than 650 pristine Michigan courses make for the perfect tee time. Because being able to play all day is Pure Michigan. www.michigan.org
Follow and Share with Jetsettersblog.