Staycation at Four Seasons Hotel Kuala Lumpur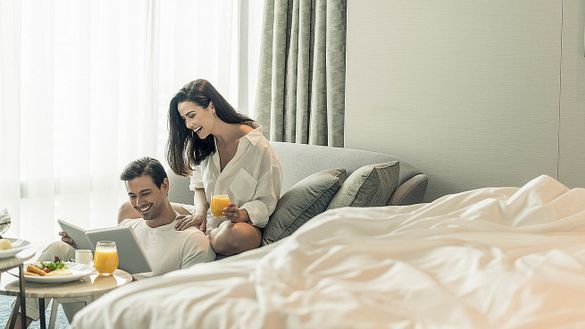 During these times, taking a pause from the daily routine of the past few months is a well-deserved luxury. With the launch of its new staycation package, Four Seasons Hotel Kuala Lumpur offers a welcome change of scene. While guests unwind, rejuvenate and cherish special moments with loved ones, Four Seasons takes care of everything else.

Restart 2020 package
Residents of Kuala Lumpur enjoy 20 percent savings on the room rate, daily breakfast for two, and 15 percent savings on dining.
With floor-to-ceiling views of the city, pool or park, the Hotel's airy, beautifully appointed rooms offer a refreshing getaway. Answer emails at the work desk, read on the window-side chaise lounge or take a restful nap on the custom Four Seasons bed. The Pool Garden-View Room features views of the tropical pool terrace, while the Premier Park-View Room overlooks the lush greenery of KLCC Park – ideal for some socially-distanced nature therapy.
For a true 'home away from home' experience, reserve one of the stylish, light-filled suites. With separate sleeping, living and dining areas, these generously sized accommodations have the space and privacy that matter most for families.
Guests can book their staycation here, or email res.kualalumpur@fourseasons.com for more information.
The World on a Plate
Globetrotting may not be possible just yet, but diners at Four Seasons can now travel around the world through tastes and flavours. Curate presents an array of international specialties in a safe and hygienic environment, from authentic pastas and crafted burgers to gourmet dim sum and festive Malaysian delights.
As Executive Chef Junious Dickerson notes, "We're taking our guests on an exciting culinary adventure, right here in the heart of Kuala Lumpur."
Curate is open all day for a la carte dining.

Restore Wellbeing
Recent lifestyle restrictions have taken a toll on all facets of wellbeing, from physical fitness to skin vitality. Begin the journey back to optimum health with special offers from Four Seasons.
Guests can pre-buy discounted vouchers for treatments at the Spa and personal training sessions at the Gym, available for redemption as per health and safety guidance of the local authorities.
Spa Packages
Revitalize skin and ease muscle tension with bespoke Spa treatments. With Four Seasons' experienced and caring therapists, guests are in excellent hands.
Package 1: Any three 90-minute facial treatments, with one complimentary 90-minute massage (MYR 1519)
Package 2: Any five 90-minute body massages, with two complimentary 90-minute massages sessions (MYR 2199)
Package 3: Five Sport Remedial/Deep Tissue massages and five personal training sessions, with two complimentary personal training sessions (MYR 2579)
Fitness Packages
Achieve personal fitness goals through one-on-one sessions with certified trainers. Workouts can also be arranged at an approved outdoor venue, without any additional charges.
Package 1: Four one-hour personal training sessions (MYR 450)
Package 2: Six one-hour personal training sessions (MYR 600)
Package 3: Thirteen one-hour personal training sessions (MYR 1050)
All packages come with a 20 percent discount on food and beverages (excluding alcohol) and all-day access to the pool and other facilities, including the steam, sauna and shower rooms. Valid for six months (fitness packages) and one year (spa packages) from purchase.
Email spa.kualalumpur@fourseasons.com for more information.
Lead With Care
Health and safety remain the first priority at Four Seasons. To offer a safe environment for guests and employees, Four Seasons properties across the globe are implementing Lead With Care, a full-scale health and safety enhancement designed in collaboration with Johns Hopkins Medicine International.
As Four Seasons Hotel Kuala Lumpur welcomes guests back, the entire team is committed to ensuring the highest standards of health and hygiene, without compromising the quality of the guest experience