Steaming Two by Two – Great British Railcations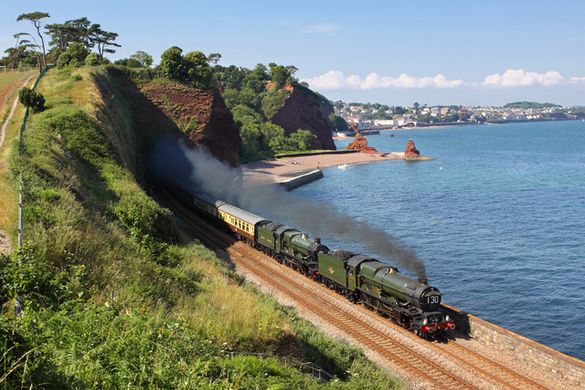 ---
New Steam Dreams GB holidays for 2021
The Steam Dreams Rail Co is offering two new railcation holidays this year, each hauled by two steam engines, offering evocative journeys across England and Wales. Travelling in vintage passenger carriages and 'double-headed' by 61306 Mayflower and 45596 Bahamas, there's a range of ticket and accommodation options from seating in Standard Class to luxurious Pullman Style Dining.
The Welsh Dragon – 5 days, 4th – 8th September, from £499pp
New, this five-day, vintage steam train tour takes in all of the most beautifully scenic routes in Wales including the Heart of Wales line, the famous Barmouth bridge, and the Cambrian and North Wales coast lines. There'll be castles galore, views of the famously fought-over Welsh Marches plus the opportunity to spend some time – and a few nights – at the Italianate village of Portmeirion.
Departure: Saturday 4th – Wednesday 8th. September, London Paddington and Reading
Prices: Premium Standard £499, Premier Dining £999, Pullman Style Dining £1199
Inclusions: Train travel days 1, 2 and 4. Accommodation to be booked separately and can be done via Steam Dreams
Knucklas Bridge, Mid-Wales :
Mayflower Plymouth & Cornwall – 4 days, 28th Sept – 1st Oct, from £325
Depart London Paddington in a vintage carriage for a beautifully scenic journey all the way west including a two-hour break to explore Exeter, traversing the picturesque Dawlish sea wall, before crossing the edge of Dartmoor to Plymouth, then across Brunel's famous Saltash Bridge, through Truro with great views of St Michael's Mount before arriving at Penzance.
Excursions include the Lost Gardens of Heligan and the Bodmin and Wenford heritage railway whilst Poldark fans will have the option to tour some of the key locations used in the TV series featuring dramatic cliffs, iconic sandy beaches and ancient landmarks, fully guided by an extremely knowledgeable and engaging host as part of a small group.
Departure: Tuesday 28th. September – Friday 1st October, London Paddington and Reading to Penzance via Dawlish and Plymouth
Prices: Premium Standard £325, Premier Dining £649, Pullman Style Dining £849
Inclusions: three nights Penzance, hotel accommodation including breakfast. Train travel days 1,2 & 4, luggage courier service throughout, plus coach transfers to hotels with on-board support staff.
Dawlish Sea Wall :
To book www.steamdreams.co.uk or call 01483 209888.
Covid : All on-train catering options and service will be guided, and possibly altered, to ensure compliance with the Covid requirements that may apply on the day of departure. The catering described is what we hope to offer.
All Steam Dream excursions are compliant with current government guidelines on social distancing; hand sanitisers will be available in the carriages and lavatories; guidelines for passenger safety are sent with every e-ticket issued and prominent on the trains. Individual bookings that must be delayed due to Covid can be rescheduled to a later date with no amendment fee.
Gift Vouchers
Valid for a full year from date of purchase, gift vouchers must be booked before the voucher expires but travel can take place after this date. Gift vouchers start at £50.
Gift tickets can also be purchased which summarize the trip itinerary purchased without prices and come in a special presentation wallet.
About 61306 Mayflower
Built for the London & North Eastern Railway in 1948, 61306 Mayflower is one of two surviving B1 Class locomotives. Designed as mixed traffic locomotives capable of hauling express passenger trains as well as freight traffic, the B1s are powerful, go anywhere engines and worked across most of the UK rail network from East Anglia to Scotland.
Mayflower was built by the North British Locomotive Company in Glasgow but was delivered post-nationalisation and acquired the number 61306 by British Railways. She was first allocated to Hull Botanic Gardens Depot followed by a spell at Hull Dairycotes Depot before being finally transferred to Low Moor Depot, Bradford. She was the last B1 in service; her final trip was hauling the 'Yorkshire Pullman' from Leeds in September 1967.
Mayflower was immediately purchased for preservation and was initially based at Steamtown in Carnforth. She was fully restored for mainline operation and worked a number of rail tours in the 1970's. Acquired by Steam Dreams owner David Buck in 2014, she returned to the mainline in 2015 before being withdrawn for an extensive overhaul. Resplendent in the early British Railways apple green livery as she was originally given when delivered in 1948 she returned to full mainline operation in early 2019.
Mayflower has two cylinders, 6 driving wheels, a firebox grate area of 30 square feet and can operate at 75mph.
About 45596 Bahamas
45596 Bahamas was built in 1934 by the North British Locomotive Company in Glasgow for the London Midland & Scottish Railway. 45596 was designed by Sir William Stanier and entered service in 1935. 45596 is the only 'double chimney' Jubilee locomotive after being fitted with it in 1961 as part of a trial. This trial was the final attempt by British Railways to improve the performance of its steam fleet.
In 1967, Bahamas was purchased from British Railways for preservation by the Bahamas Locomotive Society. After this, it was sent to the Hunslet Engine Company in Leeds after which it appeared in March 1978 carrying LMS crimson lake livery as No. 5596.  Its latest overhaul (2013-2019) at Tyseley Locomotive Works was supported by the National Lottery Heritage Fund and Bahamas ran again in 2019 on the main line for the first time for 25 years. As No. 45596, it now runs in BR green livery.
Bahamas was the very last engine to be experimented on in BR's attempt to improve the performance of its steam fleet in the 1960s and its recent overhaul to main line running condition was achieved with support from the National Lottery Heritage Fund.  The loco only runs a limited number of tours each year and when not in action this 1934-built engine is usually based at the BLS Headquarters at Ingrow on the Keighley & Worth Valley Railway in Yorkshire.
Carbon Offset
The Steam Dreams Rail Co., was the first rail charter to be carbon neutral. For the last ten years the company has offset annually the carbon footprint of all aspects of its operation.
About The Steam Dreams Rail Co.
The first tour left London for Salisbury in December 1999
22 years later, the company is proud to be offering day trips to more than 35 destinations, picking up passengers at over 100 stations across the UK every year
The Steam Dreams Rail Co. is now delighted to offer a number of multi-day tours around the British Isles as well as overseas tours including New Zealand in 2022.
The company has received a TripAdvisor® Certificate of Excellence every year since 2015, and was short-listed for Best Rail Holiday Provider in the inaugural Silver Travel Awards
Follow and Share with Jetsettersblog.