Step Back in Time to Ancient Kamakura in Japan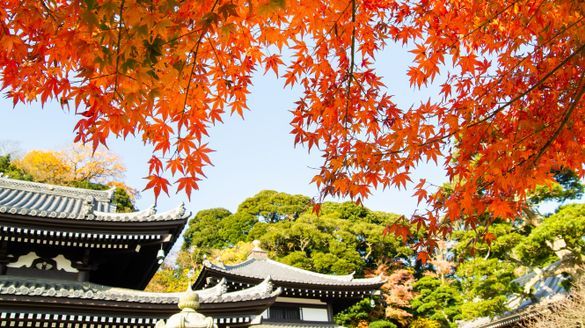 ---
Step Back in Time to Ancient Autumn Kamakura
As historic city hosting multiple temples, Kamakura is a coastal town in Kanagawa Prefecture and is an ancient city of historical ambience. In autumn, Kamakura has an abundance of natural beauty and offers a full range of local tourist experiences. Written below is a quick day trip guide to Kamakura so that you can get a taste of ancient culture.
Immerse yourself into the holy land of Hasedera and autumn colour
Set foot inside Kamakura's Hasedera Temple and see the awe-inspiring goddess of mercy, Kannon. The wooden Buddhist sculpture of Kannon is one of the largest in all of Japan, and the goddess has eleven heads, all with different expressions. Come out to the temple grounds and you'll find yourself walking into a completely different atmosphere. In autumn, the cascades of gold and red maple leaves paired with ponds of koi fish paints a mesmerising sea of reds and golds that ripple in the wind – truly a photographer's fantasy.
Stay in GREEN and autumn AMBER to refresh your mind
After, soothe your mind with something a little special. Hokokuji Temple and its bamboo forest offer an extremely favourable landscape for meditation through the harmony of bamboo greens and autumn amber. The density of the bamboo gives you the impression of being inside. The temple has a tea house open to the forest, allowing you to enjoy a bowl of matcha and Japanese sweets while admiring the scenery, making it an ideal location to rest and clear your mind during your visit. Sip traditional Japanese green tea whilst over-looking the temple's bamboo forest creates a serene moment of peace and tranquillity.
Double your money at Zeniarai Benten
Getting off the bus at a local bus stop, you arrive at Zeniarai Benten Shrine. It is a popular shrine in western Kamakura, closely associated with money and success. Here, visitors come to wash their money (zeniarai means "coin washing"), and rumour has it that that money washed in the shrine's spring will double. Held within a cave, the money multiplying ritual involves three candles and a basket from the shrine. One candle is lit just outside the cave, one inside, and one at a different location. The money you use is washed inside the cave. After performing the ritual, one can only hope that the spring flows with as much wealth as it does with water.
Follow and Share with Jetsettersblog.