Summer Holidays in 2021: Last Chance to Reserve With Low Early Booking Deposits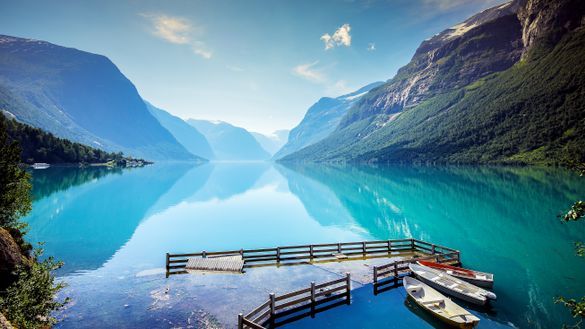 Inghams, summer 2021 holidays can still be reserved for as little as £75 per person, but only until 18 December 2020. The special interest tour operators' trips to the lakes or mountains, culture excursions, tours, rail tours, walking, cycling, family, coastal or flexible holidays with multiple destinations in one break, across Europe and Canada, are all available to reserve now with low early booking deposits.
Whatever the passion, Inghams customers can secure a summer 2021 holiday for less when they book before 18 December 2020, but deposits will return to £155 per person after that date*. So, there's no time to waste!
Complete with all the tips and guidance from Inghams, the expert tour operator handpicks the perfect summer holidays in the right destination for each person or group, whether the customer is travelling solo, with family or with friends. Trips to Austria, Canada, France, Germany, Iceland, Italy, Norway, Slovenia and Switzerland are all up for grabs and offer people the chance to make up for lost travel time. Inghams' NEW 2021 Summer Brochure is packed with inspiration and suggestions to help everyone find the perfect holiday to suit their interests.
The chance to escape the crowds, explore the great outdoors, or visit top destinations for sights seeing, photography, cycling, culture, food and drink, history, wellness, nature, walking or other activities could be just a few months away—if booked now.
Make the most of Inghams Summer 2021 Deals
Walking holidays in Austria from £479 per person
Time to grab those boots—there's plenty of extensive walking trails for all levels through high alpine peaks in Austria. Most Austrian resorts are ski resorts in the winter so have the lift systems in place to get people up the mountain in summer too.
Tour through Italy from £619 per person
You can't visit one place and say you've 'seen Italy', each region differs so much, and Inghams' tours give everyone the chance to see all the best bits in one trip.
See the sights in Norway from £588 per person
Picture perfect scenery is around every corner and three of Norway's UNESCO World Heritage sights are located in the Fjords.
In a statement from Inghams, Joe Ponte CEO, said:
"Inghams have been planning holidays for over 85 years and throughout those years have come across some absolute gems. Our team have used this vast experience to package the very best resorts and accommodation—and work with our customers to design tailor-made trips that deliver the experiences people want.
Meanwhile, our 'In Safe Hands' campaign, continues to provide our customers with the safeguards and reassurances our customers need to both book, and travel with confidence post-covid."
The Inghams 'In Safe Hands' campaign amongst other guarantees details their COVID-19 refund promise. If things change and Inghams have to cancel a holiday because of COVID-19, customers can move their holiday to another available date or destination of equivalent value or pay the difference to upgrade the trip. If for any reason customers are not able to move their holiday, Inghams will give them a refund.
*For all summer 2021 departures between 1 May until 31 October 2021. Remaining deposit value of £80 per person is due 31 January 2021. Final balance due 10 weeks before departure. For some dates Inghams might need to increase the deposit a little if the holiday includes a scheduled flight rather than one of their charters.
Terms & conditions apply. Subject to availability.
-ENDS-
Inghams' Company Information
Inghams was founded by Walter Ingham in 1934, born out of his enduring passion for ski, mountaineering and walking.
Today, Inghams offers a popular Summer Experiences holiday programme to many European destinations and Canada, and a dedicated Self-guided and Escorted Tours programme.
The trusted company also delivers ski holidays in the winter to 78 resorts in 8 countries, plus winter wonderland and Santa Breaks to Lapland, with flights from 15 UK regional airports.
For more information, visit www.inghams.co.uk.
Follow and Share with Jetsettersblog.