Sun, Sea and School in Saint Lucia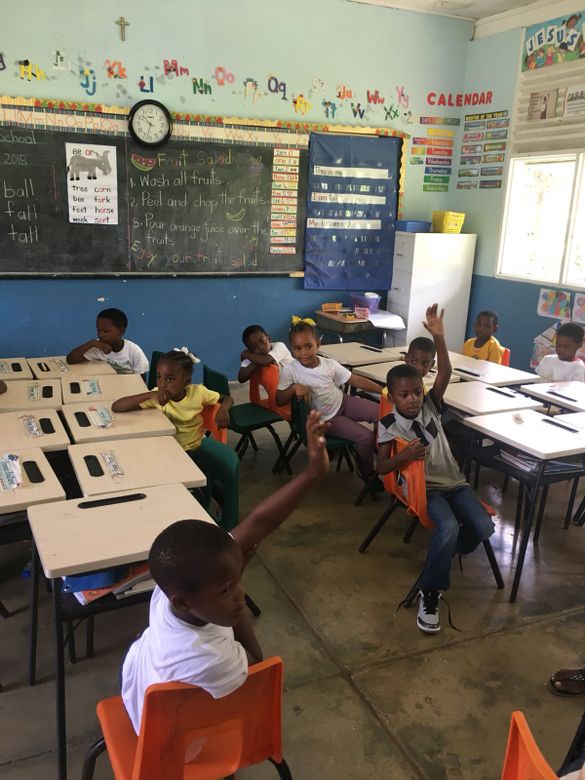 ---
Holidaymakers to Saint Lucia can now include a local school visit in their itinerary thanks to one of the island's most popular hotel groups.
Bay Gardens Resorts – made up of four properties and owned by a local family – has opened up its community initiative to visitors.  The Monchy Feeding programme providing healthy breakfasts to less fortunate children at Monchy School in the north of Saint Lucia.
The hotel group is now offering holidaymakers the opportunity to visit the school and meet the staff and pupils. Visits run during term time and will be escorted by a teacher and a member of staff from Bay Gardens to explain how the scheme runs. They will also get an introduction to daily school life in Saint Lucia and the opportunity to read with the children.
The scheme started in 2012 following an impromptu visit to the school by Bay Gardens' Beach Resort and Spa General Manager, Waltrude Patrick. As a former teacher she saw first-hand that some children came to school without breakfast and struggled to concentrate on their studies.
As a result, Bay Gardens Resorts set up The Monchy Feeding Programme to give a nutritional boost to pupils and now, every year, food worth £7,000 is given to the school providing breakfast to 70 pupils.
Waltrude Patrick said: "The programme is thriving now and we provide a healthy breakfast to those children who would otherwise go without. They can choose cereal, fruits, eggs, milk, chocolate mix, cheese, sausages, bread and juices. We saw a real need to provide that first meal of the day as it is essential to being attentive during classes."
Bay Gardens Resorts plans to extend the Feeding Programme to two nearby schools – Gros Islet and Grande Riviere.
ENDS
For more information on Saint Lucia please go to www.stlucia.org
The Bay Gardens Hotel Group consists of:
The Bay Gardens Beach Resort and Spa, Bay Gardens Hotel and Bay Gardens Inn.
https://www.baygardensresorts.com/
ENDS
For more information please contact Liz Fay at lfay@stluciauk.org. For more information about the island of Saint Lucia, call 020 7341 7000.
About Saint Lucia
One of the Windward Islands of the West Indies' Lesser Antilles, Saint Lucia (pronounced Saint LOO-sha) is nestled halfway down the Eastern Caribbean archipelago. The "Helen of the West Indies," Saint Lucia is known for its natural beauty and diverse attractions, including the signature Piton Mountains – a UNESCO World Heritage Site – a tropical rainforest and one of the world's few drive-in volcanoes. Culturally rich offerings include the bustling marketplace in the capital of Castries, quaint fishing villages along the coastline, and the annual Soleil Saint Lucia Summer Festival. Saint Lucia's wide range of accommodations includes world-class five-star resorts, all-inclusive resorts, intimate inns and value-oriented properties. Saint Lucia also is home to world class cruise and yachting facilities. The island is continually recognised as one of the Leading Wedding and Honeymoon destinations worldwide.
Follow and Share with Jetsettersblog.