Sunny Substitutes for Brits' Beloved Benidorm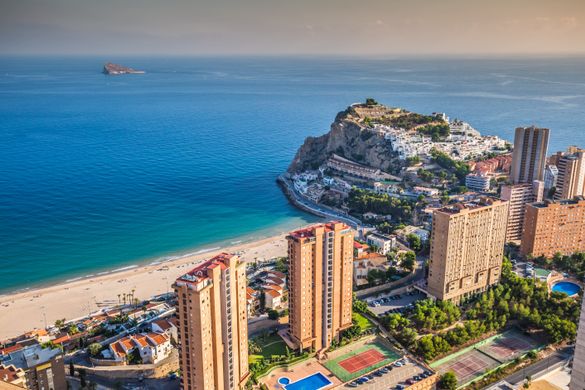 British tourists have been engrossed in a love affair with Benidorm since the fifties, charmed by its sun, sea and a generous helping of home comforts. And while Benidorm will always hold a special place in the hearts of many Brits, there are numerous destinations that are giving it a run for its money.
According to dealchecker's latest data, destinations such as Tunisia and Portugal have enjoyed a 126% and 35% increase in holiday searches over the last year respectively, proving that an appetite for a sunny all-inclusive getaway remains high among Brits.
Travel expert, dealchecker, has listed the top seven resort destinations that will be popular, budget-friendly hotspots this summer.
Hammamet, Tunisia
As Tunisia's largest resort, Hammamet's sprawling white sandy beaches are one of its main attractions. Known as the "garden resort" with beautiful citrus trees and olive groves, visitors can enjoy the town's bustling medina before heading back to one of the many great value for money all-inclusive resorts.
Holidays starting at £134pp: https://www.dealchecker.co.uk/real-deals/february-2019/tunisia-four-star-breakfast/25238.html
Albufeira, Portugal
The Portuguese town of Albufeira is fast becoming a go-to package holiday destination, as dealchecker's data shows. Like Benidorm, Albufeira offers bustling nightlife and warm temperatures, ideal for days spent at the beach and evenings by the bar.
Holidays starting at £72pp: https://www.dealchecker.co.uk/cheap-holidays/portugal.html
Agadir, Morocco
For holidaymakers looking for a change to European resorts, Agadir offers traditional souks and hammam baths alongside laid-back beaches, perfect for sunbathers and surfers alike. Agadir is sees people from all walks of life enjoy the beautiful beaches, friendly hotels and excellent golf courses.
Holidays starting at £195pp: https://www.dealchecker.co.uk/rt-holiday-results/91760201.html
Gibraltar, Spain
Like Benidorm, Gibraltar is ideal for holiday makers who miss their home comforts while abroad. This island off the southern coast of Spain is a British Overseas Territory, meaning visitors don't need to change their currency or worry about a language barrier, it even has its own Marks & Spencer.
Holidays starting at £388pp: https://www.dealchecker.co.uk/rt-holiday-results/91760168.html
Faliraki, Rhodes
Faliraki began life as a quiet fishing village, just like Benidorm, though it only became popular with British tourists in the 2000s. This family friendly destination is a quieter alternative to Benidorm; there's plenty of space to sunbathe on its blue flag awarded beach, while its clear blue seas are a popular snorkelling hotspot.
Holidays starting at £204pp: https://www.dealchecker.co.uk/rt-holiday-results/91760096.html
Playa de las Americas, Tenerife
As Tenerife's most popular resort, there's no shortage of activities for a fulfilled holiday. The beaches offer water sports, such as windsurfing and waterskiing, and Loro Parque zoo is often voted the best in Europe. For those wanting great nightlife, Las Verónicas is one of the best party strips in Europe, full of nightclubs, cabaret bars and live music venues.
Holidays starting at £311pp: https://www.dealchecker.co.uk/rt-holiday-results/91760155.html
Gumbet, Turkey
Gumbet appeals to both party-goers and those in search of a more relaxing escape. In mid-summer, holidaymakers can party on the beach itself, with cheap cocktails and open-air clubs. However, come September, the resort becomes quieter and guests can enjoy its peaceful beach and warm autumnal temperatures.
Holidays starting at £237pp: https://www.dealchecker.co.uk/rt-holiday-results/92062094.html
For more invitation and the best deals, visit: https://www.dealchecker.co.uk/
About dealchecker
Founded in 2005, dealchecker is a UK-based travel comparison website, which enables customers to compare flight, holiday, hotel, cruise and car hire prices, alongside reliable and unbiased money-saving deals. For more information, visit www.dealchecker.co.uk
Follow and Share with Jetsettersblog.