Sunsail – Sail By The Cabin in Mediterranean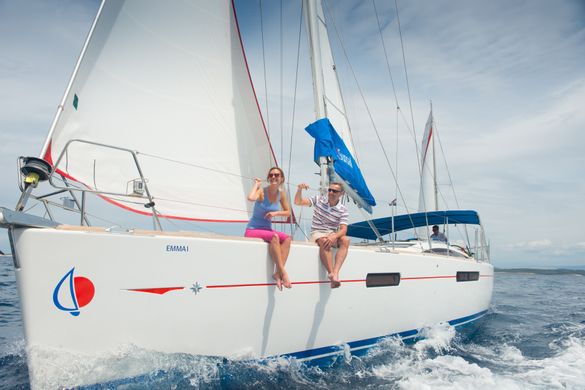 ---
Sunsail, the global yacht charter company, is launching a new Sail By The Cabin experience that's perfect for solo adventurers, couples or friends who want to experience the freedom of the ocean and all the fun of a flotilla. Sail By The Cabin charters will be available on three flotilla routes, in three destinations and a choice of three dates to start with.
Sailing in a group of up to ten other yachts (a flotilla), with a private cabin for up to two people, and an experienced skipper included, the new Sail By The Cabin holiday is a great way to enjoy a sailing adventure in the Mediterranean without having to book a whole yacht.
Sail By The Cabin charters will be available on three flotilla routes, in three destinations and a choice of three dates to start with.
Lucy Black, Head of Marketing at Sunsail comments, "A sailing holiday offers so much more than the traditional beach holiday, yet so many are put off by the cost of booking a whole yacht or thinking they already need to know how to sail to experience one. Sailing as part of a flotilla with a professional skipper on board, and following a wonderfully crafted itinerary of must-visits for the destination, gives you the freedom to explore at your own pace and leisure. There's nothing better than snorkelling off the back of the yacht in crystal clear waters or arriving at pretty coastal villages by the sea. We know there are adventurers out there – couples, solo travellers and groups of friends – who'd love to try this type of holiday, and now they can. Sail By The Cabin is available in Greece and Croatia this September and October, giving customers all the benefits of a skippered sailing holiday with the fun and sociable nature of a flotilla."
Sail By The Cabin holidays are available to book now. There are three seven-day holidays to choose from:
1 September 2018, Krka Flotilla in Croatia aboard a Sunsail 53 at £1825 per double cabin
16 September, Korčula Flotilla in Croatia aboard a Sunsail 454 at £2400 per double cabin
14 October, Lefkas Flotilla in Greece aboard a Sunsail 53 at £1225 per double cabin
Each yacht has a maximum of eight people onboard plus an experienced skipper.
The holiday includes:
Seven days (six nights aboard), air conditioned, private double cabin (sleeps up to two) with toilet and shower
All sailing, navigation and safety equipment on board and expert and friendly skipper
A fully equipped galley/kitchen, all clean linen including bath and tea towels,
Breakfast (1x flotilla breakfast, six continental breakfast on board) and drinking water
Social evenings, beach barbecues, punch parties and optional end of week regatta
Snorkelling gear, kayak and stand up paddleboard (subject to availability)
Inflatable dinghy with outboard motor
Fees, taxes, fuel and yacht insurance.
Exclusions include:
A cash box to cover mooring costs (depending on destination approx. £25 – £85)
Lunch and dinners – the kitchen on yacht can be used
Optional tip for the skipper – approximately £20 per person
For further information about Sail By The Cabin and to book visit https://www.sunsail.co.uk/sailing-holidays/flotilla-sailing/cabin-charter
For further information about Sunsail visit www.sunsail.co.uk
Notes to Editors
For further information please contact Pippa Treavett pippa@adpr.co.uk
About Sunsail
Founded in 1974, Sunsail offers a wide choice of sailing holidays operating a fleet in 25 worldwide locations. Alongside yacht charter and flotilla sailing holidays, Sunsail also offers sailing schools, skippered holidays, team building and events, regattas and yacht ownership.
Bareboat charters – explore your way. Experienced sailors can self-skipper a yacht and plan their own itinerary at any Sunsail destination. No other sailing company offers as many ways of getting out on the water as we do; bareboat sailors can pick from a variety of 49 yachts in 25 worldwide bases. Customers have the flexibility to personalise their holiday by choosing the yachts, services and extras they need.
Flotilla holidays – discover together. Cruise with up to 12 other boats and a Sunsail lead boat, with a mechanic, skipper, and hostess on board for support and guidance 24/7. Sailing on a flotilla is an easy way to enjoy a sailing holiday, with a set itinerary and daily briefings. Non-sailors can hire a skipper to get them where they need to be. A Sunsail flotilla offers the perfect balance of independence, and sociability, with support and guidance available whenever you need it.
Skippered bareboat charters – let a skipper be your guide.  You don't need to know your knots to enjoy a sailing holiday. Sailing is open to all with a Sunsail skipper.  Skippers take the stress out of sailing and provide a guiding hand aboard. The skipper will take responsibility at the helm and use local knowledge to show off all the best sights.
Sailing schools – learn for a lifetime. Sunsail operates one of the largest network of sailing schools in the world with the UK base being its biggest. In addition, Sunsail also help people learn to love sailing in the British Virgin Islands, Croatia, Greece, Thailand and Australia.
Events – Sunsail has more than 40 years' experience as market leaders in sailing events, team building and hospitality. Based in Portsmouth, our extensive matched fleet of Sunsail Match First 40s are able to make full use of the Solent – one of the best sailing areas in the world today.
Follow and Share with Jetsettersblog.