Sydney Harbour Sail Racing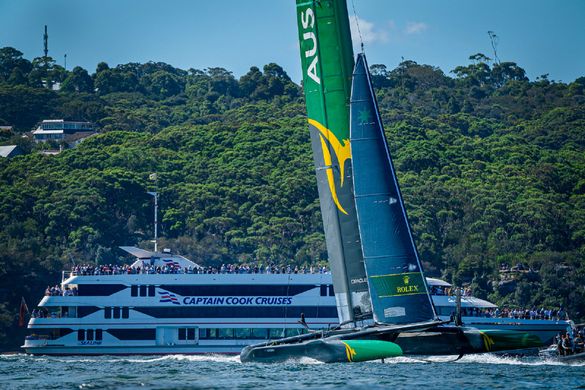 ---
SailGP is back on Sydney Harbour from 28-29 February 2020, and with Australia defending SailGP champions, the countdown is on for the season opener of the world's fastest and most exhilarating sail racing championship. As the official Sydney SailGP spectator boat operator, Captain Cook Cruises is offering fans the best way to see the action-packed racing with amazing on-water fan experiences.
After a successful inaugural season, this year teams from Spain and Denmark also join Australia, France, Great Britain, Japan and the United States, as they go head to head over a series of thrilling events held at iconic venues across the globe.
SailGP's curtain raiser on Sydney Harbour will see Australia, led by home-grown hero and Olympic gold medallist Tom Slingsby, look to defend its title as teams compete on identical supercharged F50 flying catamarans, capable of electrifying speeds of up to 100 kilometres per hour, against some of the world's most talented, athletic and hyper-competitive sailors.
Captain Cook Cruises are offering two spectator packages, the On-Water Go Premium and On-Water Go.
Both passes provide exceptional on-water experiences for adults and families, with boats located in perfect viewing positions inside the public exclusion zone, plus live commentary onboard – fans will be in the centre of the heart pumping racing.
On-Water Go Premium passes are available onboard super-cruiser, Sydney 2000, and include a sumptuous buffet, premium wine, beer and soft drinks and screens to watch the live racing. Sydney 2000 offers spectacular race viewing over four levels including an open top deck with uninterrupted 360-degree harbour viewing. Private viewing rooms are also available onboard, for fans wishing to host a private group.
A one-day Go Premium Pass is priced at $278 per adult and $194 per child (3-16yrs).  The two-day Go Premium Pass is priced at $472per adult and $330 per child (3-16yrs).
On-Water Go Passes are available onboard spectator cruisers with drinks available for purchase and an option for guests to bring their own food. Fans can enjoy SailGP from a prime viewing position inside the public exclusion zone and be guided through the racing with an onboard commentator.
On-Water Go passes are priced at $125 per adult and $87 per child (3-16 years) and two-day On-Water Go passes are priced at $212 per adult and $148 per child (3-16 years).
All official spectator boats will depart King Street Wharf No.1. at 1.30pm and return at 6.00pm on Friday 28 February and depart 2.30pm, returning at 7.00pm on Saturday 29 February.
For further information visit: www.captaincook.com.au
About SeaLink Travel Group
SeaLink Travel Group is one of Australia's most dynamic travel companies, bringing the nation's best tourism and transport experiences to the world. With more than 1,600 passionate staff across the country, we deliver fantastic services to more than eight million customers annually.  With a vessel fleet of 80 and a coach fleet of 62 vehicles, our Adelaide-based company has undergone a remarkable period of growth, emerging as a significant player on the national tourism and transport scene.
At SeaLink, we believe travel is about connecting people, sharing experiences and creating brilliant memories.  Our operations extend across New South Wales, Queensland, the Northern Territory, Western Australia, South Australia and Tasmania, including:
Cruises, ferry and charter services on Sydney Harbour, Swan River and on the Murray River
Passenger, vehicle and freight ferry services from Kangaroo Island to the South Australian mainland, North Stradbroke Island and Southern Moreton Bay Islands to south-east Queensland and from Bruny Island to the Tasmanian mainland
Resort accommodation, restaurants, touring and ferry services on Fraser Island, Queensland
Day tours, extended touring and charter operations on Kangaroo Island and on the South Australia mainland
Passenger ferry services in Townsville, Darwin and Perth
Lunch and dinner cruises on the Swan River and on Sydney Harbour
Ferry and barging services in south-east Queensland and Gladstone
Exclusive 4WD foreign language adventure-based tours
Retail travel agencies in Adelaide and Townsville
Tour wholesaling to the travel trade
Adventure, accommodation and bistro at Vivonne Bay, Kangaroo Island
SeaLink successfully listed on the Australian Securities Exchange in October 2013 (ASX:SLK).
Follow and Share with Jetsettersblog.