Tamazirt by Amayour Yoga Hostel, Taghazout, Morocco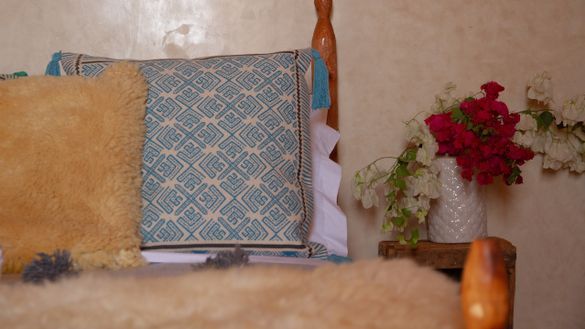 ---
29 August 2018, (Taghazout, Morocco) Amayour Surf and Yoga Hostel in Taghazout Morocco will open Tamazirt by Amayour yoga retreat centre on 6 October 2018 in Agouni, a scenic village in the Anti-Atlas Mountains with views of Morocco's Atlantic Coast.
Co-owners Shiraz Ksaiba and M'hand Naciri have mixed Amazigh knowledge and a London eye for style to create Tamazirt by Amayour yoga retreat centre just 50 minutes from Agadir and 10 minutes from Taghazout.
Says Shiraz Ksaiba of the expansion, "For three years we've offered yoga and surf packages at our Amayour Surf and Yoga Hostel, but the feedback we received was that guests are looking for a dedicated yoga space. The location in the picturesque village of Agouni is a place where shepherds graze their herds, the muezzin calls the prayer from the tiny mosque nearby, and silence and blue skies are (almost) guaranteed."
Retreats will run Saturday to Thursday with morning flow and evening restorative classes. A day trip to the nearby weekly souk or scenic valley, yogic events such as a guided practice to meditation, mindful walks, and women's circles are included in the package price starting at £360 per person.
Tamazirt by Amayour has capacity to welcome up to 15 participants.
"Because we believe that yoga should be accessible, we have designed a programme to fit all budgets while maintaining the little luxuries of modern travel – share a dorm room or opt for a private double, enjoy a day trip to explore the local culture or indulge in a therapeutic treatment," adds Ksaiba.
Top terrace: The yoga shala on the top terrace has panoramic views over the rolling countryside where silence reigns. A pergola protects yogis from the elements with the option to enclose via retractable floor-to-ceiling windows. Yogamatters mats, bolsters, eye pillows and blocks are provided.
Terrace level: One double room. Guests share alfresco meals here and enjoy uninterrupted views of the sunset and the sound of the muezzin gently calling the prayer from the nearby mosque.
Main floor: One double room with en-suite bathroom, one single or cosy double room with shared bathroom, one triple room with shared bathroom, and a six-bed sharing room. Sunlight floods the rooms as guests wake up ready to toast the sunrise while the silence is unparalleled when it's time to tuck in to bed. A snug sitting area is located in the central foyer and is a perfect spot for unwinding with a cup of tea for a bit of journaling and reflection, or chatting with friends new and old.
Ground floor: Separate accommodations for retreat leaders, yoga instructors, assistants, and chefs complete with private terrace.
Outdoor heated pool: Just steps from the front door, the pool overlooks the vast countryside. Lounge chairs, parasols and towels are provided.
Food
In keeping with Amayour's food philosophy of preparing fresh and wild modern Moroccan cuisine, a resident retreat and local chef will ensure all menus are of the highest quality. Fresh from the fishing boats, the rural markets and even the garden, guests dine on the finest seasonal ingredients.
"Our mix of fresh and wild modern Moroccan cuisine, mindful walks through the surrounding hills and a day trip to nearby sights provide constant reminders of the unique setting," adds Ksaiba.
Tamazirt by Amayour will officially welcome its first yoga retreat participants on 6 October 2018.
About Amayour Surf and Yoga Hostel and Tamazirt by Amayour
A former London-based photographer, filmmaker and director of photography, Shiraz Ksaiba developed a love of surf that deepened during a solo holiday in 2010, the first she had ever been on, in Taghazout. It was during an almost month-long stay with her two children in 2014 that she met M'hand Naciri, a local surf instructor, who would become co-owner in their first business together, Amayour Surf and Yoga Hostel. The property opened in 2015 when Shiraz and her daughter Matilda came to live in Taghazout. Tamazirt by Amayour opens in October 2018 as a direct response to guests' requests for a dedicated yoga space in the Taghazout Bay region and driven by Shiraz's passion for yoga, having practiced for 15 years.
Instagram: https://www.instagram.com/amayoursurf/
Facebook: https://www.facebook.com/amayoursurf
For more information, interviews and press images, please contact Mandy Sinclair,
Say Something Communication in Marrakech Morocco at +212622536436 or mandy@saysomethingcommunication.com.
Follow and Share with Jetsettersblog.