The 7 Most Visit-Worthy Stations in and Around Tokyo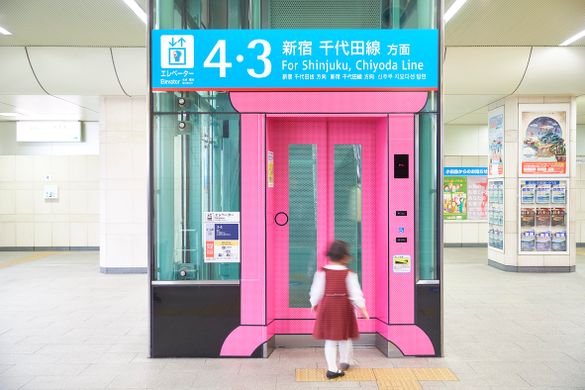 ---
Connecting Tokyo with some of Kanagawa Prefecture's most loved locations such as Hakone and Enoshima, the Odakyu Railway lines have some of the most interesting stations in Japan, proving transit can be just as fun as your end destination. So next time you're in Japan, be sure to make a trip with Odakyu Railway and explore some of these wonderful locations!
The world's busiest station
Shinjuku Station is a major railway station in Tokyo and serves as the main connecting hub between the city's special wards and Western Tokyo. In 2011 it was labelled by the Guinness World Records as the world's busiest station, servicing an average of 3.64 million passengers each day. The station itself is interconnected with various department stores offering a plethora of restaurants, shops and entertainment establishments in its direct vicinity.
Find Doraemon at Noborito Station
Odakyu's Noborito Station is the ideal place for lovers of classic Japanese animation 'Doraemon' as the entire station is decorated in its theme. The nearby FUJIKO・F・FUJIO MUSEUM further showcases the world of Doraemon and its creator – making it a must visit for children and adults alike. The facilities also include a theatre where you can see exclusive short films, a room displaying 150 pieces of original artwork, as well as a café and museum shop.
Heaven for Sanrio lovers at Odakyu Tama Center Station
Hello Kitty, My Melody, Gudetama and more await at Sanrio Puroland – the indoor theme park run by the globally loved Sanrio Company. The park attracts over 1.5 million visitors a year causing a cuteness overload when enjoying the parks theme rides, musicals, parades, restaurants and other fun attractions.
The park can be easily accessed with a 5-minute walk from the Odakyu Tama Center Station, which in 2018 was redecorated with all your favourite Sanrio Characters.
The Dragon's Castle at Katase-Enoshima Station
Enoshima island is a seaside resort destination located off the Shonan Coast in Kanagawa Prefecture. It is loved by locals and visitors alike for its beautiful beaches, unique attractions and picturesque view of Mount Fuji. The Island is most easily accessed with Odakyu's Katase-Enoshima Station, which was built in 1929. The station's design resembles the coral castle of the Dragon God of the Sea, which originates from Japanese folklore, 'The Tale of Urashima. There are current renovations to repair and enhance the station's appearance which are to be completed in May 2020.
Picturesque cafes and lush summertime blooms at Gokuraku-ji Station
This small station run by the Odakyu Group's Enoshima Electric Railway offers the best access to Gokuraku-ji Temple, as well as the Joju-In and Kokuzo-Do Temples. The area surrounding the station is often used in Japanese film and TV for its abundant greenery and peaceful atmosphere. With some quaint café's scattered around, hydrangea flowers in the summer and cherry blossoms in the spring, this is a wonderful area for a relaxed stroll.
Visit Japan's most filmed Railway Crossing at Kamakura Koukou-Mae Station
Another station on the Enoshima Electric Railway line is Kamakura Koukou-Mae Station. With tracks running directly along the coastline, both the station and the train ride offer charming views. The 'Nissaka' railway crossing of Kamakura Koukou-Mae Station is often depicted in Japanese TV shows and anime.
Wander around Japan's old capital from Kamakura Station
Being one of Japan's first feudal capitals cities around eight centuries ago, Kamakura is a famously popular day-trip destination from Tokyo. The area offers a wonderful atmosphere revealing the traditional architecture of the area's many historic temples and shrines.
Right from the front of the station you can visit Komachi Dori, where you can try local cuisine, sweets and enjoy some souvenir shopping. At the end of the street you will come to the main entrance of the 800-year-old Tsuruoka Hachimangu Shrine, the oldest and most significant shrine in the whole area of Kamakura.
Important information for those visiting Japan in 2019
Due to Typhoon Hagibis which hit the Kanto Region of Japan on October 12th, the operation of trains running between Hakone-Yumoto Station and Gora Station on the Hakone Tozan Line have been suspended until further notice. While train operations are suspended, substitute bus services will be available for passengers to use.
All Trains between Odawara Station and Hakone-Yumoto Station are operating as scheduled. For more information, please visit: https://www.hakonenavi.jp/international/en/status_information
About Odakyu Electric Railway
Odakyu Electric Railway Co., Ltd. is a major railway company based in Tokyo, Japan. It is known for its Romancecar series of limited express trains from Tokyo to Odawara, Enoshima, Tama New Town, and Hakone.
For more information visit: https://www.odakyu.jp/english/
For Australia and New Zealand media enquiries, please contact Mihoko Kurosawa at m.kurosawa@thedoq.com or call 0498 651 422.
Follow and Share with Jetsettersblog.