The Best Places to Visit in North India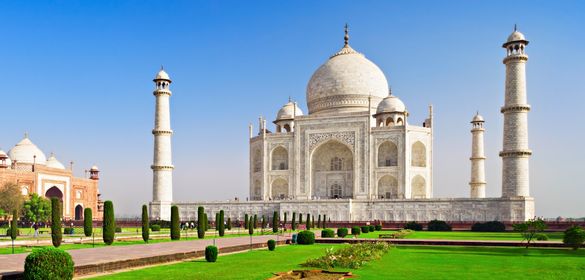 ---
World-famous monuments, enchanting deserts and wonderful wildlife make North India a fabulous destination to discover, with something for everyone. See the Taj Mahal, go tiger spotting or take a sunset cruise across mesmerising lakes. Sample street food, ride a camel or barter in a market. If you're looking for an explosion of sights, sounds and smells, look no further than North India.
With almost 1.5 million km2 to explore in North India, our handy guide showcases some of the key must-see destinations you might want to include in your tour or holiday.
Agra Magical Agra is one of North India's most popular tourist spots, alongside its fellow Golden Triangle cities Delhi and Jaipur. As well as hosting many fairs and festivals, Agra is famous for some of the most breathtaking UNESCO World Heritage in the world. Grab your camera and head out on an architecture adventure!
No visit to Agra is complete without seeing the Taj Mahal with your own eyes. Rising majestically from the river banks, the 'Crown of Palaces' with its marble finish and manicured gardens was built by the Mughal emperor Shah Jahan as a resting place for his wife. The Taj Mahal's 22 domes represent the years it took to construct this mesmerising palace, whilst inside the fine inlay work is punctuated by sparkling semi-precious stones.
Other photo opportunities are the impressive Agra Fort and the abandoned city of Fatehpur Sikri outside of Agra, a former retreat of the rich and famous in the 17th century.
BharatpurBeautiful Bharatpur lies 55km to the west of Agra. Wildlife lovers can while away the hours in Keoladeo National Park, a major bird sanctuary and home to over 380 species of our feathered friends. You might also spot Golden Jackals, Striped Hyenas, Fishing Cats, Sambar and wild boar basking in the grounds of this UNESCO World Heritage Site, or an Indian Python if you're really lucky/unlucky!
History buffs will enjoy a trip to the 18th-century Lohagarh Fort, the strongest constructed fort in Indian history, and the Ganga Mandir and Laxman Mandir temples with their carved statues of Hindu gods.
BikanerIn the heart of the spectacular Thar Desert, the atmospheric medieval city of Bikaner was once a major centre in the cross desert caravan trade. Bikaner is synonymous with camels, hosting an annual Camel Festival in January and housing the National Research Centre on Camel, where you can even try camel ice cream.
Junagarh Fort and Museum is a combination of one of India's oldest forts, home of the Bikaner royal family, and a museum exhibiting historical weapons and ornaments. Admire the beautiful paintings decorative mirror work and yellow stone carvings in Bhandasar Temple, rumoured to be held together with ghee (Indian clarified butter) rather than mortar.
DelhiA collision of amazing history with modern life, the colours, noise and chaos of Delhi make it an unforgettable destination. Split into the old and new districts, as well as beautiful buildings, you'll find delicious street food, rich Mughlai curries and souvenirs from multi-floored markets or bustling street bazaars.
New DelhiThis cosmopolitan city serves as the capital of India and houses a multitude of historic sites and museums, as well as playing host to a range of celebrations and festivals. Explore the UNESCO World Heritage Sites of Humayun's Tomb which was the inspiration for the Taj Mahal, and the Red Fort with its impressive sandstone walls, domes and turrets. The almost 138 feet high India Gate, the national monument of India designed by British architect Sir Edwin Lutyens, dominates the skyline.
Old DelhiChaotic but fascinating, Old Delhi is a hive of activity, consisting of busy streets and alleyways full of cars, cattle, rickshaws, shoppers, traders and monkeys! Visit the beautiful flower-shaped Lotus Temple, the sandstone Birla Mandir (or Laxminarayan Temple) and Rajghat, a black marble platform and eternal flame marking the spot where Mahatma Gandhi was cremated.
Old Delhi is also home to Jama Masjid, the largest mosque in India where thousands come to pray each day. This famous 17th-century mosque has magnificent monochrome marble domes and sandstone colonnades.
JaipurThe capital city of Rajasthan, captivating Jaipur is a popular Golden Triangle destination alongside Delhi and Agra. Haggle in the market for handicrafts, discover historical sites or simply wander the streets to see the rows of vibrant pink buildings, the reason for Jaipur's nickname of the 'Pink City'.
The opulent Amer Fort overlooking Maota Lake is Jaipur's main attraction, a marble and red sandstone construction made up of a series of gates, cobbled paths and ramparts. Within its walls lie palaces, halls, and a subterranean escape route used by the royal family in wartime.
The beautiful Hawa Mahal is known as the 'Palace of Winds' or 'Palace of Breezes' and resembles a honeycomb of a beehive. The women of the royal family were forbidden to appear in public without face coverings, so the 953 small windows allowed them to people watch without being seen.
Keen stargazers will love the Jantar Mantar astronomical observation site. The largest of its kind in India, it contains a variety of instruments including the world's largest stone sundial, which measures the time correct to half a second.
JaisalmerThe former medieval trading centre of Jaisalmer is an enchanting destination known as the Golden City due to its yellow sandstone architecture. Visit Jaisalmer Fort (nicknamed the Golden Fortress) and its Jain temples, the intricately carved Havelis, Gadisar Lake, or watch the sunset against the stunning backdrop of the Thar Desert.
JodhpurEnchanting Jodhpur is known as the Blue City, due to the blue houses in the old area of the city, painted by adding copper sulphate to limewash to discourage termites, and the Sun City because of the number of bright and sunny days it experiences. This popular tourist destination features a number of palaces, forts (including Mehrangarh, one of the largest in India) and temples.
Don't miss the chance to try Jodhpur's famous cuisine, including sweets, Mirchi Bada (a type of filled fritter) and the exotic dessert Mawa Kachori.
KhajurahoKhajuraho is a fantastic destination as part of a North India tour. Home to an abundance of culture, wildlife and beautiful scenery, charge up your camera to capture the impressive Pandav Falls or go tiger spotting in Panna National Park. You can also visit the fascinating Western Group of Temples, a UNESCO World Heritage site containing famous erotic sculptures.
Mandawa/ChuruWith its famous fort and stunning Havelis (mansions), it's no surprise that the village of Mandawa in Rajasthan is a popular film location. The 18th century Mandawa Fort contains beautiful frescoes, ornate carvings, and paintings of Lord Krishna. The lavishly painted havelis can be regularly spotted in Bollywood scenes, and are the reason for Mandawa's nickname of the "open art gallery" of Rajasthan.
MumbaiAlthough not technically part of North India, Mumbai can be included in a north India tour.
The wealthiest city in India, Mumbai is home to numerous billionaires and millionaires, alongside the Bollywood and Marathi cinema industries. Formerly known as Bombay, its top attraction is the enormous monumental arch of the Gateway of India. This impressive monument was commissioned in 1911 to commemorate the visit of King George V and Queen Mary, who only saw a cardboard model, as it wasn't completed until 1915!
The ornate Elephanta Caves are an unmissable excursion. A designated UNESCO World Heritage Site, the rock-cut stone sculptures hewn from solid basalt rock portray Hindu and Buddhist ideas and iconography. Another of Mumbai's World Heritage Sites is the 19th century Victorian Gothic and Art Deco Ensembles of Mumbai, a distinctive set of Neo-Gothic public buildings and 20th century Art Deco buildings.
OrchhaWind your way around deserted cenotaphs, havelis, palaces and temples in the fascinating temple town of Orchha. Tucked away on the banks of the River Betwa, here you'll find the sacred Hindu pilgrimage site of the Ram Raja Temple (also known as Orchha Temple), and the domed Jahangir Mahal with its spectacular evening light show telling the story of the monument and the city itself.
RanthamboreOne of the most famous national parks in Northern India, you'll find a multitude of mammals and reptiles, alongside 272 species of bird and almost 300 species of vegetation in Ranthambore National Park. A former hunting grounds of Jaipur Maharajas, the park is famous for its diurnal tigers, active throughout the day, so much easier to spot than their nocturnal relatives.
Along with flora and fauna to delight any photographer and nature lover, the remains of Ranthambore Fort are also worth a visit to take in the amazing views of the park.
UdaipurNicknamed the City of Lakes and the Venice of the East, you might recognise beautiful Udaipur from the Bond film Octopussy, with its fairytale lakes and palaces amongst the striking Aravali hills.
Take a magical sunset cruise across one of author Rudyard Kipling's favourite destinations, the sparkling waters of Lake Pichola. Overlooking the lake is the impressive City Palace, a vast complex of courtyards, gardens and palaces.
The ornately hand-carved Jagdish Temple is also a popular tourist attraction, with marble steps and a tall steeple, or why not watch the sun go down from one of the many Mediterranean-inspired cafes.

Follow and Share with Jetsettersblog.