The French Mountains, a Winter Wellness and Wellbeing Destination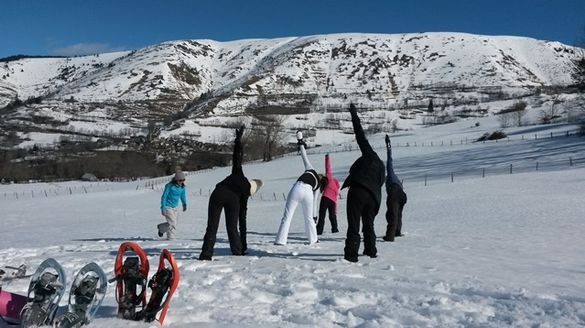 ---
Many of us are living busy and stressful lives where we tend to forget ourselves as part of the daily hamster wheel. The French mountains have some of the answers to the need to relax and reconnect with nature in our quest for wellness & wellbeing.
Vast forests, fresh crisp snow and pure air: take a deep breath in, breathe out – it's self-care time.
For the body & mind balance
Rise and shine starting the day with a guided meditation session followed by an outdoor yoga practice at Saint Lary Soulan. Anahata yoga focuses on opening the heart chakra and adopting a correct posture, helping to calm the mind and bringing emotional stability while taking advantage of the clear air mountain.
If you want to train your skiing abilities, Les Contamines will make you experience "conscious skiing", a combination of skiing and sophrology, a relaxation and breathing technique based on yoga.
Connecting with nature
Feel a deeper connection to nature by practising sylvotherapy. Walk into the forest in Saint-Martin-de-Belleville for a meditative-time around the trees. Sylvotherapy is based on the premise that close contact with trees contributes to general wellbeing.
At night time join the "French cross-country skiing school" for a two-hour "hiking trip beneath the stars" in Le Grand Bornand. Experience a true physical and sensorial adventure by listening to your steps on the crackling snow guided by the light of the stars under a crystal clear sky.
Not yet initiated to wellness activities?
Saint Sorlin d'Arves is introducing beginners to wellness in the mountains during a 4-day festival Zen Ô Sybelles from 26th to 29th of January. At the top of the Ouillon summit, the free festival gives access to sauna, massages, yoga, sophrology and body balance. You can also appreciate healthy food, detox juice and herbal tea for a day entirely devoted to relaxation.
We are what we eat
Having healthy nutrition is a key element to general wellbeing. The one-star restaurant Ursus in Tignes will invite you to live an unusual experience. Chef Clement Bouvier has recreated a Savoye's forest made of 380 trees trunks in its restaurant: wooden-tables, dimmed lights and fire, participate to the immersive foodie experience making you using all your senses.
Enhancing sleep
Feeling fully regenerated is only possible after a great night of sleep. Nestled in trees, Cabanes entre terre et ciel offers tree-houses in the Aravis. The wooden-houses are far from basic; they offer the best comfort with their wooden-chimney and private spa, a great way to disconnect with the outside world and to wake up with a view on the Mont-Blanc.
Do you want to try some that yourself? Then join us in a wellness and wellbeing press trip in the French mountains in January 2020. Register your interest tiphaine.rolland@atout-france.fr
Follow and Share with Jetsettersblog.