The Gambia Experience Brochure – Wildlife, Beaches, Birdlife + Senegal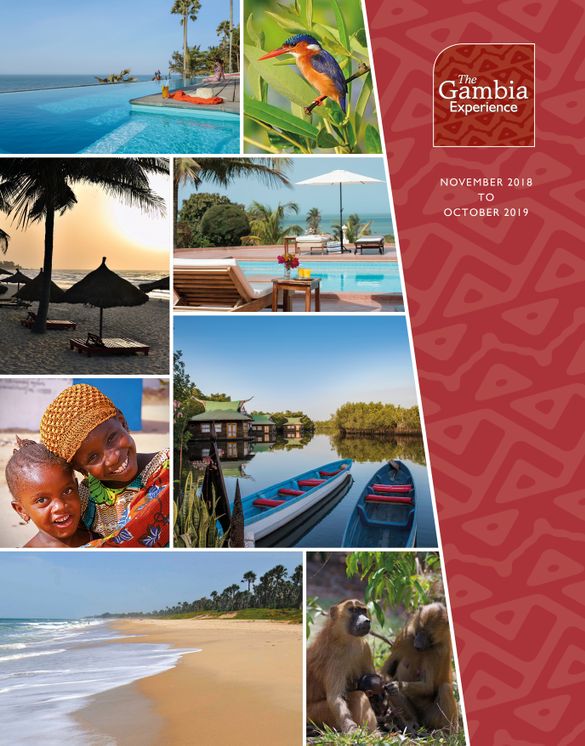 ---
The UK's leading holiday specialist to The Gambia has launched its biggest ever brochure featuring an extensive collection of holidays and experiences for travel November 2018 – October 2019 which includes further opportunity to holiday in neighbouring Senegal. Reflecting The Gambia Experience's passion and ongoing commitment to providing the best holiday experiences, the brochure incorporates first hand property and resort information along with tips and excursion suggestions, providing a helpful destination guide.
Beachfront hotels, floating river and jungle lodges, up-river camps, indulgent spa resorts and inspiring wildlife reserves, including a Chimpanzee rehabilitation camp, are among those presented within Luxury and Unique collections.
Wildlife adventures and birdwatching tours include guiding by local experts. Birdwatchers can also choose from a collection of tours led by BBC presenter and naturalist Chris Packham plus a new, great value two or three-day introduction to African birdlife.
Multi-centre and tailormade holidays can be arranged as well as twin-centres with Senegal. The Sine Saloum Delta region in the north and Casamance region of the south can be combined with easy transfers from The Gambia. Boutique and unique hotels, simple lodges and a treehouse offer deserted beach and riverside locations with great opportunity to explore, while a wildlife reserve offering luxury accommodation under canvas and the chance to observe Africa's larger native animals up close, also offers an authentic African experience.
Extending its programme in Senegal, The Gambia Experience presents a third region with its addition of the Petite Côte. Two high quality hotels in the beach resort of Saly are offered, along with scheduled flights into Dakar's brand-new airport.
The Gambia Experience operates year-round charter flights to The Gambia from Gatwick, with Star Class and Star Plus upgrades available during winter. Regional flying is also available during winter with departures from Manchester and Birmingham.
BROCHURE HIGHLIGHTS:
• Wide range of accommodation – 2 grade to Luxury Boutique hotels & African lodges with Luxury, Unique and Classic collections, and many hotels exclusive to The Gambia Experience.
• Multi-centre and tailormade holidays and tours within The Gambia along with Senegal add-ons: – https://www.gambia.co.uk/blog/tailormade-and-multi-centre-holidays-in-the-gambia

• Cultural tours and excursions plus private vehicle and boat hire with experienced guides.
• New all-inclusive option at Sunset Beach, a Grade 3 hotel in the resort of Kotu.
• New:"Taste of African Birdlife" 2 or 3 day tour: Aimed at amateurs but open to all, this tour offers an affordable introduction to The Gambia's amazing birdlife. Available on selected departure dates. Supplement from £145pp
• Wildlife Encounters: Mandina Lodges – Floating, Stilted, Mangrove and Jungle lodges in the heart of the African bush –  surrounding wildlife includes many exotic birds, monkeys, baboons and monitor lizards.
• Extended programme in Senegal – Now offering 3 regions for hotel-based holidays with the addition of the beach resort of Saly:
1) Sine Saloum (north Senegal) – 3 hotels: Keur Saloum (Grade 3) + Les Palétuviers Boutique Hotel (Grade 3 ½) – offering panoramic river views (3 ½ hr transfer from The Gambia) + Fathala Wildlife Reserve (Unique) – Luxury air-conditioned safari tents where rhino, giraffe, buffalo and a wide selection of Africa's wildlife  roam freely. (3 ½ hr transfer from The Gambia).
2) Casamance (south Senegal)–  Two beachfront hotels are offered – Esperanto Lodge near Kafountine , 2 hours drive from The Gambia and La Paillote Village Hotel in Cap Skirring, a 4 hour transfer.
3) Saly (north Senegal) – Two hotels:  Le Lamantin ( Grade 5) A luxury hotel with spa located by a white sand beach and marina, renowned for its gourmet cuisine and Royal Horizon Baobab, a quality all-inclusive property next to a lagoon in La Somone.Both hotels are now easily accessible from the Senegal's newly opened Blaise Diagne International Airport, 30 kms from Saly. Scheduled flight services operate daily from the UK via Brussels Airlines (with one stop).
• Holidays are priced from £649pp – based on 7nts B&B at African Village Hotel (Grade 2) in The Gambia (includes flights & transfers).
Call 01489 866 939 or visit www.gambia.co.uk
ends
PRESS INFO: The Gambia Experience is a trade name of Serenity Holidays, a fully bonded tour operator under ATOL 1866 and member of ABTA, ABTOT, AITO and IATA. For further information, images and press trip enquiries please contact Louise Thomas or Stacey Parsons – tel: 01489 866 963 or email: press-office@serenityholidays.co.uk