The Greece You've Never Found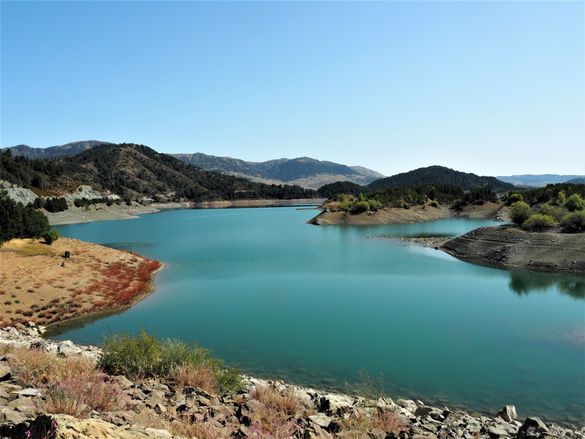 ---
As this year of fear and uncertainty comes to an end and the freedom to travel slowly returns, we may find our dreams have changed. The long days of lockdown have given us time to reflect, to reconsider the feelings and experiences we want from our holidays.
It isn't just the world that's changed. Our view of it has also been transformed. In our enforced stillness we have been astounded by the glories of nature, reminded of the preciousness of time and comforted by the warmth of humanity. Many of us have re-evaluated our desires, wondering if we really could replace our addiction to instant gratification and conspicuous consumption with slower, more meaningful and sustainable experiences.
Elena Papanicolaou is founder of bespoke travel designer Fly Me To The Moon and a long-time advocate of slow travel. Born in Athens but rooted in the Dodecanese, she is a passionate explorer of her homeland and has dedicated herself to delivering the authenticity, intimacy and exclusivity that off-the-peg, mass tourism in unable to deliver at any cost.
"Until travel became an industry, it was an activity that took place between humanity and nature, defined by sensation and mutually-rewarding relationships, and at its best, it could be transcendent," says Elena. "This is the feeling I want my guests to experience here in the most beautiful, most welcoming destination on earth."
"In 2021 we're all going to be looking for the more remote, underdeveloped and authentic destinations – the Greece you knew existed but could never find. My clients are curious, cultured, well-travelled people in search of experiences beyond cookie-cutter luxury. Of course Fly Me To The Moon can arrange helicopters, yachts and ultra-stylish accommodation, but pack mules, simple mountain refuges and remote farmhouse kitchens could also feature if that's what it takes to make your holiday truly magical."
Weaving this magic begins with a conversation. You share your dreams – a secret voyage on a private yacht, a fantasy villa on your own island or a suite in one of Greece's most exclusive and rarefied hotels – and Fly Me To The Moon will make them come true. Or you could ask Elena for inspiration.
"I would perhaps take you to Kasos – an island most Greeks have never found," she says. "You'd stay in an exquisite 18th century mansion – an old sea captain's home right on the harbour. I'd take you on tour around the capital Fri, population 357, and let the locals drag you into their houses to show you their treasures brought from across the sea and let you taste the kolokithopoulia – stuffed courgette flowers – the delicate filo moschopoungia and our tiny, exquisite dolmadakia. We'd go in August for the Panigiri festival, not just for the joyful singing and the dancing but also to see the men cooking, serving and cleaning up at the village feasts. We'd buy sitaka cheese from Irini, then ask my fisherman friend Giorgos to take us in his boat to the islet of Armathia for a picnic on Marmara beach – arguably the most beautiful beach in the Mediterranean – and maybe fishing for our supper on the rocks around Makra islet."
With a close network of local contacts and an encyclopaedic knowledge of Greek history and culture, Fly Me To The Moon offers much more than soulful, life-enhancing luxury on unspoiled islands.
For those curious to explore one of Europe's last secret hinterlands, Elena suggests a slow week travelling around the mountain villages of the dramatic Vikos-Aoos National Park in the Zagori region of Epirus and the remote mountains of the Pindus National Park – also known as Valia Kalda, or "the warm valley" in Aromanian.
Here, the sparkling waters of the Voldomatis River, the dizzying cliffs of the Vikos Gorge and the towering pines of the Vikos-Aoos forest, home to Eurasian Brown Bears, are a playground for the adventurous; a haven for those seeking understated luxury in harmony with its environment; and a secret foodie paradise epitomised by foraged ingredients, traditional phyllo pies and shots of tsipouro spirit.
You could follow the crowd in 2021. Or you could let Fly Me To The Moon show you the Greece you've
Follow and Share with Jetsettersblog.