The Kvarner Region in Croatia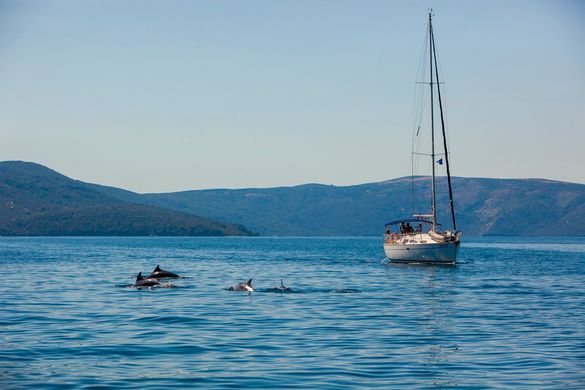 ---
Regardless of the season, the diverse nature of Kvarner offers not only a beautiful landscape, but also unique experiences such as: observation of animals in nature, hiking through protected natural areas, dolphin adoption, ornithological camp…
Kvarner as a region has more than 30 protected areas, of which we have selected the following.
Risnjak National Park (www.np-risnjak.hr) is the green oasis of the Kvarner region, in Gorski Kotar. This mountain range is a natural link between the Alps and Dinarids, just 15 km from the sea. It is named after the highest mountain (Veliki Risnjak 1528 m) and after its most famous inhabitant, the lynx. Risnjak is a natural habitat for three large European animals, so there are wolves and bears here, besides the lynx. The national park offers many activities – hikes to Veliki Risnjak (1528 m) or Snjeznik (1506 m), to the source of the river Kupa, wildlife watching, visit to the visitor center, training workshops, educational trails, sport fishing or for some more active, mountain biking.
The Natural Park (www.pp-ucka.hr) is, directly above the Opatija Riviera, an oasis of peace and a popular destination for locals, active tourists and explorers. It offers a number of well-kept hiking and educational trails, as well as a network of cycle paths that you can cycle along and electric mountain bikes can be rented in the park. The highest peak Vojak (1396 m) offers an unforgettable 360-degree view of the Kvarner Bay, islands and Gorski kotar, the neighbouring Istria with which we share this unique park, and on clear days the view goes as far as Venice and the Alps. An extraordinary look and feeling!
The regional sports, recreation and tourist centre Platak (www.platak.info) is a popular holiday resort as it is only half an hour's drive from the city of Rijeka. In its unique environment, it offers visitors a handful of facilities all year round – from sports fields, bicycles and panoramic cable car rides to cycle paths and bike parks, and in winter, when it snows, ski and sleigh slopes open, as well as a 160-metre-long tubing trail.
The Forest Park of Rab (www.rab-visit.com) is just a few minutes from the central town square of The Old Town of Rab. In addition to the abundance of Mediterranean vegetation and exotic trees and other plants, there are different species of birds and butterflies and a particularly beautiful oak and pine forest.
The island of Kosljun, an islet on the island of Krk (www.tzpunat.hr; www.krk.hr), is located in Puntarska Draga bay. A pearl of spirituality and nature that visitors can reach by taxi boat from Punat. There is a Franciscan monastery on the islet of Kosljun, where the monks have preserved many collected values and writings for centuries. One can visit a sacred and ethnographic collection and a library with more than 30,000 titles. The forest park has more than 400 plant species.
Dolphins and vultures
Animal lovers come to us, because only here you can observe 2 endangered species, for which the Kvarner region is one of the last refuges – griffon vultures and good dolphin (Tursiopsis truncatus).
The island of Cres is now one of the last habitats of griffon vultures. These birds with a wingspan of up to 2.80 m are among the largest bird species in the world. About 100 pairs nest on several Kvarner islands and islets.
In the town of Beli a salvage centre for griffon vultures has been established, and on the ground floor of the building there is a visitor centre with a temporary exhibition on the biodiversity of Kvarner Bay (www.belivisitorcentre.eu).
The Kvarner Islands, and especially the Cres-Lošinj Archipelago, is a natural habitat for around 180 dolphins. It is one of the most studied groups of dolphins in the entire Mediterranean.
Through the Dolphin Reserve "Institut Plavi svijet" of Losinj you can contribute to the protection of this rare species: find out about the life of endangered species, visit the turtle recreation site in Mali Losinj, adopt a dolphin or simply watch it at sea (www.plavi-svijet.org).
Foto: Frank Heuer, Višnja Bolf, KRTB, ART Redaktionsteam, Thomas Fluegge
More information on other protected areas can be found at:
www.kvarner.hr and in the brochure "Nature Reserves"
http://www.kvarner.hr/turizam/otkrijte_kvarner/o_kvarneru/Brosure
Follow and Share with Jetsettersblog.