The New Perth – WA's Capital Continues to Transform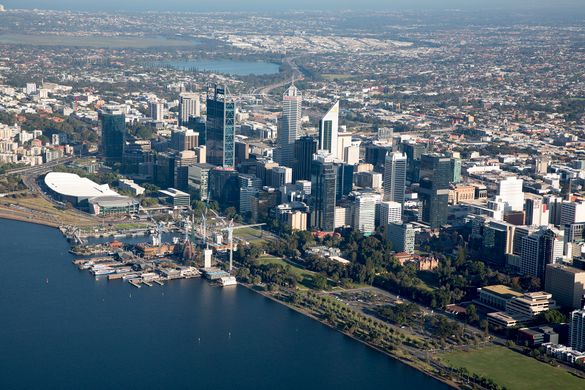 ---
People are talking about Perth. Foodies, investors, sun-lovers, entrepreneurs, creatives – and even locals – are experiencing the 'wow' factor as unprecedented investment in WA's cosmopolitan capital comes to fruition.
Long celebrated as one of the world's prettiest and most livable cities, Perth is now striding confidently on to the international stage as a leading player in Australia's cultural, hospitality and events scene. More visitors than ever are marveling at the explosion in attractions, accommodation and nightlife which complements the city's natural beauty – delivering an all-round, exceptional destination.
So what's trending in the capital?
Urban offerings
The vibrant waterfront precinct of Elizabeth Quay opened in 2016, connecting Perth's central business district to the Swan River. It's quickly become a focal point for visitors and locals, with an ever-expanding range of attractions. Look out for the Isle of Voyage restaurant inside a heritage pavilion, kids frolicking in the water playground, GoCultural's Indigenous walking tours and new river cruises departing from the Quay and neighbouring Barrack Square. Multiple development projects are taking shape, including the Ritz-Carlton's first WA property in a prime riverfront location.
New Indigenous tours in Perth are enabling visitors to discover more about local Aboriginal lands and culture. Jump on board a solar electric boat for Indigenous Experiences Australia's two-hour cruise along the Derbal Yerrigan (Swan River), learning about ancestral stories, sacred places and legendary warrior Yagan. Back on land, walking tours with Go Cultural's Noongar guides reveal fascinating alignments between modern Perth and ancient Aboriginal sites and tracks.
Perth's multicultural and authentic flavours are revving up in the form of food trucks. The mobile meals are so popular that they inspired a local foodie and entrepreneur to launch the Food Truck Rumble – a gathering of some of the city's best street food in one place.
Previously separated by a train line, the city centre is reconnecting with the Northbridge entertainment precinct through the Perth City Link project, near Perth Arena. Already up and running within the 13.5 hectare development are a state-of-the-art, subterranean bus station and the 120-room Peppers Kings Square, which will soon be joined by other accommodation including The Dorsett. Perth City Link's flagship public space, Yagan Square, is due to be unveiled in late 2017 with a design that celebrates WA through gardens, water feature, public art, and a digital tower and canopies for light, art, video projections and interactive content.
Formerly disused heritage buildings and laneways are now home to bustling bars and street art. Through independent non-profit group FORM, more than 80 walls across Perth and surrounding suburbs have become a canvas for local, interstate and international artists.
Coastal revival
Fremantle was included in Lonely Planet's 2016 Best in Travel guide for good reason. With more than $1 billion dollars of redevelopment in the planning pipeline, look out for new venues such as Seashells and the Sweetwater rooftop bar in the Richmond Quarter, COAST at Port Beach, Segway and self-guided walking tours, a range of cruises and a thriving craft beer scene.
Scarborough Beach is on its way to becoming one of Australia's best beachfronts. A $100 million foreshore redevelopment is set to be unveiled in early 2018, including a beachside swimming pool, cafes, restaurants, kiosks, public art and a skate park, as well as improved transport.
Slightly further south, popular City Beach is home to lush lawns, white sand and an expanding range of waterfront dining options including the chilled-out deck at newly opened Odyssea Beach Café and watching sunsets from Clancy's Fish Bar.
Visitors to Rottnest Island will see upgrades to the golf course and walk trails, as well as a new marina. Luxury refurbishments are complete at the Hotel Rottnest while an upmarket 'glamping' experience is expected to open at Pinky's Beach in late 2017.
Day trips
Few cities have such an impressive range of activities at their doorstep. Journeys between 30 minutes and two hours from central Perth could see you swimming with dolphins in Rockingham, tasting award-winning beverages in the Swan Valley wine region, taking a quokka selfie on Rottnest Island or walking among eerie limestone formations at the Pinnacles. New tours are also showcasing the bushland and culinary creations of the Perth Hills, and it's now possible to do the Margaret River Region in a day from Perth with sightseeing packages through Swan River Seaplanes.
Accommodation explosion
Perth now offers some of the best value hotel and short-stay accommodation in Australia following the raft of new and refurbished properties that have opened in the CBD and surrounding urban and coastal areas. Not only are visitors enjoying more choice in accommodation, they're also saving with Perth hoteliers offering up some great deals.
Perth is shaking off its former reputation for costly accommodation stemming from WA's mining boom, with the average daily rate in the Perth CBD down 16.5% in 2016 compared to 2012 (source: STR Global data). Nowadays, the city is again an attractive option for holidaymakers who will find rooms to suit all budgets.
Since 2012, 24 new or redeveloped hotels have opened in and around Perth, adding more than 2,200 new rooms to the local market. In the next four years, a further 15 new or redeveloped hotels will come online, adding more than 2,300 new rooms. It's about quality and quantity with a broad selection of boutique, big name and luxury accommodation options coming online including the Ritz-Carlton's first Australian property in 10 years, The Westin in the eastern CBD and three developments from the DoubleTree group.
COMPLETED PROPERTIES
City Lights – Northbridge – April 2015 – 46 rooms
Alex Hotel – Northbridge – May 2015 – 74 rooms
The Nest on Newcastle – Northbridge – May 2015 – 20 rooms
COMO The Treasury – Perth city – September 2015 – 48 rooms
Attika Hotel – Northbridge – December 2015 – 22 rooms
Quest West Perth – West Perth – January 2016 – 72 rooms
Seashells – Fremantle – June 2016 – 24 rooms
Quest Mounts Bay Rd – Perth city – August 2016 – 71 rooms
Sage Hotel – West Perth – August 2016 – 101 rooms
Quest East Perth – East Perth – November 2016 – 130 rooms
Peppers Kings Square – Perth city – November 2016 – 120 rooms
Crown Towers – Burswood – December 2016 – 500 rooms
Quest Fremantle – Fremantle – December 2016 – 121 rooms
Tribe Hotel – West Perth – May 2017 – 126 rooms
Aloft Perth – Rivervale – May 2017 – 224 rooms
InterContinental Perth City Centre – Perth city – October 2017 – 240 rooms
FORTHCOMING PROPERTIES
The Melbourne Hotel (redevelopment) – Perth city – late-2017 – 73 rooms
DoubleTree by Hilton – Northbridge – Early-2018 – 205 rooms
Be.Fremantle – Fremantle – 2018 – 24 rooms
Quest Midland – Midland-Mid-2018 – 106 rooms
QT Hotel – Perth city – 2018 – 184 rooms
Westin, Perth – Perth city – Mid-2018 – 368 rooms
Quest Innaloo – Innaloo – 2018 – 80 rooms
Park Regis – Subiaco – 2018 – 168 rooms
Ritz-Carlton – Elizabeth Quay – First half of 2019 – 204 rooms
DoubleTree by Hilton Perth Waterfront – Elizabeth Quay – 2019 – 229 rooms
DoubleTree By Hilton Fremantle – Fremantle – 2019 – 150 rooms
EQ West – Elizabeth Quay – 2019 – 370 rooms
Dorsett Hotel – Perth city – 2020 – 250 rooms
Sports tourism
With the deluxe 60,000-seat Perth Stadium due to open early 2018 and impressive international fixtures already locked in, Perth is fast becoming a sport lover's dream destination. Adding to Perth's other quality sports venues – such as Perth Arena and nib Stadium – the new stadium is already shaping up as one of the world's most technologically advanced major venues. Events scheduled for Perth Stadium include:
Community Open Day – January 21, 2018
AFL Women's League – Fremantle Dockers vs TBC – February 10, 2018
National Rugby League opening weekend – double header – Canterbury-Bankstown Bulldogs vs Melbourne Storm; and South Sydney Rabbitohs will host the Warriors
Chelsea Football Club (July or August 2018). In an Australian exclusive, the Premier League powerhouse will take on local heroes Perth Glory.
Bledisloe Cup (August 2019). The only time the Australian Wallabies and New Zealand All Blacks teams will play on Australian soil in 2019 in the lead-up to the Rugby World Cup.
Rugby League State of Origin (2019). Regarded as Australia's biggest annual sporting event, the New South Wales Blues clash with the Queensland Maroons in a fiercely contested game that will attract thousands of visitors, particularly from interstate.
Fly non-stop from London to Perth
In 1947, Qantas' maiden flights between Australia and the UK took four days and nine stops. Now it will take around 17 hours, non-stop.
History will be made when Qantas' daily direct Perth to London flights take off in March 2018, becoming the first regular passenger services directly linking Australia and Europe. WA is ready to roll out the welcome mat for an influx of new visitors as Qantas' choice of a west-coast hub puts the State firmly on the radar for even more travellers – with the potential to inject up to $36 million a year in visitor spend into the local economy.
Many visitors from Europe are expected to kick-start their Australian experience with a stay in Perth, while people from other Australian states will fly domestically to Perth and stay before connecting to the non-stop London service, the world's third-longest passenger flight.
Qantas will mobilise its Boeing 787-9 Dreamliner fleet for the 14,500 kilometre each-way journey. Enhanced cabin design, improved air quality, and technology to reduce noise and turbulence are all designed to make the long-haul journey more comfortable for up to 236 passengers across business, premium economy and economy.
Tickets for the Qantas non-stop Perth-London flights are now on sale. At Perth Airport, the non-stop flights will operate through Qantas' existing domestic terminals (T3/4), which will be upgraded to accommodate the new services. The airline's other international flights from Perth (to Singapore and to Auckland) will also move to this terminal to streamline passengers' connections.
Stay up to date at qantas.com
PERTH STOP-OVER – Suggested itineraries
1-2 days: Check out the sights of Perth city, including Elizabeth Quay, Kings Park and its neighbouring cultural hubs of Northbridge, Mount Lawley and Leederville. There is also ample opportunity to catch an iconic Indian Ocean sunset at one the city's 19 metropolitan beaches, enjoy a seafood feast in Fremantle, take a 25-minute drive to the food and wine mecca of the Swan Valley, and cuddle furry animals at Caversham Wildlife Park.
3-4 days: Why not add a Rottnest Island day trip or overnight stay to your Perth itinerary? With 63 beaches and 20 beautiful bays, there is so much to do and see on this island playground. Or, in less than a 40-minute drive south of Perth, you can swim with wild dolphins off the coast of Rockingham.
A week or longer: Head outside of the city to one of WA's many spectacular regions. From world-class food and wine in Margaret River, and memorable aquatic experiences along the Coral Coast, to the gold rush history of Kalgoorlie and the Kimberley's ancient landscapes – there truly is something for everyone in WA.
New-look Perth Airport
Recently named Capital City Airport of the Year, Perth Airport's $1 billion redevelopment has reached several milestones including the opening of a new $220 million domestic terminal, a $157.5 million Terminal 1 international departures expansion and extra retail, dining, check-in, security and baggage reclaim spaces.
An expanded Terminal 1 forecourt opened in November 2016 and, nearby, the state-of-the-art T1 domestic terminal is home to all Virgin Australia services, enabling passengers to transfer seamlessly between regional, interstate and international flights with the airline.