The Prince Akatoki in London Taste of Japan Package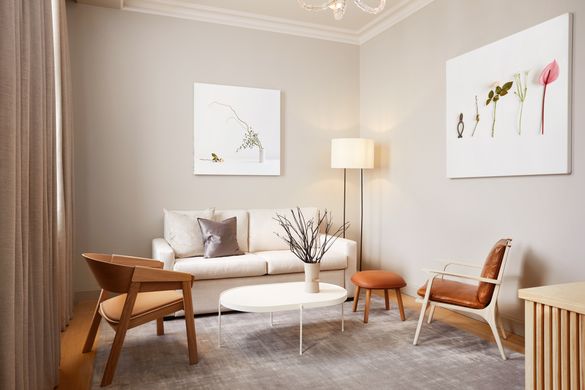 ---
The Prince Akatoki in Marylebone, the only 5 star Japanese hotel in London, reopened with a new "Taste of Japan" package to immerse guests in Japanese hospitality and culture. Initially opened in September 2019 by StayWell Holdings, a subsidiary of Prince Hotels Inc., The Prince Akatoki is delighted to welcome guests back into the hotel, providing them with a Japanese haven of peace and calm in central London, as well as a comfortable and safe environment in line with government guidelines.
The name Akatoki comes from an Asian Japanese word for "dawn" or "daybreak," representing a new beginning with London emerging from lockdown and Londoners looking for a place to unwind right on their doorstep. To celebrate the reopening, the hotel has launched the "Taste of Japan" package, delivering a luxury experience where East and West exist in perfect harmony. The Prince Akatoki's "Taste of Japan" package offers guests the chance to unwind and enjoy a new, unique experience.
Upon arrival, guests who book the "Taste of Japan" package are welcomed into their rooms with Japanese delicacies prepared by the hotel chef, an array of traditional amenities such as matcha cake and sweet sushi rolls. Complimentary cocktails are offered in The Malt Lounge, whereby the drinks preparation is turned into an art form and categorised by "Earth, Wind, Fire, Water and Void". Traditional spirits are used such as sake, as well as quirkier flavours including yuzushu and homemade kumquat wasabi jam. In the creative hands of hotel sushi chef, guests will be fully immersed in Japanese culinary traditions with a sushi masterclass, an educational and therapeutic activity.
The "Taste of Japan" package also includes a gift unique to Japan – an ikebana flower arrangement to take home. Guests can appreciate the art of mindful flower arranging, a tradition that dates back to the 7th century, and even participate themselves by booking into a masterclass at an additional cost, to learn the artform.
New additions at the hotel include a walking map of West London's most loved parks such as Hyde Park, Kensington Gardens and Holland Park which are right on the hotel's doorstep. Guests will be encouraged to explore open spaces, including the Japanese Gardens in Holland Park, a tranquil and peaceful place to relax. This map will be available to guests from August 3rd. The hotel will also offer guests a bespoke relaxing pillow spray turndown amenity, for an elevated sense of zen. Expertly blended with essential oils of Lavender, Vetivert and Wild Camomile, it aims to make guests feel more peaceful and relaxed.
As the capital begins to ease itself out of lockdown, hotel guests and Londoners alike will be encouraged to relax and recharge amongst light, tranquil, minimalist and meaningful interiors that hero craftsmanship and unparalleled attention to detail throughout, promoting mindfulness and tranquility at every touchpoint. Encouraging guests to be mindful, contemplative and respectful of others, The Prince Akatoki London will enlighten guests with a luxury Japanese experience, encouraging them to slow down, be in the moment and practice the art of living.
Start rates begin at £229.
The Prince Akatoki is located at 50 Great Cumberland Pl, Marble Arch, Marylebone, London W1H 7FD. Website: http://www.theprinceakatokilondon.com. Phone number: +44 (0)20 7724 4700.
About StayWell Holdings:
One of the largest hotel management groups in Asia Pacific, StayWell Holdings, and its parent company Prince Hotels Inc., offers a diverse portfolio of properties across a combined network of 74 open and operating hotels worldwide. Prince Hotels & Resorts and StayWell's combined brand offerings include The Prince Akatoki, The Prince, Grand Prince Hotel, Policy, Park Regis, Prince Hotel, Leisure Inn Plus, Prince Smart Inn, and Leisure Inn. Each brand offers guests quality experiences ranging from luxury to lifestyle though to midscale. Prince Hotels & Resorts and StayWell have set a strategic goal to deliver 250 hotels in the medium to long term. The expansion of both company brands will take place across the regions of Australia, New Zealand, Southeast Asia, Asia, Japan, Taiwan, Oceania, the Middle East, Europe and the United States. Prince Hotels operate a combined network of 49 hotels, 31 golf courses and 9 ski resorts. StayWell has an existing network of 25 open and operating hotels and a further 16 hotels that are committed and opening over the next few years. In addition, StayWell has two key strategic partners being Manhattan Hotel Group in China (19 hotels) and Cristal Group in the Middle East (11 hotels).
Follow and Share with Jetsettersblog.